This is a Yoast SEO premium review. And although I've been using the free Yoast SEO plugin ever since it was known as WordPress SEO, I've never been a huge fan of its bloated UI. Yet I pondered: is Yoast Premium worth it?

When I recently realized the Yoast Premium upgrade would let me optimize each piece of content for multiple keywords, I was thrilled. That's a feature I've been wanting for years! While doing keyword research, I often find several keywords to target. Typically alternative spellings or long-tail variants of the main keyword.
The thought quickly crossed my mind: "maybe the Yoast premium upgrade is worth it?"
Only one way to find out, so I bought the upgrade, which currently costs 89 USD / 79 EUR (plus VAT if you're in the EU) per year. Yes, it's a subscription (isn't everything, these days?)
Upgrading to Yoast Premium
Upgrading was easy. Or rather: paying for the upgrade, was easy. Installing it wasn't. Despite reading the documentation, it was far from clear what I had to do.
After completing the payment process, I was sent to the login page… But: I had no login! I didn't select my own password during checkout, nor had Yoast sent me any login details by email (neither in junk/spam).
So, to log in, I made use of the Forgotten Password feature so I could reset the password I never had. Not a very smooth onboarding process… Still, it was what the help documentation suggested I should do, in order to log in?? Strange!
Anyway, I was now inside the compound. So far so good. Mission still far from accomplished though.
Inside the MyYoast user area, I also had to add my site, and activate the Yoast SEO Premium subscription for it. Sounds a lot easier and more intuitive than it actually was.
Then I had to figure out that I had to download the Yoast SEO Premium plugin, and replace the regular non-premium Yoast SEO plugin with that one. I was looking for a license code in MyYoast, and a place to input it, in WordPress.
There were few directions available. The MyYoast user area is apparently big on selling you their SEO online courses and what not – rather than creating a great, smooth user experience. I do realize that sounds harsh, but I really do think a successful, Dutch company can do a lot better on that front.
Overall, it wasn't as intuitive and user-friendly as seen with other premium WordPress plugins like Beaver Builder, Elementor, Thrive Architect, Elegant Themes, Social Warfare, et al. All five are miles ahead, UX-wise.
But let's get on with the review, shall we?
Multiple keywords? A half-assed and half-baked feature
The primary reason for my upgrade to Yoast SEO Premium, was the ability to use multiple focus keywords.
While the plugin did give me that feature, I wasn't too excited by the its rudimentary implementation.
Can you add multiple focus keywords? Yes.
Does the plugin intelligently take the other focus keywords into account, when optimizing an individual keyword? Nope.
The optimization tips for each focus keyword will ask you to do things you can't, like use the keyword in your HTML title, preferably at the front – which is clearly not possible, since there's limited space.
A proper implementation of multiple focus keywords should let us prioritize each keyword, so the plugin knows which one you deem most important, and suggest optimizations accordingly.
In its current incarnation, the multiple keywords feature will help you optimize for multiple keywords, but it fails at simplifying the process.
Simplifying traditionally tedious or complex marketing tasks, should be the highest, most noble goal for ANY marketing tool to solve for (often overwhelmed) marketers.
What you get, is five separate lists of recommendations for optimizing your content. That's 5 times the work PLUS the overhead from mentally prioritizing the recommendations in relation to each individual keyword.
It's like a restaurant serving you 3 main courses, when you ordered a 3-course meal. Want a 5-course meal? Yoast will happily serve you 5 main courses. Bon appétit!
What I mean by that analogy, is that the multiple keywords feature in Yoast Premium feels like Yoast & co thought: "Hey! We can offer that feature! Just duplicate the keyword-optimization code 4 times, and voila, the feature's done!"
A 5-course meal isn't just 5 main courses, you know?
No multiple keywords overview for posts?
By upgrading to Yoast Premium, I was looking forward to see at-a-glance overview which focus keywords each post is targeting, in WordPress' All Posts overview.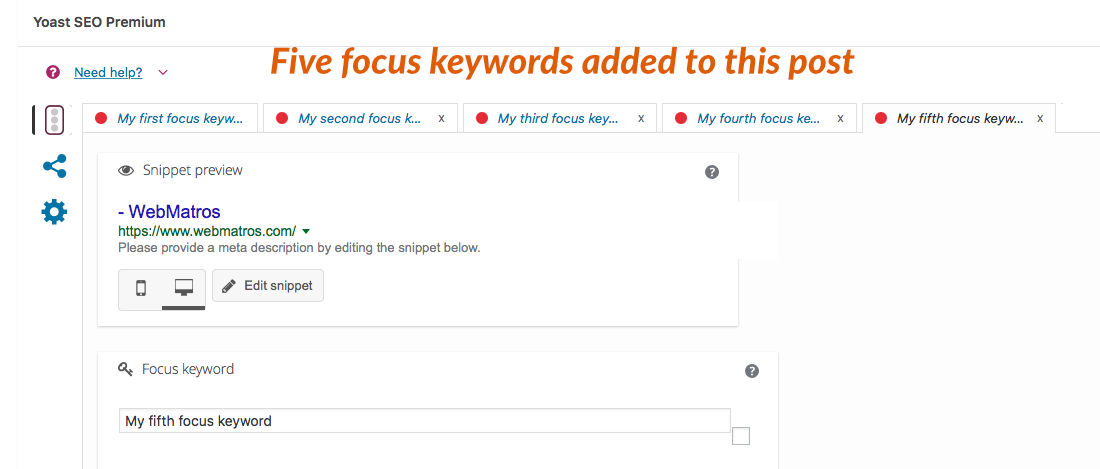 No luck! The All Posts view displays only ONE focus keyword for each post:
Marketing plugins and services should simplify our work – make it easier. Seeing only one of the keywords a post is targeting somewhat defies the purpose of having multiple keywords to work with.
I wrote the Yoast support team who wrote back affirmatively, yet I couldn't help feeling it was a standard copy/paste reply:
Thank you for bringing this issue to our attention. We apologize for the trouble you are experiencing with our plugin. A bug report is currently open with our development team for this issue. We do not have an estimated time for a solution, but we'll inform you once it's solved. If you have further information regarding this issue, please let us know.
That can be replied to pretty much any issue, right? And unless it has previously worked the way I expected – it can't be considered a bug, but rather a half-baked, half-assed implementation. Get to work, Yoasters!
With the above mentioned disappointing shortcomings in mind, I don't feel the multiple focus keywords feature is worth the upgrade cost of Yoast Premium.
Any other features making Yoast Premium worth it?
Yoast Premium has various other features, such as:
Google, Facebook and Twitter previews.
Internal linking suggestions. Get suggestions for links to other content on your website, as you write.
Content insights. Yoast Premium shows you the 5 words or phrases most used on your page, so you can make sure they match your content's intended focus.
Redirect manager. Redirect old URLs to new ones, so you don't lose visitors because of 404 Not Found error pages.
CSV Export of your focus keywords and SEO scores.
Whether some of those features are attractive, is up to you. Personally I don't find them must-have features, only nice to have features.
One other feature of Yoast SEO Premium that did pique my interest, is the Orphaned Content Filter, which shows you the posts and pages to which no links are pointing.
At first, I was excited about the feature and wrote myself a reminder to work my way through those lists, linking to orphaned posts and pages.
Alas, when I sat down to do so, I realized the uselessness of the feature. Most of the posts ARE linked to – from my main blog index. And even more importantly: some of them are my highest ranking posts – receiving lots of traffic. Clearly there's zero problem. It's just yet another case of Yoast SEO trying its best to seem indispensable, while in reality it just puts more work on your already heavily burdened marketer-shoulders.
The UI of Yoast SEO is a mess
Frankly speaking, Yoast SEO, the non-premium version of the plugin, already does way too much for its own (and your own) good. It's bloated and confusing, and the Premium version adds even more features on top of what's already a bloated and confusing plugin.
New features are constantly added, which doesn't help its cluttered UI find a warmer corner of my heart.
Do we really need all those features? In my opinion, most users don't.
Everyone thinks they need an XML Sitemap. Yet, I've experimented with having one, and not having one, back and forth, throughout 10+ years, and never found it to make any difference at all – as to how fast or how much Google indexes my site's content.
XML Sitemaps are mostly useful to huge sites with thousands upon thousands of pages, which aren't all linked properly to. That is when a sitemap can come in handy.
If I recall correctly, Yoast SEO even activates the XML Sitemaps by default, upon activation of the plugin. Many Yoast SEO users aren't even aware they have a sitemap, and if they do: they may not know what it does – and more importantly: how to maintain it.
In my experience, a poorly maintained XML Sitemap brings more trouble than gains. Suddenly Google knows about all your categories or tags, secretly published test pages, etc – even though you've never linked to them on your site, etc etc.
Sitemaps are just a tiny part of what Yoast SEO does. And just one example of a "must-have" SEO feature that everyone think they should be using – but really don't have to bother with.
Do we really need such complexity, when there's SO much on our marketing-plates, already?
And who knows what Google does with all your efforts, anyway. Their algorithm is always changing, and the changes are guarded as fiercely as Fort Knox. It's a black box, and only Google knows what currently affects your rankings.
Am I saying you shouldn't write meta descriptions? No, but maybe that's all you need to be doing, more or less.
Other people may need various features, for their site's individual needs. And that's fine. I'm just not sure 5+ million users of Yoast SEO need the equivalent of the world's most advanced Swiss Army knife?
Scroll scroll scroll your browser…
For its purpose of helping you optimize your posts and pages, I find Yoast SEO's placement below the content area a cumbersome spot for content optimization advice. Especially if it's a long post.
It's a problem because it's cognitively taxing. You scroll down to see what you can do to improve your post. The Yoast SEO plugin lists multiple improvements. You decide to take its advice of "using the focus keyword in a subheading".
After you've applied that advice, you can rarely remember what the remaining listed suggestions were. Hence you have to scroll back, all the way down there below your post, to see what else you can do.
It's like working at a large office where the to-do list is mounted on the wall, next to the boss' desk. That's ineffective, if you have to walk 30 meters to go there, 20 times every day. Only good thing about that, is the exercise you'll get.
When using Yoast SEO to optimize your pages and posts, you don't get exercise: you're just wasting time. Why not spend it horizontally on the couch then? At least that's relaxing.
Granted, it's normal for WordPress plugins to place their meta-boxes as they are called, down there. It's common practice, I get get that. The thing is: I have used on-page optimization / SEO plugins in the past, that sat neatly to the right of my text, always in plain view, while writing. Scribe SEO (and a two others I can't remember the names of) spring to mind.
The counterargument would likely be "there's not enough room for Yoast SEO there."
My counter-counterargument back would be: case in point! Yoast SEO is indeed bloated and "could lose some weight".
Concluding my Yoast SEO Premium review
Now, from reading the above, you may think I'm "totally NOT recommending Yoast Premium. To anyone. Ever. At all. Peeeeriod."
But you'd be mistaken:)
If you're happily using the free Yoast SEO plugin, and don't mind paying its annual cost, you should upgrade to Yoast SEO Premium. The added features do add some extra value. If that's your scenario: go for it.
Me personally? No, I don't feel the Yoast premium plugin was worth it – for me. In fact: I returned it for a refund. I'm even considering finding an alternative to the free version. Its just not worth it.
What about you? I hope you found this Yoast SEO Premium review useful? Any questions? Feel free to ask or voice your opinion in the comments below!