This will be one of the best WP Engine reviews you'll ever read. I'll do my best to make it so.
Read on!
Web hosting relationships – and their relation to your WordPress web hosting woes
You know the story. Just like romantic relationships, most people's web hosting relationships start out great. Your new web host seems to be so much better than your old web host. It wasn't easy to give up – and make the switch. But… here you are!
You. did. it!
You made it. The switch. Ka-boo-yah!
The future is bright – and your WordPress website will be delivered fast – whenever your customers want it.
You're online baby! Wooooooohah! Ka-boo-yah! You're flying high, just like Captain Hollywood in that 90s dance song!
But then, all of a sudden; just like it happens in romantic relationships: history repeats itself. What was at first a hot love affair… turns out to be yet another either too boring or too unstable relationsh*t (oops, freudian slip there! Sorry).
Often, when it comes to web hosting, that – at first – super duper oh-so-sweet web host turns out to be a dud. Or even a nightmare! At first frickin' fast. Now all of a sudden: dog slow.
Or at first super supportive and reliable… and now the exact opposite.
Frustrating!
Such is life, huh? You better just put up with bad web hosting, eh?
Or maybe… Just maybe! Hmmm…
The long road to righteous WordPress web hosting
Surely there must be great web hosting to be found, out there? After all, the world is large, and how hard can it be? Truly great web hosting… can't be a fatamorgana?? Right??? Someone should be able to manage creating a web hosting company that doesn't suck! Right?
But swithing web host is no easy task
Despite many web hosts offering you migrations, some free and others paid migrations, it's seemingly never easy to switch web host.
And who says your new web host will be any better than your old one? After all, you and your old web host probably know each other / eachother quite well by now. You know eachothers faults and peculiarities. A safe and secure relationship… right?
Well, almost… as long as your site is online…
(Checking my Pingdom stats… Doh! Site is down again! This is driving me nuts!!)
I was in the same boat, and here to help you find better WordPress web hosting!
Being a blogger, and a curious one at that, I'm always on the hunt for optimal solutions to the problems web designers and small business owners face. So I've decided to go through the trouble of testing various premium web hosts … to find the one that rocks! That premium web host, who does good to you, and treats you well.
Recently, I published my comprehensive review of Media Temple's new Premium WordPress hosting plan. It's good, and currently I'm hosted on it.
I don't think it's too much guesswork on my part, that Media Temple's Premium WordPress package is a deep, strong liver shot (the Bas Rutten kind) aimed at the undisputed industry leader of Premium WordPress hosting, namely WP Engine
So let's take a look at WP Engine. This is a WP Engine review after all:)
Meet WP Engine
(I'll introduce you so it's not a blind date)
I recently learned that WP Engine has 1500 servers, and serves an insane amount of hits per day. That's impressive!
First up, know that WP Engine doesn't offer discount hosting. If you're looking for that, you'll have to look elsewhere. WP Engine offers so-called managed WordPress hosting – also known as premium WordPress hosting. "Managed" means that, among other things, WP Engine takes care of (ie. manages) the following tedious tasks for you:
Installing WordPress.
Updating WordPress.
Regular security scans of your WordPress site, to keep it secure, online and free of SQL injections, hidden spam links, etc.
Taking daily backups (and more importantly: reliable, functional backups, which work when needed (sadly not always the case at discount hosts boasting "daily backups").
Caching. Good caching will make your WordPress website a lot faster. WP Engine has a proprietary, custom-made, super WordPress-optimized caching system in place. It rocks! And is without doubt one of the best in the WordPress hosting industry, if not the best? A comparison is coming soon.
Why would you want WP Engine to take care of all that for you? After all, it's something you can do yourself, caching your site with W3 Total Cache, backing up with VaultPress, etc.
But even If you know how, you may not have the time to do so – and may not feel like becoming a miniature sysadmin, just to run your website, reliably.
Although I know the basics of using a terminal window, I'm no sysadmin and have about zero wish to become one. Well, not zero… rather minus ten! I have a business to run. I just want things to run smooth and be as trouble-free as possible.
WP Engine pricing? Premium!
For sure, WP Engine isn't for the casual blogger or a tiny hobby business. While WP Engine may be the host of your dreams – at pricing starting at $29 a month for a single site, WP Engine isn't exactly your average DreamHost shared discount hosting deal.
WP Engine gives you so much more, is arguably more reliable, easier to use, safer and faster.
WP Engine's pricing start at $29 for 1 site. Compared to recent Media Temple's Premium WordPress introduction, that offers 3 sites for $29 – Media Temple obviously sports the best deal. But at 10 sites, the pricing is pretty much equal, as WP Engine has a 10 site deal for $99 per month.
Expensive? Yes. Discount service and speed? No!
How to use staging sites
At WP Engine, you also get additional premium features such as staging sites. A "staging site" is an instant copy of your main site. Kind of a sandbox or playground. It lets you test stuff, find bugs (by disabling all plugins for example), redesign your site and much more. Once you're done, you can easily sync back the staging site to the main site, and voila: all is jolly.
I never had the pleasure of using staging sites until I tried Media Temple's Premium WordPress hosting. Now? I'm addicted! Site staging so useful!
Admin interface pretty? Not so much.
I want my WP Engine review to be an honest one. Of course. And lemme tell ya: if there's one thing about WP Engine that I wasn't particularly impressed with; it's their admin interface. I'm prolly a spoiled kid here, as Media Temple has had a timelessly sexy Account Center for years now. And the one they've custom built for their new Premium WordPress hosting is the most minimalistic, simple hosting control panel I've ever seen, even when compared to Flywheel. Crisp and simple.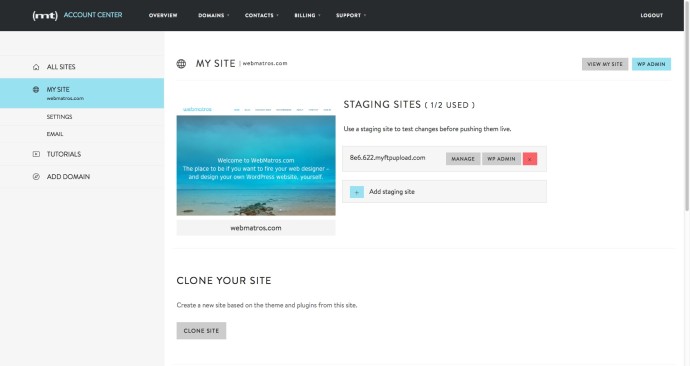 WP Engine's admin panel is okay. I guess. I just feel it's severely old school. It could use a redesign. Perhaps that's just vanity speaking on my part here.
More important than looks; is usability and the "visceral feel" of a user interface. The latter plays a large part in making the UI feel easy-to-use. Viscerally, I feel I've come to the wrong web host when I'm faced with geeky pages like the one you can see below:
Yes, I understand technically what's going on, but it could be presented a lot better! One of the roles design can play, is in improving how information is perceived and how easy it feels to use.
Hey! I thought choosing managed WordPress hosting meant getting rid of exactly those geeky "nerdities" and language? Eh? No? C'mon WP Engine – I know you can do better?
My WP Engine support experiences
WP Engine's support was good and reliable. But compared to my experiences with other web hosts, not more than that. The answers weren't as thorough as I'm used to, as a Media Temple customer since 2007. Don't get me wrong though, there isn't anything wrong with WP Engine's support at all. Again: perhaps I'm just a spoiled kid;) WP Engine's support is definitely competent.
How fast is WP Engine?
We all want speed. And my WP Engine review wouldn't be complete without taking speed and performance into consideration! A fast website lowers bounce rates and heightens conversion rates. Fast web hosting also makes Google happy and is more pleasurable to work with, for you, the maintainer of your website. Being on a slow host, will slow you down working in WordPress; updating content, installing plugins, designing and developing etc.
WP Engine is definitely fast! Their custom-built caching system, tailor-made for WordPress websites, really makes a difference! It beats W3 Total Cache any day, at least for me, since I hate tinkering with caching settings. WP Engine's cache just works. You don't have to fiddle with caching setting at all.
WP Engine vs Media Temple's Premium WordPress
I've tested the speed of WP Engine but not yet written up my comparison of Media Temple's Premium WordPress offering. It'll be epic!
My verdict concluding this WP Engine review
WP Engine are indeed one of the best, most reliable, secure web hosts within the web hosting industry. They know what they're doing, and has pioneered premium, managed WordPress hosting like no other host has.
And they do it extremely well.
WP Engine's 100% unconditional, automatic 60 days money back guarantee!
When you sign up for WP Engine you'll get 2 months (60 days) money back guarantee. I was surprised to find out that I didn't even have to ask for my money back. I just cancelled, and upon confirmation, I was told they'd transfer the money back to my account. That's amazingly fluid, yet solid customer care.
Why did I cancel? Don't I like WP Engine? I do! I really do! Their performance is second to none (or so it feels – I gotta test that! See note in bold below!) But frankly, I've just switched from Media Temple's (gs) Grid hosting to their new Premium WordPress plan. I like Media Temple – after all these years being hosted at them. I may switch to WP Engine but really – I'm glad where I am, and Media Temple's Premium WordPress 3 sites for $29 beats WP Engine's 1 site for $29 plan.
My epic review / managed WordPress hosting comparison is now live! Go check it out – it reveals whether Media Temple, Synthesis, Flywheel or WP Engine is the fastest premium / managed WordPress host!
For more information on WP Engine's premium hosting plans, check out WP Engine's website.
To immediately compare the pros and cons of WP Engine vs Media Temple's Premium WordPress, be sure you also read my reviews of Media Temple's Premium WordPress hosting product (including technical facts straight from Media Temple's product manager Dante!) as well as their (gs) Grid shared hosting service.
But what about you?
What are your web hosting experiences? Please share it in the comments below for everyone to benefit! (I'm interested and I know many more people are).