I love my Fuji X100. First of all, it has saved me a lot of money. I was strongly considering a Leica M9 or Leica M9-P. Thanks to the wonderful guys in the Photografica camera-store here in Copenhagen, I had a chance to play around with, and shoot with, both the FujiFilm X100 and the Leica M9 simultaneously. Side by side, the Leica M9 is clearly superior. It's worlds apart – and classes above – the FujiFilm X100! Both in terms of build-quality, but also image-wise: The full frame sensor of the Leica M9 stomps the Fuji X100. The decreased depth of field + the Leica glass, gives the images much more depth and makes them feel a lot more three-dimensional.
Going nuts… Going Leica…
I felt like doing something crazy… Going nuts… Going Leica. Hand over my money… and get a nice Leica in return. But then I started thinking about my poor eyesight, and how fatiguing manual focus would be for me. I love manual focus, but the Fuji's genius hybrid viewfinder won me over.
The X100 also costs so much less, and it's a camera that I dare taking with me to parties. Parties that often involve lots of alcohol. At such parties the Fuji attracts much attention and curiosity because of its retro style. People wanna try to shoot with it. I often lend out my camera to my friends for several hours. I would never let them fool around drunk with a Leica M9!  But with a Fuji X100 – I feel okay doing so;-)
A timeless design classic
I also love the design of the X100! I've had it since it was just released, and still get a warm feeling just by looking at it. I think it's such a beautiful, balanced design. It's one of those cameras that I'll never sell, for just that reason. In the same way that I'll never trash my original iPod. Yes, the X100 really is that well designed! And not just on the outside. The inside is innovative as hell as well, with its genius hybrid viewfinder, built-in ND filter, 105mm sensor zoom for movie shooting, etc. Plus! of course:
The image quality is GREAT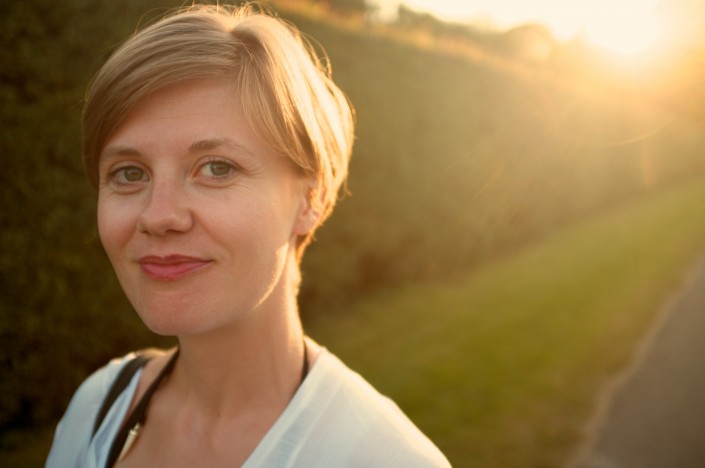 The built-in 3 stop ND (neutral density) filter allows shooting at wide apertures, even in strong sunlight. The image below wouldn't be possible without using an ND-filter.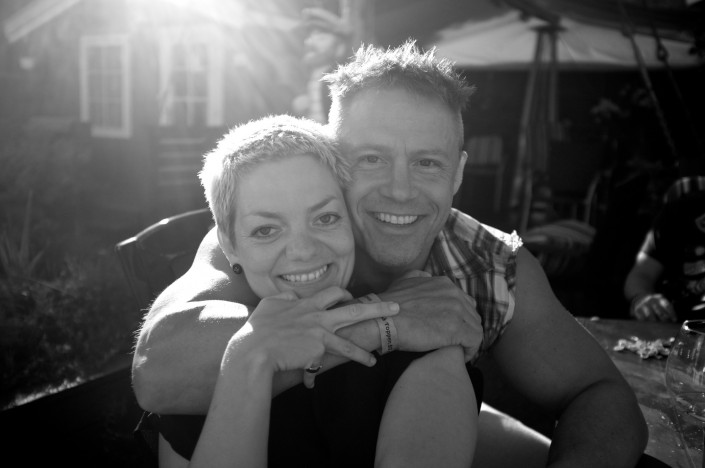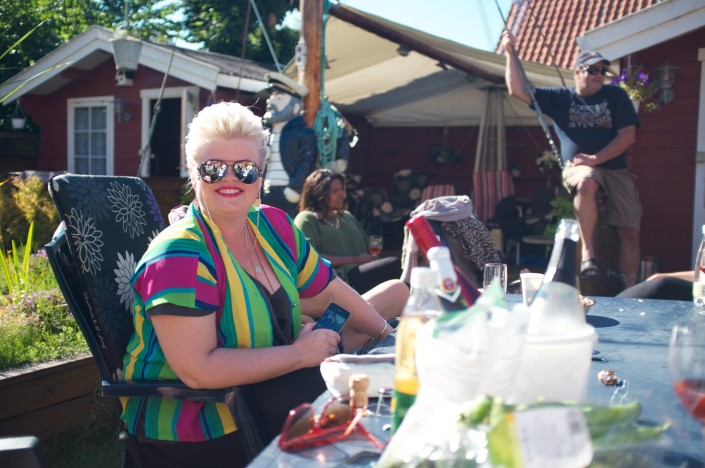 Fuji knows color
Fuji colors are great colors. Always has been. FujiFilm developed some of the finest films ever made in the history of photography. I remember shooting fashion images on my Pentax 67 medium-format camera, loaded with super lovely Fuji Astia film. A film that featured incredibly beautiful, smooth skin tones.
In the X100, Fuji offers three film styles / looks for the in-camera JPEG creation / conversion. I honestly find this JPEG engine so good that I often find myself using the in-camera JPEG files, rather than converting from the raw files myself. Why? The JPEG files are amazing! Especially true for high-ISO images. The colors are great, the noise reduction out of this world good for such a small, inexpensive camera. All while maintaining smooth tonality and color gradations. There are very few artifacts like banding or posterization.
Creative lighting opportunities
As this isn't an SLR, and features an electronic shutter, it will sync with an external flash all the way up to 1/4000'th of a second. That means you can easily overpower the daylight with an otherwise measly, wimpy flashgun/speedlite. The following two images was shot in daylight, not dawn or twilight as it might seem. I used an Orbis ring flash and short shutter times in order to capture the flash but reduce the ambient light. I used an orange warming gel/filter on the flash, which relatively pushes the ambient daylight towards blue when correcting the white balance when later post-editing in the raw converter.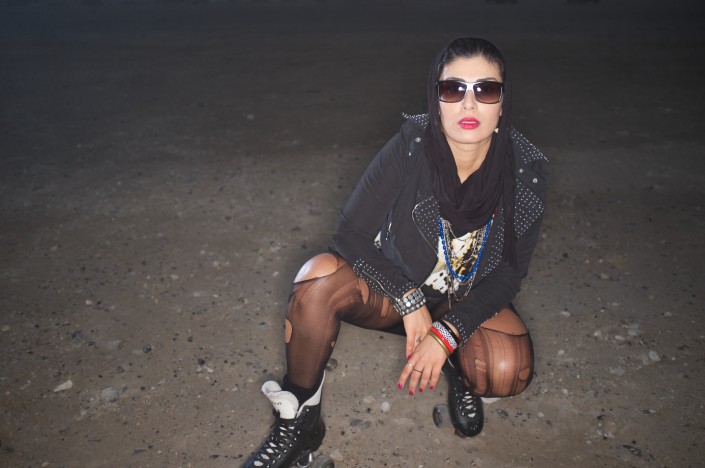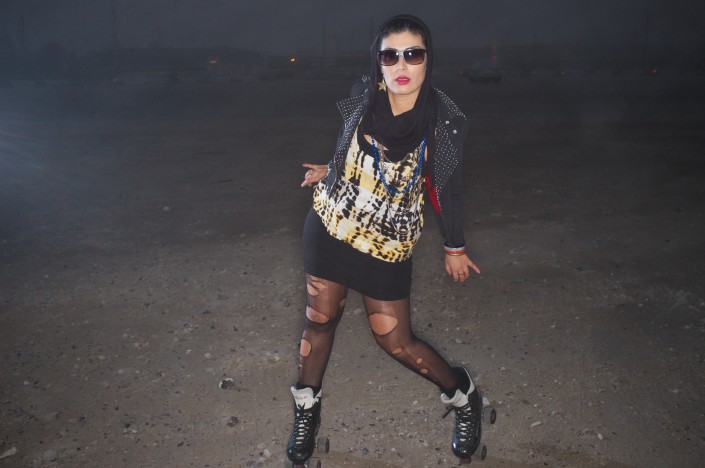 Bokeh isn't everything
Don't get me wrong, I love creamy blurred backgrounds, but I also think many photographers obsess about it. Getting the background of your subject blurred isn't in any way the biggest contributing factor to a achieving a great photo. Neither is it the only way to focus the viewers eyes on the subject. You can direct the eyes of the viewer through skilled control of light and shadow for example.
But hey – something must be bad about the X100? Well, yeah:
The Movie Mode
The movie mode is there. And that's it. It isn't impressive in any way – you get rudimentary, basic controls. You can't use the built-in ND filter. That doesn't prevent you from using a real, screw-on ND filter though. But you have zero manual control. You can use autofocus when filming, but it rarely focuses on the subject. For some reason it always sport an arrogant preference for the background of your subject. It can't follow any action properly, and generally sucks.
And, it's only 720p. I wish it was 1080p. Of course the FujiFilm X200 will feature 1080p video.
Anyway, when foucs is set properly, it looks nice enough. Here's a 100% unedited, unaltered sample video from my X100:
(Remember to turn on HD)
So the movie mode on the Fuji X100 is mostly for artsy or fun videos, or when walking your dog. Just don't expect to be able focus on your dog. The Fuji's autofocus is dog slow – pun intended;-)
So, to sum up the X100 movie mode:
The movie mode is shamefully basic.
The manual focus is so sloooooow to use that it's essentially useless.
The movie mode is only 720p. I'm sure the Fuji X200 will sport a nice 1080p mode.
X100 vs X-Pro1 comparison
But what about the X-Pro1? I like the X100's fixed lens. I don't wanna invest in another system camera, I already invest in Nikon lenses.
The X100 was a first in its class. Yeah, there were the Sigma DP1, DP2 (which I had), the Olympus, Leica X1, Leica X2, etc, but really, the Fuji x100 is unique with its hybrid viewfinder (which I love and find so useful and sexy) and retro looks that are really well executed, and doesn't look like a gimmick. The X100 is just a retro looking camera. It feels right.
That said, I think the Fuji X-Pro1 is a solid, well-built camera. If only Fuji would make some lenses with real manual focusing rings and better control of video recording, I think they could unexpectedly and effortlessly tap in the indie moviemaker market.
What it all boils down to: Why do I love my Fuji X100?
Because it's the camera that I wanna bring. Anywhere. Not just because it's portable, but because it's beautiful. A friend in a box. And it works.
To me, it's already a timeless design classic – and a photographic classic.
Download Fuji X100 sample image raw files
You can download the raw sample image files individually below each sample image above – or download all the Fuji X100 sample image raw files in a zip archive right here. If you feel thankful for the sample raw images, I'll be so glad if you will help me spread this blog post on Twitter, Facebook, Google+ or whatever social network you use. Thanks!
I'm also very interested in reading your feelings on the X100, so please share them with me below!