Ever since Thesis 2 was finally released by DIYthemes aka Chris Pearson in early October 2012, customers have been waiting for the release of the promised, supposed-to-be-bundled, Thesis 2 skins. Namely the Pearsonified skin, and the Social Triggers skin.
But these two Thesis 2 skins… Still aren't available!
In my popular (and quite frank) Thesis 2 review I concluded that I'd probably never write about Thesis 2 again.
As you may know, I'm a much bigger fan of Headway 3 than Thesis 2.
But, I realise many of you are still looking for Thesis 2 skins. Especially because Chris Pearson has such apparant problems getting his long promised Thesis 2 skins finished and available, to all the DIYthemes customers who've purchased Thesis 2 on the expectation of those two skins being included in the deal!
Truth is, I'm immensely flabbergasted that DIYthemes aka Chris Pearson, STILL hasn't released any of the skins promised for Thesis 2.
Thesis deadlines are slippery deadlines
Or so it seems. Here's screenshot from the DIYthemes member area, grabbed on November 30'th 2012. Almost 2 months (!) after Thesis 2 was released! Note that the deadline had already been passed two days earlier…
Today, January 4'th 2013 it still says:
On Twitter, Chris Pearson has repeatedly touted Thesis 2 as being sooo easy to use, and accordinly, that porting almost any web design to Thesis 2 is easy as pie.
If it's so easy, how come it takes so long to finish and release these two skins to his loyal (and paying!) customers? It isn't because he's busy supporting Thesis customers, since he's rarely seen in the DIYthemes support forums.
The official DIYthemes forums are shock full of complaints about these missing Thesis 2 skins.
The promised Thesis 2 skins remain, well, promises… Click to see the larger version of this screenshot I grabbed today, January 4'th 2013:
What's even worse, is that the skins are *still* marketed as if they're bundled with the purchase for instant gratification. This is further emphasized by denoting other parts of the deal as available "when complete" indicating that the rest of the deal, including the skins, are bundled, and ready for download.
That pricing table will make pretty much any potential customer believe that the skins are available and bundled with Thesis 2 upon purchase. The fact that they then aren't – is despicable and dishonest!
What makes Chris Pearson feel he can treat his future and current, loyal customers that way?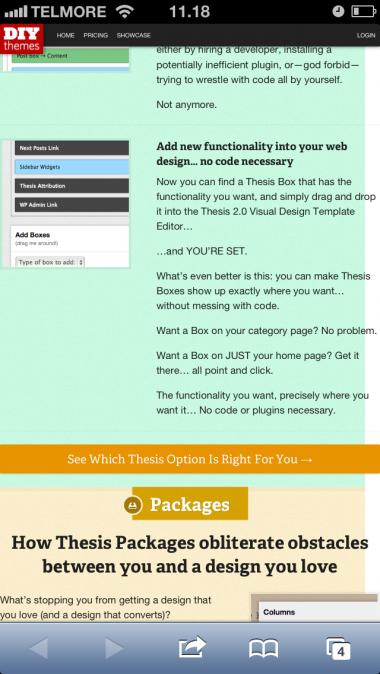 Will the "Social Triggers" and "Pearsonified" Thesis 2 skins be responsive?
Who knows? But my guess is they won't. Neither pearsonified.com nor socialtriggers.com are responsive sites (as of this writing).
So why would any of them result in a responsive skin?
All the above said, I don't see why its such a problem to release a skin as simple as the Social Triggers skin, which plainly looks like a mildly customized Thesis 1.8.5 Classic skin. It's my guess most customers are interested in the skin, not because of its visual appeal (which it's lacking imho) but more to use it as a foundation to help make sense of Thesis 2.
The Pearsonified skin would be more interesting to see, but that one is currently scheduled for release "after the Social Triggers skin…"
And what about the DIYthemes website itself? Is it responsive? Nope. Check for yourself. Try resizing your browser window and scroll around a bit;-)
What to do?
If you are looking for a viable and flexible Thesis 2 alternative – I warm-heartedly recommend you check out the Headway theme framework. I use it every day, professionally, for my clients and my own websites. Headway Themes recently introduced their take on a skin solution, and it is ultra elegant!
If you are looking for a Thesis 2 tutorial – check out Amelia Smith's Thesis 2.0 video tutorials. Though they can also serve to show you how unnecessarily complex Thesis 2 is.
I hope this blog post was useful to you? Let me know in the comments below – and please help me share it!