Back in 2008 I converted to WordPress from the designer-friendly CMS called Textpattern. WordPress had a lot more momentum going for it – clients not only wanted WordPress… They demanded WordPress! So I hadda give'em WordPress, ya dig? Anyway, as I wasn't fully into the WordPress theme templating system, I had to start somewhere. So I customized ready-made premium WordPress themes (mostly from WooThemes) to fit the needs of my clients. That's simply not optimal, so as soon as I understood how to build WordPress themes from scratch… I did so.
But while it yielded designs with much much leaner code, I also had to style common HTML elements again and again. While some code can be reused from project to project, it was never consistent, and no two websites are alike.
Enter the world of WordPress theme frameworks
Theme frameworks offer you the best of both worlds. You get the high quality code from handcoding (some might argue, even better code) but you also get the added speed of not having to reinvent the wheel everytime you develop a website. You get certain elements on a silver plate handed to ya. So frameworks enable you to work faster.
I started out with Thesis 1.7 or so. It made it very easy to get a site up'n'running fast. It also made it possible for regular people to modify the way their websites look, without having to hire a webdesigner like me.
But while Thesis 1 arguably redefined WordPress theming, bringing theme frameworks into the mainstream, it wasn't perfect. Others like Genesis, Headway and PageLines followed, and innovated on their own. Thesis though, remained rather stale.
Thesis 2 was rumored for years. Helped along by aggressive affiliate marketers who hinted at a price increase of Thesis version 2, helping them sell version 1, that included free lifetime updates of Thesis. Even for version 2. So their promise and fear-mongering was fair enough, but years passed. And we all waited. Waited, and waited some more. And then some more. Well, you get the picture. Thesis 2 was becoming vaporware.
So… Thesis 2: Finally it's arrived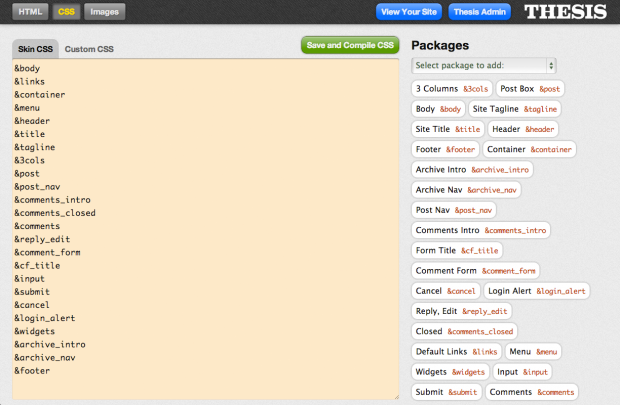 Based on Chris' cryptic tweets during the loooong development phase of Thesis 2.0, I had expected Thesis 2 to be even easier for non-tech-savvy users. I had expected Chris Pearson's many idiosyncratic ideas on design and typography, to be built into Thesis 2 in an almost AI manner. I had at least expected Pearsonifieds Typography Calculator to be automatically applied, yet one still has to tell Thesis 2 the pixel width of the content area. Say what?
Warning: Thesis 2 contains geeky nomenclature en masse!
In Thesis 2, you have something called Boxes. They're a bit like widgets… or layout elements… apparantly. You have Packages. They're small, distributable snippets of CSS. And oh, speaking of CSS: You save and compile your CSS. How's that for geeky nomenclature. What's this again? Objective-C programming or what? And why does it even have to be compiled? Do I, as a user, need to know? Why can't the button simply say "Save"? As a usability focused web designer, obsessed with simple solutions, I hate such unneccesary complex language.
You even get… hold on: Variables! That's very cool for developers, but a phenomena that only developers understand the meaning of. But normal users see them as well, and I'm sure many regular website ownders will be confused by them.
I respect Chris Pearson a lot, and enjoy his original tweets on Twitter, and find him generally very intelligent. Yet he sometimes also seems to believe he knows everything better than anyone else, be it politics or coding. Thesis 2, as a result, feels a lot like a movie that hasn't been tested on a live audience, before release. It's like the work of a mad scientist: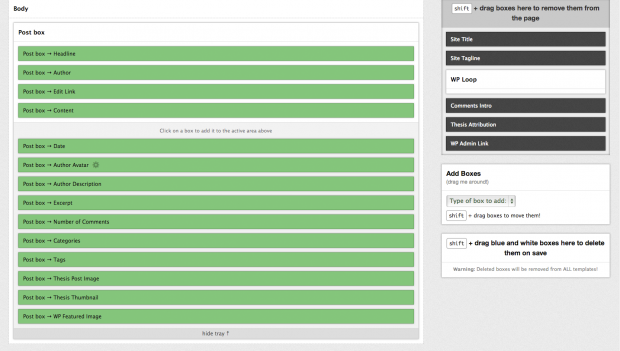 Questions I'm gonna have to ask, regarding Thesis 2
Why on earth does the boxes in the layout editor have to be SHIFT-dragged? More cumbersome. And speaking of dragging: How the hell am I supposed to drag boxes around on an iPad? Theme developers need to understand that the iPad (and other tablets) can actually be productive devices, if only web-apps like Thesis allow them to be.
Why on earth does Thesis still not work seamlessly with the über-popular WordPress SEO plugin from Yoast? The arrogance and neglect behind this decision is truly baffling. UPDATE 27/11/2012: See this comment.
Why on earth does the Thesis SEO options still include a Meta Keywords input box? Yes, it can be hidden, but why oh why not let that thing of the past die? I still have clients who believe meta keywords are The Holy Grail of Search Engine Optimization. When I tell them it's not, they almost don't believe me. Yeah, go figure. Would be nice if software like Thesis followed the good example of Yoast's WordPress SEO plugin, and abandoned such lame relics of ancient times.
Thesis 2 is NOT GPL licensed. Chris Pearson seems to have very very little respect for WordPress as a congruent community. And please understand that I know and respect his stance: Thesis 2 is his work, his property, akin to Rearden Metal in Ayn Rand's magnum opus: Atlas Shrugged. Nevertheless, Thesis would NOT exist without WordPress, and it builds upon it. Hence, Chris Pearson should respect the inherent culture and ecosystem of WordPress.
Is Thesis 2 responsive?
From the get go, no. Chris will probably argue that you can do whatever you want with Thesis 2. And I believe that to be true. But it's a fact that theme frameworks like Headway offers responsive, grid-based design, out of the box, yet even offers further customization of the specific behavior of the responsiveness of your design. Elements can be hidden, padding can be skipped on mobile devices etc. Very flexible. Genesis also offers Responsive design straight outta… the box.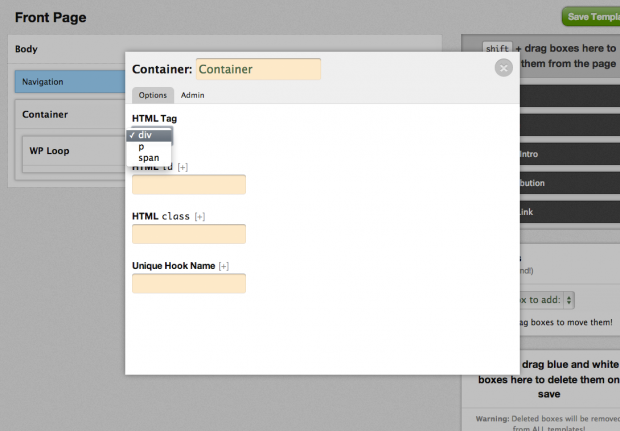 Thesis 2 marketing
The DIYthemes website sells Thesis 2 exactly like it sold Thesis 1. Like it's something that anyone can use. While that might have been the case with Thesis 1, it sure as hell isn't with Thesis version 2! A regular Joe or Jane doesn't know what a WordPress loop is. And they'll never figure out how the templates interact with the Skin CSS, and how the variables and boxes and packages interact.
DIYthemes Thesis 2 conclusion and verdict
Thesis 2 has been built for developers, regardless of its marketing hyperbole. Period. And if you're a developer, it may or may not be your cup of tea. It isn't mine. I much prefer and heartily recommend Headway as the WordPress theme framwork of choice. But I honestly had expected Thesis 2 to challenge that position, and probably conquer it. That sadly isn't the case.
Thesis 2 feels half-baked. There are bugs aplenty – and the UI feels clumsy and less than elegant, to put it nicely.
I have even experienced template and CSS work disappear and reappear at random. That's bugdom kids!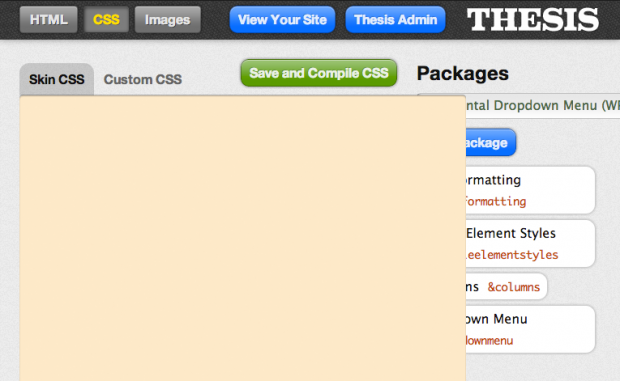 Of course, most new stuff has a learning curve. As a born learning-by-doing kinda guy, I'm always prepared for that. But I'm also a strong believer in intuitive, easy-to-use tools. Consider the elegance and simplicity of your iPhone, iPad, etc. In a way, Thesis 2 is like the Windows Mobile or Nokia phone of WordPress theme frameworks!
Yes you can do a lot with Thesis: Customize the template of each page, post, heck – even your 404 page. But so can you with Headway – and in a much much easier fashion.
Aren't there any good stuff to tell about Thesis 2? Oh yes, there is. It's just that I find it unusable the way it's packaged (pun intended).
Thesis 2 sucks. Yes it does.
Conclusion: This is most probably the last blog post I'll ever write on Thesis and DIYthemes.
So beware my friend: Thesis 2 sucks. Badly.
– UPDATE on January 4'th 2013 –
Be sure to read my follow-up: Thesis 2 Skins – Where are they?