A few years ago I was at the annual entrepreneur fair Iværk & Vækst here in Copenhagen, at which a guy called Mike Michalowicz was booked to deliver a talk on entrepreneurship.
When Mike entered the stage I must admit my first thought was something along the lines of: Oh no… That guy looks exactly like all the male characters of the Beverly Hills 90210 tv-series, combined! Not another one of those guys… They almost never have anything new to offer. Just more of the same old, repetitive drivel that's been published a zillion times before.
But once Mike started talking, I quickly changed my stance. He was funny, authentic and best of all: His business advice extremely sound, coherent and fresh. He just made sense!
Later, he also gave at talk at a Tweetup elsewhere in Copenhagen, at which my friend Jesper won a copy of Mike's first book, The Toilet Paper Entrepreneur. I borrowed and read it right away.
Mike's writing style is down-to-earth and funny. Some may find him a bit too much and over the top… but I find him highly entertaining and downright hilarious!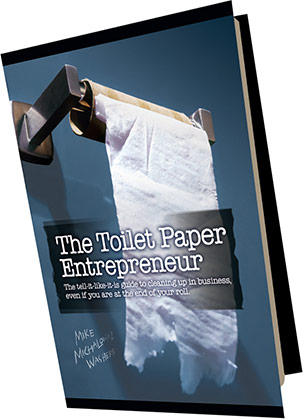 I really enjoyed The Toilet Paper Entrepreneur, and still love its evergreen, straight to the point, business advice. If you haven't read it yet, get it and read it – you will not regret it! Your bottom line will thank you for it.
A couple years later, Mike is ready with a follow-up: The Pumpkin Plan.
So, in a nutshell (even though a book can't fit in one)
– What's The Pumpkin Plan about?
The Pumpkin Plan is all about getting rid of your clients. Not all of them, but most probably, lots of them. If you have any. But even if you have only a few clients, chances are you should get rid of most, or maybe even ALL of them. Why's that?
The idea is that you gotta focus on the clients that bring you joy and income, while you're doing what you love. You shouldn't be doing the major mistake many entrepreneurs do again and again, myself included: Working with clients that drag your energy, slow you down, doing projects that aren't you main focus. You end up doing stuff you don't really enjoy, that doesn't energize you, and worst of all – takes more time and energy than you can bill!
The Red Velvet Rope Strategy
This is somewhat similar to Michael Port's Red Velvet Rope strategy, outlined in his masterpiece: Book Yourself Solid. The Red Velvet Rope strategy is analogy taken from the red carpet and VIP lounges: Only the most important people are let in. The rest can't enter. Likewise; you only work with the clients YOU allow in, the ones YOU feel like working with. Suddenly you're not a biz-slut anymore ;o)
The Pumpkin Growing Process
Plant promising seeds.
Water, water, water.
As they grow, routinely remove all the deceased and damaged pumpkins.
Weed like mad dog. Not a single green leaf or root permitted if it isn't a pumpkin plant.
When they grow larger, identify the stronger, faster growing pumpkins. Then, remove all the less promising pumpkins, repeat until you have one pumpkin on each vine.
Focus all of your attention on the big pumpkin. Nurture it around the clock like a baby, and guard it like you would your first Mustang Convertible.
Watch it grow. In the last days of the season, this will happen so fast, you can actually see it happening.
Brilliantly, Mike turns it into:
Identify and leverage your biggest, natural strengths.
Sell, sell, sell.
As your business grows, fire all of your small-time, rotten clients.
Never ever let distractions, often labeled as new opportunities, take hold. Weed 'em out fast.
Identify your top clients, and remove the rest of your less promising clients.
Focus all your attention on your top clients. Nurture and protect them. Find out what they want more than anything, and if it's in alignment with what you do best: Give it to them. Then, replicate the same service or product for as many of the same types of top clients as possible.
Watch you company grow to a giant size.
The WebMatros Verdict – Short and concise, brief and comprehensive:
The Pumpkin Plan is a great book, easy to get through, entertaining is applicable to most businesses, especially service-based ones.
I find myself wanting to move from being a service-based business, to a more product-oriented one, but often find it difficult to choose which project(s) to work on. Which projects will be successful, which will be profitable?
So the only thing I could have wished for, would be some more advice on choosing the right projects to work on. Prioritizing internal, personal business projects is often difficult for an entrepreneur like me. Yes, it is possible to apply The Pumpkin Plan to projects instead of just clients, but the Pumpkin Plan book is primarily focused on clients, not projects.
Maybe that an idea for Mike's coming book number three: A book on productivity and project management a la Mike Michalowicz? I hope so.