In this comprehensive, in-depth Surfer SEO review, I share my extensive hands-on experience with Surfer SEO, which I've used (as a paying customer) since October 2020.
Rather than zealously sing its praises and pimp its advantages, I'm writing this review of Surfer as an opportunity to re-evaluate its pros and cons, to find out if Surfer SEO is still the top choice in 2023 – or if other SEO tools have superseded and surpassed its ability to help our pages rank higher in Google.
So you can trust this isn't one of those made-up, fake "reviews" that just provide a superficial overview, to purely promote a product for profit.
In this fair and balanced breakdown, I'll cover all the features and tools of Surfer SEO, how they fit together (and the best workflow to improve your site's SEO). I'll also discuss its pricing, customer service, and ease of use.
As well as some shortcomings I've experienced in Surfer, to help you decide if it's the right choice of SEO tool for you.
Enjoy the review! I genuinely believe it's one of the most insightful, helpful reviews of Surfer SEO you'll find.
How Surfer SEO differs from the alternatives
Without claiming to be an expert, I'm certainly no stranger to SEO. Experimented with it since I coded my first website in 1998 or so. I've also consulted and helped clients, and gave a national WordCamp Denmark talk about it.
Over the years, I've rigorously tested more on-page SEO tools than I care to remember.
As you can read in my is Yoast Premium worth it review, I'm not fond of the Yoast SEO (aka "WordPress SEO") plugin. While its free version only lets you set a single target keyword, Yoast Premium does support multiple keywords – but the implementation is so crude it's no match vs significantly more advanced Surfer SEO.
I've also tested Rank Math, which handled keywords better than Yoast, but had bugs and other issues I'll share in a separate Rank Math review.
Also tried the WordPress plugins Squirrly SEO and SEOPress. But the only WP SEO plugin I've truly LOVED (despite its imperfections) was Scribe. It worked wonders – grew my sites organic traffic significantly. Why Copyblogger discontinued it, is a mystery I'll never forget (or forgive). Surfer is the only SEO tool that has matched (and surpassed) Scribe.
As a paying user for years, I also have extensive experience with feature-rich, complete SEO tools like Raven Tools and Moz Pro. The latter I'm still a heavy user of.
Not to forget Grammarly and the Hemingway editor. Remember: well-written content often ranks well, long-term, in Google!
And after testing Page Optimizer Pro, I decided to give Surfer SEO a try. What a breath of fresh air!
Surfer intelligently keeps up with Google's often impactful algorithm updates, via content analysis of what your top-ranking competitors are doing in Google, to win top 10 search results. Its approach to optimizing website content, reminds me of another SEO tool I used years ago – Website Auditor – part of Link Assistant's SEO PowerSuite.
What is Surfer SEO? Data-driven on-page optimization
Surfer SEO is way more than its popular on-page optimization tool: the Content Editor. Though that alone would make a great product, even at the same price as everything they offer. It's a comprehensive, complete SEO tool:
The Surfer SEO Content Editor
The Surfer SEO Audit tool
The Surfer Grow Flow tool
The Surfer Domain Planner
The Surfer SEO Keyword Research tool
The Surfer SEO SERP Analyzer
Each of these tools intelligently tackles different aspects of search engine optimization – with the shared goal of helping you create content that ranks prominently in Google's search results – and Bing, Yahoo, Ecosia, DuckDuckGo, Qwant, and Ahrefs' new search engine Yep.
The Surfer SEO Content Editor – a killer app
The allure of Surfer's Content Editor was what made me sign up for a free trial and be a paying user, since October 2020.
So I'll dedicate a substantial part of this Surfer SEO review to the Content Editor.
It handles optimizing for many keywords at once, really well.
Optimizing content in regular text editors or word processors like Microsoft Word or Google Docs gets unwieldy, really fast. Yet even vs many competing specialized SEO writing tools, Surfer SEO does it better.
How Surfer's Content Editor works
Ancient times when SEO meant optimizing a web page to a single target keyword phrase or two – are long gone.
Nowadays (for years, actually) Google favors in-depth, information-dense pages, using varied language – rather than repeating the same few keyword phrases over and over like a retarded robot. You should use all plausible words at your disposal, to cover the page topic sufficiently.
And that's where Surfer's Content Editor comes into play and will show its immense usefulness!
We need an SEO text editor that:
Helps you research a comprehensive list of diverse keywords – short-tail, medium-tail, and long-tail keywords. Surfer easily finds 300+ high-quality keywords.
Prioritizes all those keywords for you, so you know which should be used more frequently than others that only need to be used once each.
Helps you keep track of which keywords you've used in the text, and how often, so you don't shoot above or below the target. Keyword-stuffing an article has for years been a bad idea that can lead to Google penalties. Surfer helps you avoid it.
Since at least 2019 Google has used NLP (Natural Language Processing) and in particular BERT (Bidirectional Encoder Representations from Transformers) in its search algorithm. Add to that MUM (Multitask Unified Model) and it's clear Google is now a fully semantic search engine.
"Content managers should concern themselves less with the frequency of keywords (keyword density) in their content and consider the perspectives from which a topic should be dealt with. Here the good old TF-IDF analysis is still a tried and tested means of identifying important terms that describe the keyword corpus of a topic."

Google MUM Update: SEO Must Change – Search Engine Land
TF-IDF (Term Frequency–Inverse Document Frequency) is a nifty algorithm that uses the frequency of words to determine how relevant those words are in a given document.
Surfer SEO is one of the most up-to-date on TF-IDF-based SEO tools for modern content optimization and editing.
It allegedly uses ML (Machine Learning) and AI (Artificial Intelligence) to achieve its results. I write "allegedly" because ML and AI are overused by buzzwordy SaaS companies to hype technologies that strictly speaking aren't "AI" in the sense of truly self-thinking artificial intelligence. Which nowadays is increasingly being referred to as AGI – Artificial General Intelligence.
… Which leaves the term AI free to (ab)use by SaaS companies.
That said, I don't know whether Surfer SEO is run by robots who will soon overpower and enslave humanity. Maybe:)
Kidding aside, the Surfer dev team certainly went all-in, with their in-house, proprietary NLP implementation. It's based on both IBM Watson, Google NLP, and Surfer's own NLP. Read more about it here – a long but interesting read!
Content optimization in the Surfer Content Editor
To optimize content in the Surfer Content Editor, you input a high-level, broad, short-tail seed keyword – or a multiple keywords. Surfer SEO then analyzes the top pages ranking for that/those keyword(s) and extracts a boatload of target keywords to include in your text.
These keyword suggestions include NLP terms, and are consistently of good quality! Not perfect of course, but always usable right away.
You can stick with the keywords suggested by Surfer's keyword analysis, or you can add your own.
I enjoy keyword research, so I appreciate the ability to add my own keywords.
Yet, the Surfer team recommends you don't spend time adding your own keywords. In theory, it isn't needed, since the suggested keywords are based on competing, top-ranking pages: all other ranking-factors being equal (incoming links, site authority, etc) you should theoretically be able to rank well if you write a helpful, high Content Score article, targeting the right NLP sentiment, and user search intent.
Surfer's keyword research is a delight to use in the Content Editor
Optimizing a text for hundreds of keywords can feel overwhelming if you can't easily keep track of which you've already used in the text.
Surfer helps you with that in two ways:
The keyword list can be filtered, so you only see the keywords you haven't already used in the text. As you're writing, the list of keywords will shrink, much to your satisfaction.
Used keywords can be highlighted in the text. This not only makes it easy to see which keywords you've already used – but also helps you remember you're using certain words and phrases for a reason (they're keywords) so you don't unintendedly edit them, later in the process.
Another detail I appreciate, is that Surfer SEO is intelligent enough to match keyword suggestions without dashes to instances of those keywords with dashes. As an example, Surfer may recommend using the keyword "on page seo tool". But the right way to write that, is "on-page SEO tool" – with a dash. You'd be surprised how many on-page optimization tools are too bone-headed to realize you have in fact used a keyword, you've just spelled it correctly. Nice touch, Surfer!
You can also mark keyword phrases to be used used in headings. This further helps you organize your content optimization efforts.
It's also possible to highlight words/sentences/paragraphs with pastel background colors. This is useful to mark parts of the text as "done/ready" or needing further editing, according to your workflow. Later, before publishing, you can then easily "clear all highlights" in one click. Neat!
The above features should NOT be underestimated. Immensely helpful.
Oh, I almost forgot: there's also Markdown support: formatting your text with Markdown syntax transforms it into rich text on-the-fly. I've been a long-time Markdown writer since John Gruber (Daring Fireball) and Aaron Swartz created it in 2004. Markdown boosts writing productivity – and facilitates easy, universal portability of text.
So I appreciate being able to write using Markdown in Surfer.
I'm disappointed however, that copy/pasting Markdown-formatted text from Markdown text editors like Obsidian and iA Writer, doesn't work 100%. Bold and italic text works fine, but headlines only work partially, and links and lists remain as Markdown syntax.
What year is this? 2023… or 2013? C'mon, Surfer dev-dudes…
The Content Score rating
Surfer's Content Score algorithm takes into account hundreds of on-page factors.
I don't know whether the Content Score is linear, mathematically speaking – but in practical use, it feels logarithmic: from the blank page and a score of 0, progress is fast – you quickly get "halfway there" to a score around 50.
Beyond 50'ish on the scale, progress happens progressively slower. And you'll feel you really have to work, to increase a Content Score of f.e. 80, to 83.
How high score do you need? What is a good Content Score rating?
A good SEO Surfer score is as close as you can get it to 100, without sacrificing readability, etc. It doesn't have to be perfect.
In general, a Content Score above 70 is considered adequately optimized and ready to publish.
Yet in practice, it varies what a good Content Score is. It depends on the competing websites' pages that you're up against.
Fortunately, the Surfer Content Editor concretely tells you what a good Content Score is, for each specific document. This estimate is based on the average Content Score of pages that already rank for the selected keyword / keywords in Google's search results – as well as the top search result, respectively.
Surfer SEO article length recommendations
In my experience, Surfer tends to recommend rather long content pieces. While it is logically based on their Content Score algorithm measuring competing pages' length, you should take it with a grain of salt, when it asks you to write a 4500+ word mammoth piece of content.
Think about it: how many words do you need? Searchers on Google want concise content that answers their questions. If you can provide the same, or better, value – by saying it using half the amount of words: I wholeheartedly believe your visitors (and Google) will appreciate it.
Here's a strategy you can use:
Manually override Surfer's recommended content-length goal with one that's half the length. Just keep in mind that Surfer's Content Score will be lower, whenever you're above or below
Then write the initial version of your content targeting that.
A month or so later, use the Surfer SEO WordPress plugin to easily re-import the post into Surfer's Content Editor. Then expand it towards the initially recommended word-count, using the keyword insights you've gathered from its actual keyword performance, as reported in your Google Search Console, as well as questions asked by readers in comments.
My above content strategy can also be seen as an MVP (Minimum Viable Post) iterative content generation strategy. Use it, and thank me later:) You're welcome!
The Outline Builder: AI text generator genius… or retarded robot?
To help you achieve Surfer's sometimes ambitious word-count goals, Surfer SEO has a built-in AI text generator strangely named "Outline Builder". Odd name, as it doesn't have anything to do with outlining – which normally refers to a hierarchical content structure.
They claim the Outline Builder has built-in AI and can help you with text paragraphs that match the suggested headings.
That video make it look better than it is. Honestly, this AI feels like a joke. As if it's based on GPT-1 or GPT-2. Its output quality is so low it takes more time to correct it manually, than write it yourself from scratch.
The AI in Surfer's Outline Builder is not to be confused with the newer, and much more competent and powerful Surfer AI which I review further below. Read on!
There's a free light-edition of the Outline Builder on their website you can try if you want.
Anyway, this Outline Builder scrapes headlines and content from the competitors. The outline is generated based on the 5 competitors with the highest Content Score. It means that the more you fit into the search intent, the better the outline gets.
It can generate headings in all languages. They're scraped from competitors top ranking web pages, on which Surfer SEO based its Content Editor guidelines. The paragraphs are "AI-written" and Surfer's AI writing generator can currently only create unique paragraphs in:
English
Polish
German
Dutch
French
Spanish
Swedish
Danish
Childish (kidding)
Surfer claims "all the content is unique" and "AI generated". Unique? Maybe. Useful? Hmm… the jury's out on that one! ny beach bonfire spliffs.
The headlines are ok, though. Or, as ok as your competitors manage to write them. As an unexpected, added bonus, Surfer's Outline Builder has given me a much better sense of the kind of headlines my competitors write.
SurferSEO Review: can it steal the crown of on-page SEO tools?
Surfer SEO SERP Analyzer— Detailed Breakdown
What Is Surfer SEO? An Overview of Its Main Features
Surfer SEO Content Editor: TF-IDF (LSI Keywords Stuffing)
The Surfer SERP Analyzer
Keyword Research: Find New Keywords to Target
Surfer SEO Content Planner
The Search Results
Tutorial: Optimizing content with Surfer SEO
Some ranking factors Surfer SEO analyzes
Things That Surfer SEO Should Improve
Interface And User Experience
Surfer SEO Pricing Reviewed
1 Click On Page SEO Audits
Surfer SEO Review: The New Grow Flow
Does Surfer SEO really work?
How much does Surfer SEO cost?
Basic: Suitable for freelance SEO and bloggers
Optimize for True Density
Surfer SEO vs Clearscope
Google Docs
Can you use Surfer SEO for free?
Surfer SEO vs. Cora
Surfer SEO Review Conclusion
Rank for multiple keywords with on blog post
Surfer SEO vs. Website Auditor
Frequently Asked Questions about Surfer SEO
Page Optimizer Pro — Surfer SEO vs POP
Surfer SEO Alternatives
Surfer SEO vs Frase IO
What is a good Surfer SEO score?
As you can see above, you do get a "huge, helpful handful" of usable headline-suggestions, scraped from competitor's sites.
You'll also notice they're not organized in any way. Disappointing in this day and age where AI text generator tools are popping up like manna on the savannah – and amaze content marketers across the planet.
Would be nice if it grouped the headings like:
(h2) What Is Surfer SEO? An Overview of Its Main Features
(h2) Surfer SEO Alternatives

(h3) Surfer SEO vs Clearscope
(h3) Surfer SEO vs. Cora
(h3) Surfer SEO vs. Website Auditor
(h3) Page Optimizer Pro — Surfer SEO vs POP
(h3) Surfer SEO vs Frase IO

(h2) Surfer SEO Review Conclusion
Not rocket science. It's stuff a Commodore 64 or Amiga 500 can accomplish! Just search for commonalities like "vs" and use AI-brainz™ to semantically group them as h3-headings, under the h2-heading "Surfer SEO Alternatives".
And why is "Surfer SEO Review Conclusion" not placed last in the outline? No one starts a review (or any article) with a conclusion, right? Surfer should be able to find common patterns of the analyzed competitor websites, and organize the outline accordingly.
"What Is Surfer SEO? An Overview of Its Main Features" is placed almost at the top of the outline, where it belongs. So maybe it's trying, though?
Formatting of the headlines could also be homogenized according to standard style guides – as either title case, or sentence case. Presently, it's a… mixed case mess. Words like "that, and, its, etc" should be de-capitalized. Only inexperienced writers capitalize all words in titles and headlines.
In this day and age of highly capable AI text generators – Surfer's Outline Builder is archaically disappointing.
In comparison, a proficient AI content generator like Article Forge is a vastly superior tool.
Outlining? Collapsible headers / sections?
I severely miss true outlining capabilities in Surfer's Content Editor. I'll share a workaround in a minute.
An outline of the header structure, a la Microsoft Word and Google Docs, would be so helpful, giving a birds-eye overview of your text's overall structure.
Collapsible headers/sections (hiding the paragraphs underneath) would be even neater! As seen in text editors like Typora, Obsidian, Dynalist, TaskPaper, OmniOutliner, Workflowy, et al.
Without that, longer documents can get seriously overwhelming.
Also, I miss tables in the Content Editor. Fortunately, they too can be had in Google Docs:
Surfer's Google Chrome extension / Google Docs integration
One way to get an outline of the content structure is to use Surfer's Google Docs Chrome integration. Setting it up is easy.
How to use the Surfer's Google Docs Chrome integration:
Install the Google Docs extension in Google Chrome, Vivaldi, Brave, or any other Chromium-based browser of your choice.
Go to your Google Docs account and create a new document.
Click the Surfer extension in the browser toolbar.
Voila: Surfer's full-fledged Content Editor, inside Google Docs.
What about WordPress integration?
Well… That's a tough one to answer definitively! Cos officially the Surfer SEO developer team have given up making Surfer work, inside WordPress. Maybe due to WordPress' infamous Gutenberg editor overhaul. However, unofficially the aforementioned Google Docs extension may still work for you – in WordPress. For me, it works! Just use it like you would in Google Docs, as outlined in the three steps above.
I'm using the Vivaldi browser – a tremendously customizable Chromium (Google Chrome) based browser, btw.
The "trick" is to save the WordPress post/page draft (so it has a post ID, I assume). Only then can you click and activate the Surfer extension.
And don't use the Classic Editor plugin. With that one, I've had no luck.
It took me considerable experimentation to discover the above workarounds. Until then, it was a mystery why the Surfer "WordPress extension" sometimes worked, and other times not.
The Surfer WordPress plugin
There's also a Surfer SEO WordPress plugin for WordPress.org (self-hosted WP) blogs and websites. It helps you import the existing content into the Content Editor, straight from your WordPress website, optimize it, then send it back to WordPress.
Surfer AI review: is there an AI that will write for you? For free?
AI copywriting is all the rage these days – and the Surfer dev team joined the party with a somewhat unique (and somewhat expensive) offering:
Surfer AI.
So here's a short Surfer AI review.
The new, long-anticipated Surfer AI writer is an artificial intelligence writing tool that automates research and article production with just the touch of a button, producing content optimized for search and tailored to your audience in minutes. Combining natural language processing technology with SEO results in high-quality articles that feel human-written.
That said, Surfer AI does have its limitations when it comes to certain forms of content, like essays. Essays require unique voices and perspectives which may not be captured correctly by an AI algorithm, leaving your articles lacking authenticity.
Rather than a writing tool for academics, Surfer AI was designed to help online marketers of all kinds speed up and streamline their writing process, saving you time and money – while producing high-quality content.
Quality of Surfer AI content
The quality of the Surfer AI content is good. Much better than Surfer SEO's previous AI writing attempts in its Outliner Builder lambasted earlier in this review.
Surfer AI makes writing articles easy by providing users with just two tools to start writing an article: keyword selection and tone of voice selection. Then Surfer AI generates an entire article within minutes that you can then review and modify as necessary before publishing on your website – or wherever you could benefit from fresh, relevant, well-written, human-like, plagiarism-free content.
And with Surfer AI's anti-AI detection capability, it stands out as one of its key advantages, preventing content generated from appearing as though written by an algorithm. This feature is crucial because Google and other search engines prioritize human-authored material in search results; by employing its anti-AI detection functionality, Surfer AI makes sure its output is both natural and engaging.
Surfer AI pricing: yes, it will write for you – for a fee (not for free!)
Indeed, if you're a busy business bee, Surfer AI will write for you, but for a fee. Not for free (of course). Whether its cost is worth it to you depends how busy you are, and how much ROI you'll earn from each article, on average.
In combination with Surfer AI, Surfer SEO has truly become an all-in-one content creation solution, helping boost the SEO of your sites.
Surfer AI: an interesting option vs the alternatives
It's an interesting option for marketers and content creators looking to save time, and thereby also money, as your time can be spent on more fruitful activities, like billable service hours, or selling your products.
Note: currently the Surfer AI writer is limited to English language only. El Surfer no hablo Espanol:)
The Surfer SEO Audit tool
Where the Content Editor is focused on on-page optimization, the Audit tool takes a more holistic approach, considering external incoming links, internal link structure between the pages on your website, and more.
According to the Surfer team:
We recommend using Audit when you want to quickly discern a wealth of data points related to a web page's room for improvement in on-page SEO. Whether it's a new article you want to check on once it's been published or an old article you want to update, Audit is the right tool.
Content Audit bonanza
Surfer's Audit tool provides a lot of data. Less SEO-savvy users may blindly follow all the recommendations, and get overwhelmed doing so.
Its content audit does provide lots of valuable insights and suggestions to help you satisfy the Google gods and in return be anointed top positions in Google's SERPs / search results. Just be judicious as to which tips you implement. Else you'll be busy forever.
My favorite, easily actionable part of the Audit reports, is the internal linking suggestions: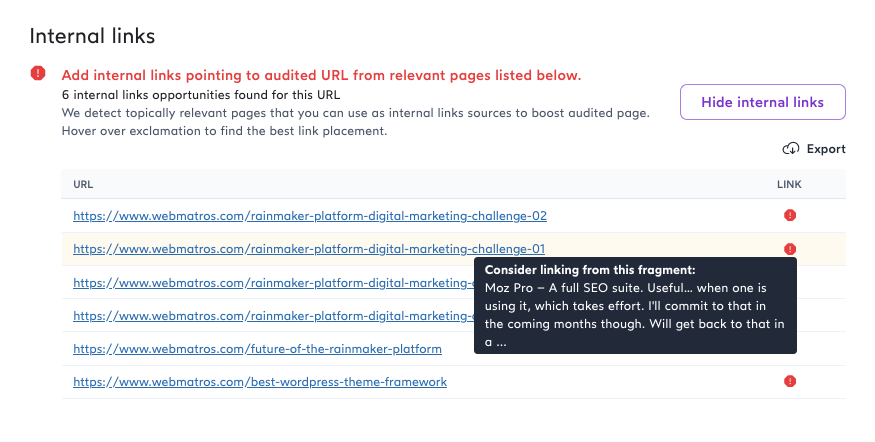 Note that it helpfully tells you where on the target page it recommends you insert the link.
The Surfer Grow Flow tool
The Grow Flow tool, is a relatively new feature in Surfer. Weekly, it gives you genuinely useful, specific recommendations, in a non-overwhelming, easily digestible list.
As you can see in the screenshot, the suggestions are concrete, and easy-to-follow: "link to page A from pages B, C, D, and E".
Another type of recommendation might be to create a new, optimized content piece:
write and publish an article about "spa gift certificate"
write and publish an article about "popular summer songs"
write and publish an article about "silicon valley interview questions"
etc
The Grow Flow tool comes up with such specific keywords based on the connection you've set up with Google Search Console, via the integration Surfer provides. This means the suggested keyword research is 100% personalized, and therefore has a higher probability of ranking high in Google's search results.
To make it even easier, the tips are accompanied by concise 1-minute videos, which explain how to practically implement the suggestions. These can be watched inline, so you can stay focused on the task.
The cool part:
When you've completed the recommended tasks, the immaculate Surfer Grow Flow bot will go to work behind-the-scenes, analyze the impact of your efforts, and within a week or so present you with new recommended actions – based on what you've done so far.
That makes Grow Flow a feedback loop. A process you just have to follow, to increase traffic on your website.
Each website you add to Grow Flow, will be deemed either a high-impression website, or a low-impression website. A website with more than 100 impressions per day is considered a high-impression website.
Your Surfer subscription plan determines how many high-impression websites you can add. All plans let you optimize and track an unlimited number of low-impression websites.
The Surfer Domain Planner
The Domain Planner is yet another of Surfer's oddly named tools. There's nothing related to "domain planning" in the Domain Planner tool.
Instead, it connects with your Google Search Console account and presents you with "low-hanging fruit" opportunities for existing content on the website URL you've given it.
This can help you optimize your own, or client sites. In case of the latter, the client can add you to their Google Search Console account as an admin user so your Surfer-connected Google account also has access to your client's data – or the Domain Planner can work without Google Search Console, based solely on Surfer's own data.
The Surfer SEO Keyword Research tool
Surfer's Keyword Research tool is powerful. It goes far beyond basic keyword research tools. Formerly known as the Content Planner, its purpose is to help you find LOTS of keywords related to the keyword you put in.
It then neatly organizes these into 50+ topic clusters (keyword clusters) each containing between 2 and around 20 related keywords.
KD (keyword difficulty score) and MSV (Monthly Search Volume) is provided for each topic cluster.
Once you've found an appealing topic cluster, you can swiftly create a Content Editor document, based on those keywords. Doing so means Surfer will find even more related keywords, and questions, and NLP-based keywords, to optimize your content for – as explained in this review's Content Editor section.
It's a deceptively simple, yet genuinely powerful SEO tool that will help you create high-ranking content, and will absolutely save you LOTS of time.
The Surfer SERP Analyzer tool
The Surfer SERP Analyzer tool is by far Surfer's most advanced, complex tool. Surfer's SERP Analyzer is any data-driven content marketer's wet dream. It's what the microscope and Petri dishes are to a passionately obsessed microbiologist! Nerds only. Nerds rejoice!
Since this review is already longer than I intended, I'll leave it up to you to research on Surfer's website. Try a free trial!
This screenshot I took, speaks for itself:
How to optimize existing content with Surfer SEO
There are multiple ways to optimize existing pages with Surfer. One way is directly inside WordPress post editor, as described above.
Another way to optimize existing content is to use the Audit tool, also an on-page optimization tool, but it takes a different approach to content optimization, than the Content Editor. It's more holistic, takes links into account, etc – but is not as in-depth, and isn't an editor.
Once you get a feel for Surfer SEO, you'll know when to use which tool for what. In reality you'll combine the strengths of each tool. Here's what I do:
Feed the Keyword Research tool with a long-tail, broad keyword. A minute or so later, it presents you with a comprehensive collection of topic clusters – each consisting of several, related keywords.
Directly from the Keyword Research tool, create a new Content Editor document, based on a topic cluster you wanna write content for.
Use the Content Editor to write a highly optimized (hopefully high-ranking) article.
A few months later, use the Audit tool to further optimize it.
Alongside those steps, use the Grow Flow and Domain Planner tools: and you will rank higher in Google than without Surfer SEO.
Surfer SEO pricing
When it comes to pricing, Surfer is among the most affordable on-page SEO tools on the market.
Compared to its competitors, Surfer SEO cost is beyond cost-friendly.
Especially Surfer SEO vs Semrush which cost a whoppin' $120 per month, last time I checked. Or Surfer SEO vs Clearscope which costs $170 p/m – just for the essentials! Or Surfer SEO vs MarketMuse at (… are you sitting down?) $600 p/m.
Are they comparable Surfer SEO alternatives? Essentially: yes.
In my own experience – and from working with clients since 2009: you're better off choosing a single tool or two, and really work it. Get all the best you can out of that tool. Too many tools leads to overwhelm, confusion, pracrastination – and less money in your bank account.
So keep it simple! Keep costs down – and cashflow up 🙂
Surfer SEO support & reliability
Customer service has consistently been fast, friendly, helpful, and overall solid. Support-wise I score them 9 of 10 stars. In other words: excellent!
And that's been true ever since I started using Surfer in October 2020, and up until now.
Apart from a few hiccups (which can mostly be ascribed to me using Firefox) Surfer has been stable and bug-free.
Video tutorials & written training material
The Surfer SEO team constantly publishes great tutorial videos.
The knowledge base / help docs are useful and well-organized.
Finally, the Surfer SEO blog is very active, and full of great posts that strike a perfect balance between solid, up-to-date, platform-agnostic, highly relevant SEO content – and Surfer-specific SEO tips and tutorials.
No review is complete without a final verdict:
Surfer SEO review conclusion
Does Surfer SEO work? Yes, Surfer SEO works:)
Besides the few quibbles shared in the review, I have only good things to say about Surfer – which is why it's my favorite SEO content optimizer. As said, I've been a paying user since October 2020.
It packs serious SEO punch! So far, I haven't come across a viable Surfer SEO alternative.
Well-designed and intuitive, but does have a gentle learning curve. You'll quickly be optimizing your content – but keep discovering new, nifty features, along the way.
The training materials (videos and blog posts), help docs, and support team are all very helpful.
And if you're using Jasper or Writesonic for AI writing, Surfer is the obvious SEO tool of choice, as they integrate with Surfer.
I hope you've enjoyed my Surfer SEO review? If you have questions or comment: feel free to comment below!
PS: there's a free (no email required) SEO Writing Masterclass available.