Despite my intergalactically high intelligence (no less! ?) I must admit I hadn't seen this one coming. Yet, now that it's here: it's an obvious move by Rainmaker Digital (formerly Copyblogger) to release a hosted WordPress service, in the "tradition" of WP Engine, Flywheel, Pressable, and Media Temple, to name a few of the big-name players.
I mean, my own website has been hosted on their professional Rainmaker content marketing platform, for almost 2 years now. And since they're doing so well with Rainmaker, it's only natural that they've launched a hosted WordPress service, without the content marketing and commerce features of the Rainmaker Platform.
It's called StudioPress Sites.
StudioPress Sites
But… I can't help but wonder: are StudioPress Sites competing with managed WordPress hosting services like WP Engine, Flywheel, Media Temple, Pressable… or is it more a competitor to WordPress.com – Automattic's official, hosted WordPress solution?
And more importantly: what new does it bring to the table?
A relevant question. After all, WordPress.com is, at first glance, less expensive – and so are Flywheel and Media Temple. Only WP Engine is priced similarly.
So the initial question has now morphed into a slightly different one: what do StudioPress Sites offer, that make them valuable enough to justify the slightly higher price tag?
And why would you even want a hosted WordPress solution, rather than install WordPress yourself – or pay a professional web designer to do it for you? That's another good question, so let's start by answering that one.
A hosted WordPress solution not only gets you up and running faster, it also makes your life easier, going forward. Managed WordPress hosting makes sure that your site is safe and secure, so it doesn't get hacked. To some people, security of their WordPress website never gets the ongoing attention it deserves, occasionally resulting in a hacked WordPress site. WordPress and 3rd party plugins *need* regular security updates to patch security holes. Else your site is literally wide open, for the whole internet to attack and abuse.
Setting up my own site on StudioPress
Installation was easy, as there wasn't any installing to do. That's the whole point of managed WordPress hosting:)
So there I was: logged into good ol' WordPress.
For my site, I chose to rock the Smart Passive Income theme based on Pat Flynn's recipe for online marketing success.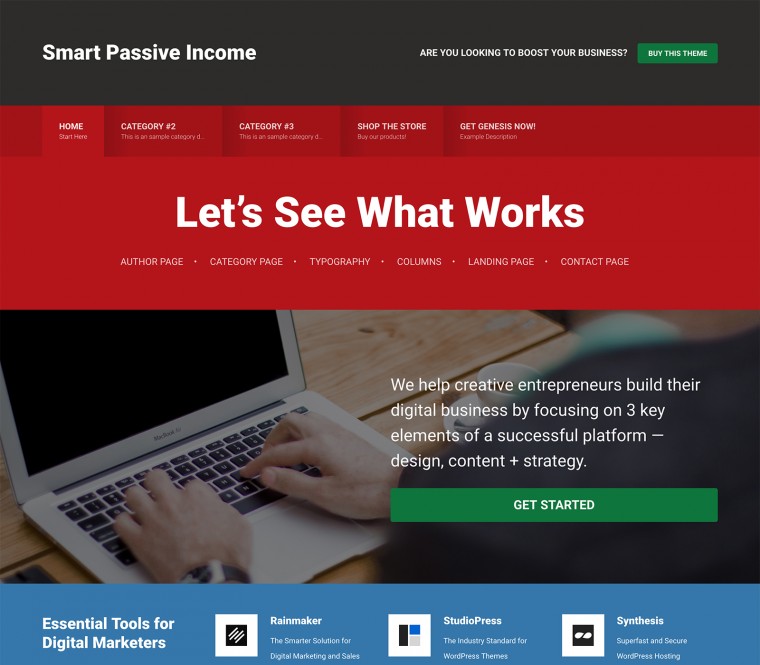 Pat Flynn's theme is a solid one. And so are the other included StudioPress themes. In my experience, StudioPress themes are remarkably stable and trouble-free. The same sadly can't be said of many other WordPress themes on the market.
Note that you're not limited to the 20 StudioPress themes. They're just included for your convenience. You can install other themes as you please. For example the great Beaver Builder or Divi.
I am pleased to see the Content Optimizer known from Rainmaker (f.k.a. Scribe) included in StudioPress Sites. That means easy, powerful and most importantly: effective content optimization. Plus intelligent keyword research capabilities. Right inside your WordPress website.
StudioPress Sites vs the competition
How do StudioPress sites compare, when stacked up against the competition?
StudioPress Sites vs WordPress.com hosted WordPress
WordPress.com is cheaper. A lot cheaper. Seemingly! Premium pricing (ad-free and on your own domain) starts at $35.88 annually, for the Personal plan, whereas StudioPress Sites pricing starts at $297 per year. That's an 8x difference.
However, to get WordPress.com to even remotely match the StudioPress Sites feature set, you'll need their *Business* plan. Only that top-tier plan includes essential SEO features, Google Analytics integration, and removal of WordPress.com branding. Its cost? $299 annually.
That brings WordPress.com pricing to the same level as that of StudioPress Sites.
Additionally, WordPress.com is much more restricted. You can't install your own plugins. That alone stops you from truly building a platform your business can grow and expand upon.
So, at the same cost as StudioPress Sites: WordPress.com will give you less creative freedom.
That sounds like a bad deal to me. How about you?
While I am impressed by some of WordPress.com's unique features (like f.e. their color palette generator), it is easy to see StudioPress as the clear winner here.
StudioPress Sites vs the Rainmaker Platform
Rainmaker is a different beast altogether. A full content marketing platform, Rainmaker lets you sell your digital products and services, create online courses, do marketing automation, send email marketing campaigns, setup email autoresponders, and much much more.
Because of all those included features, the Rainmaker Platform expectedly costs more than StudioPress Sites. That said, Rainmaker is still a seriously *great deal* compared to its direct and indirect competitors, like f.e. Simplero and Infusionsoft. Rainmaker has no transaction-fee. That alone makes it attractive for any online marketer who sells their digital products or services online, via their website.
Rainmaker's admin UI is unique to Rainmaker, despite Rainmaker being based on WordPress. StudioPress Sites' admin UI looks like regular WordPress. Personally, I prefer the UI of Rainmaker. It's cleaner, bolder and easier to use than WordPress. Still, I'm glad Rainmaker Digital didn't apply a custom WordPress admin UI, to differentiate StudioPress Sites and make it stand out. It is just WordPress, after all: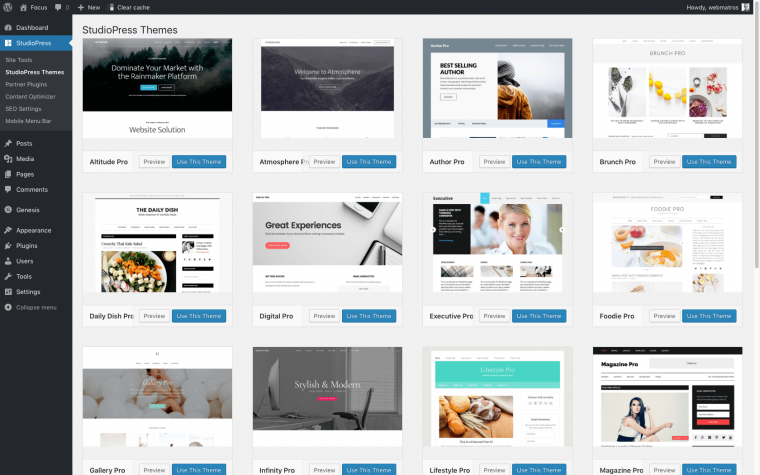 Here's the Rainmaker Platform UI:
Therefore, comparing the Rainmaker Platform to StudioPress Sites is comparing apples and oranges. They're different animals.
However, if for any reason you're unwilling to use Rainmaker for your business marketing website, you could start softly, with a StudioPress site – and later add Simplero, to take care of your online marketing needs. That way, you'll have a simple, fast website + a member area for your online course content. Just an idea.
StudioPress Sites vs the managed WordPress hosting competition
The more we look at it, StudioPress Sites emerge as being "just" a managed WordPress hosting solution as seen from WP Engine, Media Temple, Flywheel, and Pressable – even though it isn't marketed as such.
The biggest difference? Those services typically offer more developer-oriented features, whereas the StudioPress offering is aimed at those of us who don't need or want to wrestle with nerdy sys-admin features.
I'll go into more depth about the pros and cons of each, in an upcoming blog post. Watch this blog!
Features of StudioPress Sites
Rainmaker Digital themselves sell StudioPress Sites on the following features:
Industry Standard Design Framework
20 Mobile-Optimized Designs
WordPress-Optimized Performance
Zero "Hosting" Hassles
Advanced SEO Functionality
Plugin and Theme Maintenance
Rock-Solid Security
One-Click Install of Included Plugins
World-Class Support
Rather than mindlessly parroting the features like other bloggers, I'll mention the features I believe to be of most interest to you.
The Content Optimizer
The highly effective Content Optimizer is included with StudioPress Sites. I'm currently enjoying its benefits in Rainmaker, and was a big fan of Scribe (its former, stand-alone product name) for several years, long before I migrated my site to Rainmaker.
The Keyword Research feature lets you find keyword opportunities AND evaluate which ones are most likely to work, specifically on your website. It looks at backlinks, page authority, social media shares, and how much content you already have on your site, targeting the keyword phrase.
Then, when you've chosen a keyword phrase to target, the Content Optimizer feature helps you optimize your content in a gentle and intelligent manner, so "Google gets it" – without your content reading like as if an autistic robot keyword-stuffed it like a poor foie gras duck.
In my experience, the Content Optimizer and its Keyword Research tool is great at predicting which keyword opportunities will indeed work out well for you, and which ones are too unrealistic. You don't wanna aim too high, trying to rank well for a keyword phrase your site simply doesn't have the authority for, yet.
If you wanna build up that authority, this tool helps you do exactly that, over time. There's almost a gamification aspect to the process, watching your Site Score go up, as you create more and more content targeting your desired keyword phrases.
Good stuff.
"look ma! no backups!" (not really, so don't worry)
Some bloggers have written that StudioPress Sites is without backups. I found that very hard to believe, so I asked StudioPress on Twitter:
@webmatros SP Sites provides daily backups. If anything ever goes wrong, we can get started restoring it in less than 30 minutes. – J

— StudioPress (@studiopress) February 3, 2017
Yes indeed: they DO take daily server backups.
So IF Brian Clark (Rainmaker Digital CEO) is on vacation in Egypt with his family, and "accidentally" enters a tomb (strictly prohibited by the ancient pharaohs) while on sight-seeing in Giza, and as a result contracts a mean curse, leading to the StudioPress data center suddenly getting hit by with a sinister storm, apocalyptic flood and menacing volcanic eruptions of biblical proportions… Rest assured: your site will be safe:)
(maybe Rainmaker Digital anticipated Brian could do such a thing… ?)
Staging Sites
There's a site staging feature coming soon:

Staging a site means you can peacefully develop it in the privacy of your own gaze, before finally deploying it live, when your dear psychiatrist have finally found a panacea that can cure your formerly incurable OCD-perfectionist diagnosis.
(kidding… about you having OCD – not kidding about the staging sites… they are coming soon)
Staging sites are cool – they let you test changes on your site, without risking breaking stuff while experimenting live.
Free SSL
I wish I could say activating SSL on your StudioPress Site is "easy as 1, 2, 3" (like Michael Jackson sang, long before he turned white) – but it isn't easy as 1, 2, 3… That would imply three steps. Fact is, there's only one step: click a button, wait a short while (less than 24 hours) and you'll have a sweetly secure website.
The infamous bottom line – aka: the *verdict*
Rainmaker Digital are positioning StudioPress Sites like this:
Not Just Another WordPress Site
The ease of an all-in-one website builder with the flexible power of WordPress

WordPress made easy without sacrificing power or flexibility. It's perfect for bloggers, podcasters, and affiliate marketers, as well as those selling physical products, digital downloads, and membership programs.
I gotta say that's stretching it a bit too far… "Not Just Another WordPress Site"… hmm… ehm… well okay then! But that's what I'm seeing: WordPress, with some bundled themes and recommended partner plugins that aren't exclusive to StudioPress Sites. Anyone can download WooThemes, Easy Digital Downloads (God forbid), Beaver Builder Lite, etc.
"The ease of an all-in-one website builder with the flexible power of WordPress"… an all-in-one website builder? Where? You mean I can activate Beaver Builder Lite? Or Genesis Design Palette Pro? What's special about that? Really, I wanna know, if there's something I've missed?
And regarding the "It's perfect for […] as well as those selling physical products, digital downloads, and membership programs" part, I have to disagree with that sentiment as well. Paradoxically and ironically, Rainmaker Digital already have "the perfect product" for all that. It's called Rainmaker Platform and this very website runs on it. Rainmaker Platform serves those needs FAR FAR better than a WooCommerce- or EDD-based WordPress site ever will. I've written extensively about my hard-earned experiences and reasons and for saying that. So why does Rainmaker Digital try to sell StudioPress Sites to the same target customer?
Ranting? Nope, I ain't ranting. Just being honest.
Do I hate StudioPress Sites? No, of course not! But let's judge it fairly for what it really is: managed WordPress hosting. A competitor to WP Engine, Flywheel, Pressable, Media Temple, et al. No more no less.
So, does StudioPress Sites impress, as a managed WordPress hosting service? Absolutely! Truth be told, I found setup quick and easy. To me, simplicity and a fluid user experience is essential. StudioPress Sites  scores many points in my book, on that account.
I generally like StudioPress products, for their simplicity, elegance, and stability. StudioPress-stuff just works. Always. And that's a factor NEVER to be underestimated or overlooked in a world where lots of software is rarely (if ever) bug-tested before it's pushed/released. The reason is agile and scrum – the development methods most prevalent today. I'm big on agile and scrum, but they've become an excuse for developers to release sloppy crap-code top their users, in effect making us all permanent beta-testers. I hate that role. Bugs slow us down.
Throughout the years, products from Rainmaker Digital (formerly Copyblogger) / StudioPress have NEVER given me that feeling of being an involuntary beta-tester. Their stuff is impressively robust. It seems StudioPress Sites continues that tradition of simplicity and top-notch quality.
Thank God (and Brian Clark) for that ;o)
Furthermore, my StudioPress site has been running fast and super smoothly. So if you've been looking for hassle-free, fast WordPress hosting – StudioPress Sites may be worth a try! They have a 30-day refund policy, so there's little reason not do:)
Your thoughts and questions welcome: use the comments section below!
PS: feel free to share this review with your network! I appreciate your effort ♥ a lot! ♥ The world needs better, more honest reviews, and I've done my utmost to deliver that to you here.
Thank you for reading! Without you, there would be no purpose for me to do all this:)