I've been a big supporter since their early beginnings as "zenbilling".
If you've been considering Infusionsoft, Kajabi, Thinkific, Teachable or the Rainmaker Platform – you should also consider Simplero.
If I was only allowed a single adjective to describe Simplero, it would be "tailor-made". The elegance of Simplero is a work of beauty. Especially considering its powerful and comprehensive feature set.
Quite a few happy clients on Simplero
Throughout the years (since 2010) I've worked with Simplero for some of Denmark's best infopreneurs. I've seen again and again how Simplero can work wonders and provide healthy income streams to clients with drive and passion. If you have something to share with the world, and you have drive and passion too: I'm sure Simplero can also help you turn your passion into profits.
I also used Simplero joyfully in my own business, from 2011 to 2013, until I switched to Easy Digital Downloads – something I would later regret.
The story behind Simplero
Simplero was written from the ground up, by Calvin Correli, a skilled coder (and coach and much more) who thinks more like an enlightened online business guru, than most coders. Back in 2008, he realized that his own unmet needs and frustrations as a coach and infopreneur, were echoed by many other Danish coaches, instructors, authors, speakers, and the like.
So Calvin began creating the solution: Simplero (back then called "zenbilling") to scratch his own itch – and help his fellow Danes, many of which embraced and instantly loved this sort-of-like "simplified Infusionsoft for the rest of us" platform.
Created by a spiritual infopreneur – for spiritual infopreneurs
Calvin is a spiritually minded guy with lots of heart in what he does. And that shows! As he writes on Simplero's About page:
Simplero exists to raise the level of consciousness on the planet! It probably sounds weird for the founder of a software product to say that, but it's true.

In February 2008, I had an epiphany. I'd been working with a spiritual teacher for a while, and at this point I'd hit a road block. I felt called to look deep within and discover my life purpose.

What I discovered is that I'm here to teach a new way to do entrepreneurship that's deeply rooted in our spirituality. Where entrepreneurship is about allowing the creative force of the universe to work through us and make manifest in the world whatever it is that we feel compelled to create, with that unique essence and vibration that only we can contribute.

Entrepreneurship is not some mundane worldly pursuit separate from our spirituality. It is the ultimate expression of our spirituality. We're here to seek self-realization through entrepreneurship.
"We're here to seek self-realization through entrepreneurship."
That's such a cool quote! Let it resonate in you for a moment.
You can read the rest of Calvin's Simplero story, on their About page.
On the About page, you'll also find Simplero's 8 core values:
Service
Integrity
Authenticity
Home
Responsibility
Transparency
Co-creation
Love
Core company values can be cheesy and hollow at times, but if you read Simplero's intent with each one, you'll realize they're 100% real about each one.
Quoting f.e. the Responsibility section:
We understand that you're building your life's work and your livelihood on our platform, and that makes us truly grateful, humbled, and honored. We don't take that trust and responsibility lightly. We want you to be able to trust us, and to know you've made the right call.

We believe that as conscious human beings, we're 100% responsible for everything that happens in our lives, whether consciously creating those events or not. Even though events may happen that seem outside of our area of control, such as a hard drive in a server going bad, we still consider how we were part of creating that event, consciously or unconsciously, through our actions or our energy. It's just how we operate. We believe in taking 100% responsibility for our lives, while allowing others to also take 100% responsibility for theirs.
Wow. That's a Responsibility "core value" you won't see expressed in such terms anywhere else:) Thumbs up to Calvin and the Simplero team!
The simplicity and elegance of Simplero
Philosophy- and value-wise: if Simplero was a project management app, it would be Trello, Asana or Basecamp. Especially the latter two, and in particular Basecamp. I know Calvin (like me/myself) is a fan of 37signals' (now Basecamp) development methodology described in the free ebook Getting Real and bestselling book Rework – both very agile and pragmatic – as well as their thoughts on distributed teams.
Geek bonus info: if my memory serves me the correct anecdotal info, Simplero is programmed in Ruby (on Rails), just like Basecamp!
If you've ever tried Basecamp, you'll know what it means for an app to be focused 100% on the essential features, and nothing else.
Same goes for Simplero. It has that clean feel, just like Basecamp.
That's not to say Simplero is as simple as its competitor Teachable, which is vastly simpler – in a good way. Simple is good! Online business is complex enough already, you know;)
Let's look at Simplero's features and walk through a few of them:
Simplero's cool features
From a high-level POV, Simplero covers all your:
email marketing, incl. sophisticated auto-responders
opt-in forms and popups
marketing automation
payment processing, incl. recurring billing
landing pages
website, incl. blog with comments
Did you see those last two? Landing pages and… your whole website.
That means you can skip Unbounce / Leadpages and simply use Simplero for your landing pages. And if you're not already using WordPress, you can choose to do your entire website in Simplero, including the blog – with comment moderation and all. That's such a game-changer for Simplero! (and you, if don't wanna bother with WordPress for a simple site)
Simplero vs the alternatives
My first recommendation for a Simplero alternative would be Teachable. Or Thinkific. Teachable has the benefit of acting as a marketplace merchant, meaning they'll be responsible for VAT MOSS reporting and billing your customers, and simply send you a total, monthly payment. That's great! Simplicity! Much less accounting hassle. Especially if you're selling subscriptions (which accumulate!).
If the above billing benefit of Teachable doesn't matter to you, Thinkific is a slightly superior choice, due to better design of the admin backend, course areas and such.
For archival reasons, my initial Simplero review has been left intact, below.
My initial plan with this Simplero review, was to compare it to both Infusionsoft, Teachable, Kajabi and Rainmaker.
However, the more research I did for this, the more apparant it became to me, that Simplero's primary competitors are Kajabi and the Rainmaker Platform.
Hence, I'll briefly compare Simplero to Infusionsoft, and quickly proceed to Simplero vs Kajabi comparison, and end with a comparison between Rainmaker and Simplero. This website is on the Rainmaker Platform, and as I wrote earlier, I have extensive experience with Simplero too. So you'd be hard-pressed to find someone better to ask about their differences and individual peculiarities.
Let's start with Infusionsoft:
Simplero vs Infusionsoft
The biggest two differences between Infusionsoft and Simplero:
Pricing
Simplicity
Difference #1: the pricing. Simplero is way less expensive, than good ol' Infusionsoft.
Difference #2: simplicity and ease-of-use. Infusionsoft may be more powerful when it comes to advanced marketing automation workflows. They're pioneers in that space, and deserve lots of credit for it. Thing is, what matters is not how complex marketing automation schemes you can pull off – but WHICH you WILL pull off, in real life. There's lots of stories everywhere, of infopreneurs who sign up for Infusionsoft after being recommended to use it by various internet marketing gurus, only to find themselves getting frustrated and confused by Infusionsoft's vast possibilities. Half a year later, they've switched to something less daunting. Often to Kajabi, Rainmaker, and Simplero.
However, if you're blessed with a super logical mind, and love planning your campaigns well-ahead and excel at thinking in process workflows: Infusionsoft may be the perfect Marketing Automation vehicle to propel your business further, faster.
That's what I'll say for now about the differences of Simplero vs Infusionsoft. There's a detailed Infusionsoft comparison on Simplero's site if you wanna know more.
Kajabi… New? Next? What?
Next, let's look at Kajabi… or should I say New Kajabi? That part has always confused me: First there was Kajabi. Then Kajabi Next. Then came New Kajabi… which is just called Kajabi. What's up with all those brand name changes? Reminds me of the Rainmaker Platform, which was at a brief point in time also known New Rainmaker – which then faded into Rainmaker Platform.
Anyway, I digress. Just rest assured: we're talkin' NEW Kajabi here. You dig? 🙂
Simplero vs New Kajabi
Surprisingly, Kajabi and Simplero sport almost identical UI's: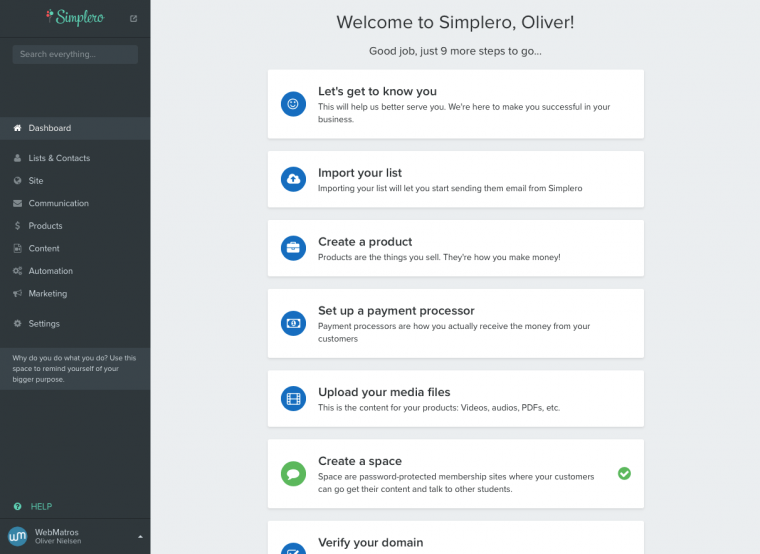 Personally, I find Kajabi's UI slightly better than Simplero's. Kajabi feels slightly more refined and colorful. I also like how the font-sizes are a bit bigger, not only making the text easier to read – it makes the UI as a whole feel lighter and more welcoming. In this respect, Kajabi reminds me of Shopify – an ecommerce platform I see as the gold standard of user-friendliness in an product category (ecommerce) where everyone else (WooCommerce, Easy Digital Downloads, Magento, et al) are struggling to simplify the shop-owner experience. Ecommerce is complex, so making it feel simple, is no small feat to pull off.
Anyway, regarding the Kajabi and Simplero UI's I'm not sure who's copying who, but the visual similarities are so close I've found myself having trouble distinguishing between the two, while researching them for this comparison!
Their similarities are surface-level though. Let's scratch the surface a little a see what's underneath the paint…
Simplero vs Kajabi – Support (or lack thereof)
Simplero has excellent customer service and support – I can't say the same for Kajabi. It often seems they're more focused on "selling Kajabi" than supporting their new Kajabi customers.
Calvin, Simplero's founder (and his team) has always gone to great lengths, making sure customer's are happy and helped out as they need to succeed with Simplero.
One example is this: the ability to wake up Calvin, the founder of Simplero, with a tweet!
That's dedication to customer support and platform stability/uptime 🙂
Kajabi vs Simplero – Pricing
Pricing-wise, Kajabi are not charging a transaction fee like Simplero and Teachable do, but they're more expensive than both Simplero and Teachable. More importantly, despite its lower cost, Simplero gives you a lot more to work with, than Kajabi:
Simplero gives you **more products** (cue the "haaaaaallelujah" sample)
In their entry-level plans, Simplero will let you create 10 products while Kajabi limits you to just 5.
Stepping up a notch, from Simplero's Starter plan to the Basic plan, the difference is even more pronounced:
Kajabi? 100 products.
Simplero? Unlimited products.
Now, 100 products should be plenty for most infopreneurs. I'll give Kajabi that. But the cost (billed monthly) will put things back in perspective:
Kajabi? $389 / $311 (monthly/annual billing)
Simplero? $150 / $125 (monthly/annual billing)
Hmm… Food for though, eh?
You may be wondering "why's this important? I only intend to create a single online course or two, so a 5 product limit is fine with me".
I get where such thinking is coming from. However, in my work with clients who've been successful, and some who've been less successful, with their infopreneurial online businesses, it's crystal-clear to me that the best path to earning lots of money online; is to have lots of income streams.
Income streams = products.
In other words: you need the ability to create LOTS of products. Both big and small in scope and production-scale, and at different price points, matching your ideal customer's various needs at different stages of their customer journey.
You may sell for example:
a relaxation MP3 for $9,
an audio program for $89,
a video-based online course for $147.
an introductory speed coaching session for $97 as a gateway to your
6-week coaching program selling for $1397, and a live 5-day workshop selling for $2997,
and so on.
The more you have to offer, the more you can sell, and the more you will sell.
Passive selling is like fishing: the more bait for the fish to be attracted to, the more fish you'll have for dinner 🙂 Likewise, more products will let you buy more fish, as you'll have more money to buy fish with 🙂
That said, I find Kajabi a nicely designed product – I have absolutely nothing against it. Kajabi's solid stuff. It's just that Simplero is equally as nice, more powerful, and priced better.
Why choose less for more? With Simplero it's the other way around: the right way around:)
Simplero vs Rainmaker Platform
As written above, I have extensive experience with both Simplero (been working with it since 2010) and Rainmaker (been using it as my main platform since 2015) – I can confidently say that I'm one of the most qualified people on the planet to talk about the differences and intricacies of these platforms.
Rather than list what each platform does (you can read about that on their respective websites) I'll cut right through the clutter – lead you through the maze – and discuss the differences that are essential to consider, when evaluating these two platforms for your infopreneur/membership website.
The biggest difference USED TO BE that Rainmaker would let you create a full website, whereas Simplero could "only" handle the membership areas, landing pages, email marketing, and billing aspects of your online business.
That changed a few months ago. Now you can let Simplero handle your whole website – including a blog with comments. And you won't have to worry about getting an SSL certificate: the checkout process, customer portal and protected membership sections will automatically be directed to a fully secure https subdomain.
Of course, this isn't a WordPress- or Drupal-killer CMS. It doesn't f.e. have a plugin architecture to expand your website in the myriad ways WordPress would let you do. Rather, what it will let you do, is create a beautiful, simple site that'll elegantly help you sell your services and digital products. And that's exactly what you'll need. No more, no less.
What's even more cool: designing your website happens via a slick, super-sexy on-page editor. "On-page" as in "click the element you'd like to edit… and edit it" 🙂 Yes, it's that easy – and the simplicity puts some of the most popular WordPress themes to shame.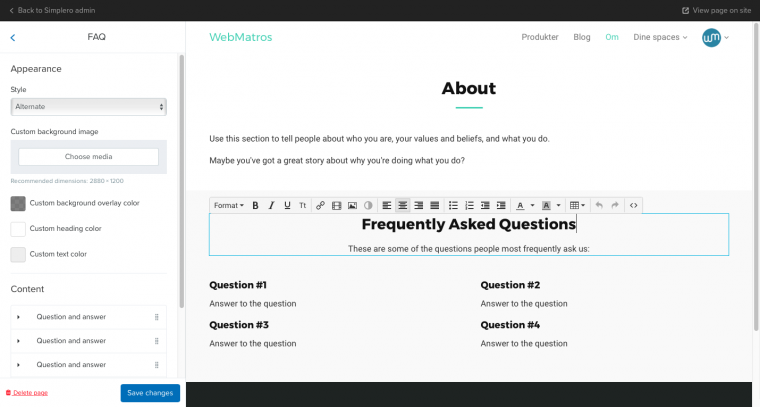 For many coaches and services professionals wanting to sell their knowledge online, in the form of info-products and the like: Simplero hits a perfect sweet spot here.
Should you want more flexibility design-wise, it's on Simplero's roadmap to let you modify the HTML and CSS of your website's theme, making it fully customizable.
What about Rainmaker?
Does this mean Simplero has become a content marketing platform like Rainmaker? No, far from it. And that's still their main difference:
Rainmaker's emphasis is more on full-on content marketing in the form of search engine optimized blog posts, podcasts, landing pages, flexible product pages, and much more.
Simplero has very robust and user-friendly marketing automation features. It also has a great popup / opt-in feature, that rival 3rd party services like Hello Bar.
Where Simplero beats Rainmaker, is in the elegance and… cohesiveness… of the platform as a whole. Rainmaker is built on WordPress + a selection of WordPress plugins like f.e. Ninja Forms and Page Builder Sandwich + their own code for products, billing and email marketing.
Simplero is more… coherent… in that respect. It's a platform that was conceived and coded from scratch, by the same guy (Calvin). Therefore everything just feels slightly more integrated and smooth.
However, Rainmaker being a platform built on WordPress, means you can easily export XML-files with all your content, and take it with you, should you ever want to migrate off the Rainmaker Platform, to a standard, self-hosted WordPress website. This is a huge +1 to Rainmaker.
So there are pros and cons to both approaches.
Taxamo EU VAT MOSS EU
Another major difference, is that Rainmaker integrates with Taxamo, a third party service that handles the verification, validation and registration of sales made to EU citizens. I've previously written enough about EU VAT / MOSS (mini one stop shop) here.
Side note: It seems the European Commission has finally, after 2 years, come to their senses, and are contemplating a lower registration threshold, meaning that "micro-businesses" selling for less than 10.000 EUR per year to EU citizens, won't have to bother registering for MOSS.
Finally, EU-dudes! What took ya so long to realize the huge administrative burden this would be for us "micro-businesses" and for you "micro-managers" as well ??
Now we're just waiting for you to abolish the lame "cookie law" so we don't have to click "yes, I understand this website uses cookies" on each and every website we browse to. Such a huge waste of time.
I digress. I just can't stand bureaucrazy. And yes, I did spell it correctly. EU rant over 😉
And that brings this Simplero review – and Kajabi vs Rainmaker comparison – to an end. Let me end it by restating that Simplero really is a great tool for making money, online, doing what you love – and feeling more empowered, less overwhelmed, doing so.
I've seen Simplero work abundantly well for passionate clients, for close to 7 years now. It's a solid platform that makes online business as enjoyable as it can be.
In truth, you have to try it for yourself to experience it for yourself. Everything just flows smoothly: easy and effortlessly.
What's cool about Simplero is that you can trial it as long as you want– you won't be asked for a credit card when you sign up – and the trial doesn't expire. There's really no reason not to give Simplero a whirl 🙂
And please: share in the comments below what you're using, recommending or perhaps burned your fingers on. We can all learn from your experiences too. So feel free to voice them below!