Google's Penguin and Panda updates changed SEO forever. Today, good SEO copywriting is more than ever about creating killer content that engages your audience, rather than writing keyword-stuffed content that kills your content, and scares away your audience. Content marketing is king! SEO is no longer enough.
Search engine marketing has become content marketing.
The Scribe Content Marketing Recipe
Scribe v4 from CopyBlogger Media gives you everything you need to make content marketing work for you:
Research – Uncover hidden keyword opportunities and pick fights you can win.
Optimize – Make sure Google understands your content the way you intended.
Connect – Lead people to your site, and make sure they stay there as long as possible.
Let me walk you through those three in order. We'll start with number one:
Scribe Keyword Research
What's truly unique and amazing about keyword research in Scribe, is that it will:
Show you related keyword terms you might not have otherwise thought of.
Show you the popularity (search volume) vs the competition of the keyword.
Show you how a given keyword phrase relates to the rest of the content on your website.
That last bullet point, is a key, killer feature! To rank for a given keyword, your site needs to have some authority for that term!
To calculate your chances of ranking well for the target keyword term, Scribe compares you versus your competition on these four parameters:
Content Score – The amount of content on your site for the keyword.
Link Score – The amount of links to your site.
Page Authority – The authority of your site, as reported by Moz (formerly SEOmoz).
Social Media Shares – The number of shares of your content on social media sites.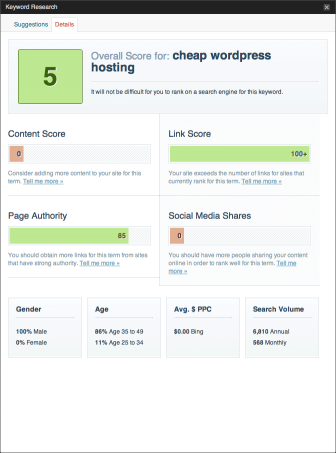 Scribe Content Optimizer: Website copywriting done right!
You've probably tried visiting a website using somewhat weird SEO copywriting. At first, you may not be able to figure out what's wrong. Then it becomes clear. This in one of those over-optimized, keyword-stuffed websites. Written for search engines, rather than you.
Scribe shows you how to elegantly tweak your website copywriting to make your content more search engine friendly.
When analyzing your particular blog post or page in WordPress, Scribe 4 will not only rate how search engine friendly it is, it will also tell you how that page relates to the rest of the content on your site. This is important and almost genius!
Why? After Google's Panda update, your complete website gets considered when determining how your individual pages should rank.
Scribe leaves old school SEO copywriting in the dust!
Upon cooking Scribe v4, CopyBlogger (the makers of Scribe) consulted with search engine expert Dr. Edel García, to make sure Scribe got built on solid ground. Dr. Edel García wrote the seminal article The Keyword Density of Non-Sense which rules out the role of keyword density as a ranking factor in search engine rankings.
To determine the focus of your content, Scribe will analyse keyword prominence and keyword frequency.
Keyword prominence looks at the placement of your keywords. Where do they appear on your web page? In your title? In your meta-description, etc.
Keyword frequency measures the number of times your target keywords appear on your web page. While this concept may sound similar to keyword density, it is different.
What's really impressive here is Scribe's semantic ability to understand the context and meaning of your keywords.
Due to Scribe's advanced semantic analysis capabilities, Scribe only works with English language website copywriting.
Connect: Scribe Link Building
The new Link Building tool in Scribe v4 is unique in its holistic approach to website optimization. It helps you find related pages on your own site, from which it will be smart to link to the new page you're creating. Why? Because by cross-linking your content that way, you keep your visitors on your site. You increase page views, time-on-site and improve usability of your site. You also make it easier for Google to index your content.
Scribe also includes a simple Site Connections tool, to help you identify websites for guest writing, strategic alliances and link building. It will also help you find social media users who'll want to share your content.
Scribe WordPress plugin
The Scribe WordPress plugin gives you access to a simple, complete content marketing solution, right inside your WordPress admin!
Scribe is compatible with the following WordPress themes:
And of course any other theme or framework that supports the popular WordPress SEO plugin by Yoast.
Not using WordPress? There's a Scribe web app!
Scribe's Web app lets you use Scribe with any CMS / blog platform that supports the standard XML-RPC protocol.
Optimize your website copywriting with Scribe
I'm seriously impressed with Scribe. Somewhat addicted even!
What I love about Scribe, in a single sentence, is that Scribe makes SEO easier for me, by being a complete (!) road-tested tool, that gives me perspective and helps me focus my content writing efforts, in a coherent manner.
Considering how expensive Google AdWords can be – Scribe is a really wise, future-proof investment in your website.
Watch the free Scribe 4 WordPress webinar that explains more about Scribe.
There's a 30 day risk-free Scribe trial available right here – I highly recommend Scribe!
PS: Scribe support is really good by the way.
PPS: Raven Tools recently included Scribe 4 in their SEO arsenal. Worth considering if you're in an agency or part of an SEO copywriting or content marketing team!
PPPS: Do you have some SEO copywriting tips to help make SEO & content marketing easier? Comment below!
PPPPS: That's a lot of P's! Isn't it?