Update! This is my first review of the New Rainmaker Platform. I've since written several follow-up blog posts on Rainmaker. See them all here!
Welcome to my perhaps slightly unusual review of Copyblogger's new Rainmaker platform. A platform that can help you build an audience for your business, by letting you easily publish content, in the form of blog posts, podcasts, videos, landing pages, forums, portfolios as well as sell your digital products and services.
Rainmaker is especially interesting if you want to create a membership site.
But wait! How's my Rainmaker review unusual? It's unusual in the sense that it's different from the other Rainmaker reviews out there. You see: Rainmaker has an affiliate program ;o) So many online marketers are interested in sell… ehm… reviewing (aka "praising") Rainmaker.
As the unorthodox dude that I am, I'll use this as an opportunity to share some of my hard-earned experiences creating membership sites (for myself and clients): What's essential for you to consider when creating a WordPress membership site? And, dare I say… does it even HAVE to be a WordPress membership site? There are other options out there. What are the pros and cons of all these solutions? Read on for my – brutally honest – take on membership site / online marketing platforms, for your business.
MMPD? Multiple Membership Plugin Disorder
The amount of  WordPress membership plugins to choose between, is bewildering:
WooCommerce Subscriptions,
WishList Member
OptimizePress
s2Member
Paid Memberships Pro
MemberPress
Justin Tadlock's Members plugin
Restrict Content Pro
Restricted Site Access
iThemes Exchange with the Membership add-on
Premise
Easy Digital Downloads with the Content Restriction add-on.
… And that list is likely far from complete!
That last one (Easy Digital Downloads) is the combo I'm currently using here on my own site, by the way.
But oh! Wait! That next-to-last one (Premise) doesn't exist any longer! Or does it? Hmmm, we'll get back to that one in a few minutes.
Creating my own membership site
In 2013 I began contemplating solutions to base my upcoming online course Headway Hero upon.
I wanted a simple solution. Simple, for three reasons:
The less complex the code-base: the less prone to technical issues and bugs.
Easier to operate and maintain on a day-to-day basis. Less cognitive load = more creativity.
Faster to load for my visitors, less intense on the server. Slowness drives me mad.
After an initial, thorough evaluation of the membership WordPress plugin space, I fell in love with a plugin called Premise. It was made by Copyblogger. Premise was simple, lean, mean and effective. Notwithstanding, it impressively (and conveniently) also included A/B split-testing and even landing page capabilities.
But Premise didn't include adequate options to deal with the European Union's VAT tax complexities. Heck: Premise didn't even issue invoices, another official requirement for Danish and most other European businesses.
So Premise was – regrettably – dead to me. And in retrospect; it was a good decision, since Premise suddenly got discontinued by Copyblogger. More on that later!
From Premise I went to:
Zenbilling – now known as Simplero
Simplero (formerly branded "zenbilling") is a hosted platform I've worked extensively with. It's a Kajabi-like platform, extremely popular among coaches, authors, speakers and marketers here in Denmark where I live.
As its new name hints: Simplero is simple. So far so good. But it's a hosted platform, and I wanted to create my own platform, and own it. From a property ownership standpoint, and to allow me 100% freedom in shaping the customer experience (design of the membership area etc).
PLEASE NOTE: I sadly can't recommend Simplero due to severe disappointment in some of their business practices I've experienced on behalf of myself AND some of my clients. An example? How about this: raising prices 4x and telling your loyal customers to pay up or move somewhere else??? Insanely egocentric, insensitive behavior.
For a better alternative, consider Thinkific or Teachable. Both are solid services!
WooCommerce + Sensei
Back on WordPress I extensively tested WooCommerce with its Sensei extension.
WooCommerce enjoys very widespread adoption throughout the world. And for online courses, it's very alluring due to its tight integration with another major WooThemes plugin: Sensei, an e-learning platform aka an LMS (learning management system).
But WooCommerce also being a fully fledged ecommerce plugin, it can quickly feel bloated. Even in its core version, without any extensions installed, WooCommerce still has all its shipping options (unneeded when selling online services / membership subscriptions) and elaborate checkout process.
I said I wanted simple, didn't I?
Easy Digital Downloads
In the end I went with Easy Digital Downloads upon a recommendation by the awesome Clay from Headway Themes, who at that time were in the process of switching HeadwayThemes.com to Easy Digital Downloads.
Easy Digital Downloads is much leaner than WooCommerce, and with the Recurring Payments and Content Restriction add-ons, it can handle a membership site really well.
But everything hasn't been all rosy. At times it's been (and occasionally still is) like performing a Running Man / Shuffle, barefoot, on broken glass – or red-hot coals. Okay okay, it hasn't been easy, you catch my drift. Here's an example, in more concrete terms:
The person I emailed most with, during first quarter of 2014 (yes, really… sad but true) was the developer of the EU VAT add-on for Easy Digital Downloads. While he's a fine fella, I didn't email him for that reason. I spent hour upon hour dealing with bugs, reporting and documenting those bugs, testing patched versions of the plugin, responding to customers who couldn't get their VAT numbers to validate, and on and on and on.
And my EU VAT challenges are really just the tip of the iceberg. The PDF Invoices add-on has given me all kinds of headaches: non-sequential invoice numbering (a clear-cut official accounting requirement in Denmark, UK and other European countries) + duplicated invoice numbers + missing invoices and more. Don't get me started. You'll risk giving me a heart-attack. Seriously.
Had I known that such seemingly simple, tiny parts of the platform I was building with Easy Digital Downloads, should turn out to be so troublesome (aka: time-consuming as hell): I had probably stayed with WooCommerce.
Back to WooCommerce?
While somewhat bloated, WooCommerce does have the advantage of being widely adopted, worldwide. The WooCommerce platform is a huge ecosystem. Lots of users means more people to find and report bugs. Lots of users also means more money to the extension developers, which in turn equals more resources to fix bugs.
Nevertheless, WooCommerce and its extensions also has bugs. It's not just Easy Digital Downloads. All software has bugs. And I can live with that. Here's what potentially happens when you're building a membership site yourself, with a boatload of WordPress plugins:
The more plugins you're using, the more likely those plugins will conflict with eachother.
I know that's a crude generalization, and in a perfect world: it wouldn't be true. But in reality… yes, trust me: it is true.
Not all coders know how to code. Or care to code clean plugins. And there are so many factors changing with each new version of each plugin/add-on/extension revision, that it's bound to be a somewhat error-prone, unstable mix.
So I started thinking!
Thinking about outsourcing the cumbersome maintenance of the technical aspects of my website. I care little about technical geekery. I love design, communication, teaching/consulting, business/product development and content creation. Technical crap that doesn't work, for reasons outside my control and scope of knowledge? It makes me go nuts – and I enjoy running my business a lot less.
But outsourcing is expensive!
Then, suddenly it dawned on me:
A hosted platform = incredibly inexpensive outsourcing!
Maybe those $95 for Rainmaker is a wonderful deal, considering that it essentially lets me outsource ALL of the above time-wasting maintenance + bug-busting crap that demands so much of my time, energy and focus… all for the incredibly low "wage" of a measly $100 per month! If anyone wants a job maintaining my website for that sum per month, I'd be seriously surprised – and recommend that person go get a mental checkup! It would amount to an hourly rate of around 5 dollars.
Which brings me to Rainmaker, Copyblogger's new membership & online marketing platform. And a hosted one at that.
Meet your New Rainmaker!
Rainmaker is Copyblogger Media's a new hosted content marketing / membership platform, designed to cover all your needs as an online marketer / entrepreneur / expert. In many ways, Rainmaker is a strong competitor to Kajabi and Simplero. It has A/B split-testing and even built-in affiliate-marketing management, so your partners and peers can help you market your services, while also getting a share for their referrals.
Note that you don't HAVE to create a membership site with Premise… I mean… Rainmaker. It's up to you whether you'd like to publish all your content publically, or protect some of it and make it only available to your members. These members can pay a one-time fee for access, or a recurrring subscription. Up to you.
Who's Copyblogger?
Copyblogger is famous throughout the "World of WordPress" for their stable and trustworthy theme framework Genesis and its many StudioPress child themes (designs for Genesis) + other products and services like the Scribe SEO / copywriting plugin (reviewed here) and Synthesis web hosting (tailor-made for optimal WordPress hosting)  (reviewed here) as well as their CloudFlare-like StudioPress Accelerator service  that, according to StudioPress: "gives you blazing fast website speed and the ability to handle big traffic spikes … all using your current hosting plan, with no migration, site modifications, stress, or hassle!" (Sounds powerful? If you've tried it, please let me know your experiences!).
Anyway, what Rainmaker is and does is important, and I'll delve deeper into its features in a minute. But just as importantly is what it will spare you from having to deal with:
No server maintenance. Good riddance.
No plugins to update (and fix when things break). Good riddance.
No theme/plugin integration maneuverings. Good riddance. Everything's built to work together, flawlessly.
At $95 a month, it's a great deal! The alternative is you spending hours and hours working on your site – rather than on your content. Guess which activity will make you happy and which one will make you miserable? Which will let you make more money – and which will make you less?
A hosted platform – from that perspective – is a very (!) wise choice.
Shopify – the supreme ecommerce platform for selling physical goods – is living proof of that. I've worked a lot with both Shopify, WooCommerce and Easy Digital Downloads, and OH BOY let me tell it to you straight: Shopify is INFINITELY more enjoyable to work with, than WooCommerce and Easy Digital Downloads. Why? What makes the Shopify experience different? It's a hosted, integrated solution. Everything just clicks. It works. And if it doesn't: it sure as hell gets fixed before you even notice the problem! The way it should be. Wonderful stuff.
What exactly is Rainmaker – and what does it do?
Rainmaker is built on WordPress, but it doesn't look like WordPress. It's highly customized. And hosted on Copyblogger's state-of-the-art Synthesis hosting platform.
On top of WordPress, Copyblogger has included their Scribe content optimization / SEO copywriting plugin (reviewed here) + the otherwise discontinued (!) Premise membership plugin that I've talked about previously in this blog post.
And here's where I have to voice an honest opinion or two! It may sound a little sour. And that's perhaps because it is. Okay? Here we go…
Is Rainmaker true to the WordPress ecosystem?
As noted above, I'm a former Premise user. Premise was Copyblogger Media's premium plugin for membership sites and landing page generation. Last year Premise was suddenly and abruptly withdrawn from sale, allegedly due to retirement of the plugin.
What's bothering me, is that I paid for "lifetime access" (and free updates) to Premise – and almost ended up using it as the fundamental basis of what's today WebMatros WebMaster Club / Headway Hero (my premium WordPress web design online course, rockin' the killer Headway WP theme). I explicitly paid for lifetime access to the Premise plugin, including updates.
Then all of a sudden: Premise was retired from sale.
Now, Premise is finally back. But apparantly exclusively in its Rainmaker-incarmation. Hosted only. What's up with that??
What's the big problem?
My issue with Premise only being available through the new Rainmaker platform, is this:
Rainmaker is a hosted platform, I get that. And so is WordPress.com. But you can still download WordPress from WordPress.org and install it yourself, on your own server.
That's open source + SaaS done right: bridged in a wonderful fashion, a win-win for everyone, since the open source developments of WordPress.org feeds into WordPress.com and WordPress.com developments and foxy features feeds back into the WordPress.org downloadable edition of WordPress.
Since Rainmaker is built on WordPress, which is GPL-licensed open source (just ask Matt & Chris – they know!) … Premise should also be released as open source, right? At least we who 've paid money for lifetime access and updates to Premise, should and would expect updates made to Premise, now that I can clearly see those updates have materialised.
And who knows? Maybe Copyblogger will, at some point in the future, relauch Premise? Would be a welcome treat.
Scribe – need copywriting assistance?
As noted above: Scribe is included in Rainmaker.
Copyblogger's Scribe plugin is one of the cornerstones of the way they approach content marketing. I reviewed Scribe v4 (the latest version) here.
Scribe 4 takes a holistic approach to SEO copywriting and content marketing. When analyzing your document, it not only looks at the copywriting of that particular, individual document (blog post or page) but also how well its keyword terms are related to the rest of your websites overall focus. The idea being that you'll rank better for terms that are congruent with the rest of your site.
This feature alone makes Scribe a killer app. It helps me focus, and sculpt my site into a coherent mass of quality content (I hope).
Don't worry about your content feeling over-optimized: Scribe is gentle! It doesn't force you to use a certain keyword a certain number of times, etc. It's using an intelligent, semantic approach that looks at the placement of your keyword terms.
Note: Scribe uses search databases and semantic analysis, that are based on US searches and English language content. As a result, Scribe only works on English content. Scribe no hablo español etc.
The design of your site – page building & landing pages
Rainmaker already includes access to 27 beautiful themes – known from StudioPress Themes. These are tried and tested, popular site designs. Modern, crisp and of course fully responsive / mobile friendly.
Being the theme afficionado that I am, I was particularly interesting in the page building features of Rainmaker. I was never impressed by the limited, old school landing page design approach of the Premise plugin. Those landing pages were way too "Hello I'm Ryan Deiss (of Perpetual Traffic Formula fame) like" … You know: large headline + a sub-headline, with a video below it on the left, and an opt-in form to the right. It's no doubt effective (I've experienced that several times) but they're too old school ugly in these modern times of big, bold, flat design.
Luckily: gone are the old Premise landing pages. They're beefed up quite a lot. Check this out: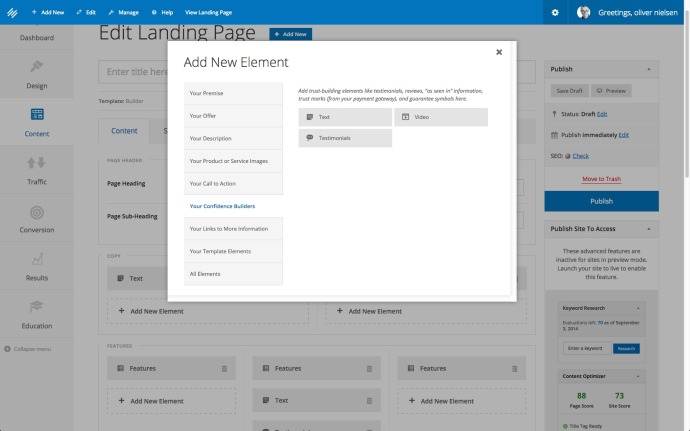 Page building features
Instead of including a page builder like Divi, or a design editor like Headway, page building in Rainmaker happens by using widget areas and special, custom-built widgets. An okay approach, it's simple and it works well, but it's not as sexy as Divi and Headway.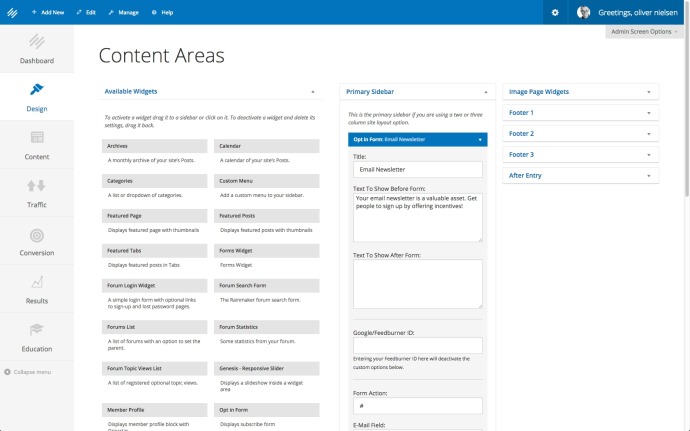 The big (sad) dealbreaker for me
Premise, and in turn; Rainmaker, doesn't offer a way to automatically send an invoice for each sale, or recurring subscription transaction. It just issues a receipt. That's fine if your business is situated in the US or any other country not subject to the bureaucratic seizures of the European Union.
For me as a European, running a business within the EU, I have to obey the numerous bureaucratic crap and regulations forced upon us Europeans, by the EU.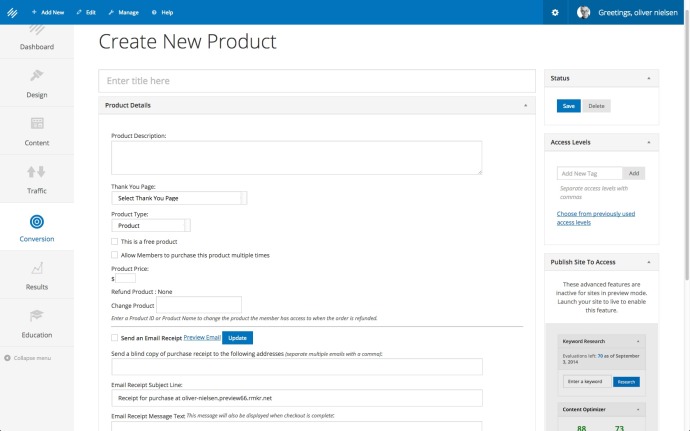 I wish it was as simple to sell stuff online as it is in Rainmaker – but no… sadly… it isn't – not if you live in Europe that is! Some idiots in Bruxelles have managed to make things even worse: from January 1st 2015: EU-based businesses selling digital goods will have to enter the VAT numbers of all their customers into a central, country-specific registry. On a sale by sale basis. Each month. Talk about burdening entrepreneurs and businesses with bureaucratic bullshit?!
Anyway, I'll let it rest … before I suffer cardiac arrest!
Would I switch to Rainmaker if it complied with the (needlessly bureaucratic) requirements that EU-based businesses must to comply with? (update: Rainmaker now supports EU VAT via Taxamo) Maybe (update: I did). Especially if it also integrated fully with an online accounting service such as Xero, FreshBooks or the one I'm currently using: Billy's Billing. Simplero does it already. So maybe Simplero is the better answer for European, at least Danish, online businesses.
Remember: monthly subscriptions quickly snowball into a huge accounting burden. Automation of that process is key.
Rainmaker vs Kajabi?
I'm not very familiar with Kajabi, so if you've used it: please share your experiences in the comments below!
Anything else?
To sum it all up: Rainmaker is a fine product, if you're NOT within the EU (and therefore need invoicing and VAT capabilities).
I'd like to see Premise re-released, including the new features seen in Rainmaker, namely the spiffy landing pages.
Wanna make it rain? Go check out the Rainmaker website. They have a 30-day free trial. Give it a shot – and please (!) definitely let me know afterwards what you think of it!
Update! This was my first review of the New Rainmaker Platform. I've since written several follow-up blog posts on Rainmaker. See them all here!