It's high time for the monthly results report from my Rainmaker Marketing Journey :o) Somewhat overdue, the delay is due (pun intended) to most of July (and first week of August) being dominated by one vacation after another. I've been in England for the EDC (Electric Daisy Carnival) 1-day electronic dance music festival, with a luxurious stay in Milton Keynes some days before and after.
Milton Keynes was in interesting city to visit, from an urban design standpoint. A young "new city" built in the 60s, it feels somewhat "constructed" – as opposed to organically grown. It's conveniently and pleasantly constructed though. The roads and streets are based on a grid-layout, compartmentalizing the various neighbourhoods. Using street hierarchy principles, only a handful large roads carry car-traffic. These grid roads run in between districts rather than through them. This allows higher speed limits due to the absence of buildings.
Conversely, as a visitor, we couldn't help feel as if the city had been built around the roads. The roads are dominant – as confirmed by this amusing sign :o)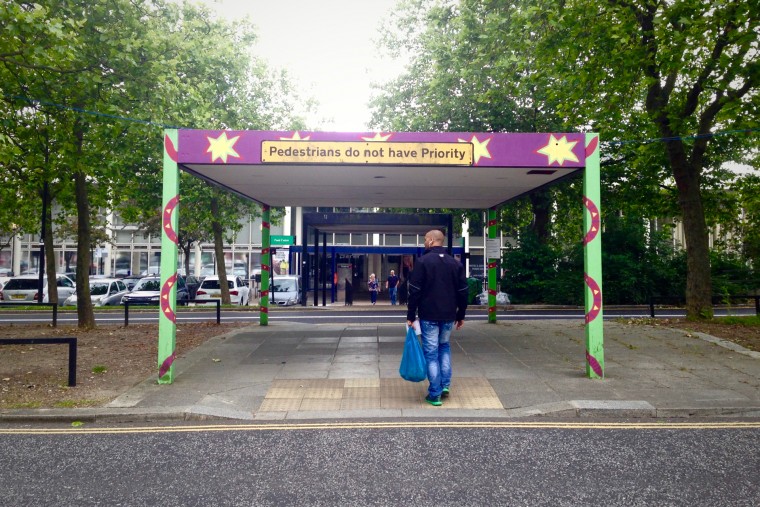 Then back home in Copenhagen for a single day – unpacking and repacking my beloved, trusty Crumpler backpack – then up early next morning to catch a 5am train to northern Jutland (the largest part of Denmark – geographically attached to Germany) for 10-days of cozy relaxation with Heidi (my partner) at her moms place. I love being up there; it's a rejuvenating, relaxing contrast to living in busybee-always-buzzing central Copenhagen.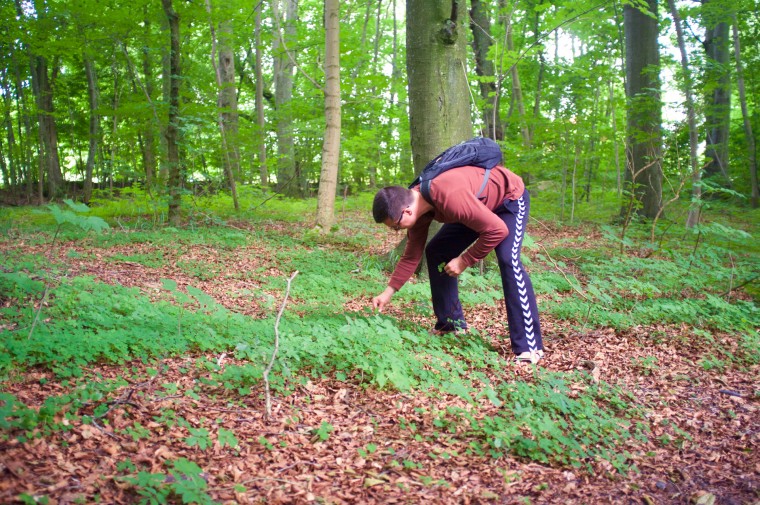 After that, I was home for a week that felt like it just flew by – like Jonathan Livingston Seagull doing an epic acrobatic speed manoeuvre. Swiftly, I was on a plane headed for Menorca/Minorca – the charming Balearic Island in the Mediterranean Sea, close to Ibiza, Formentera and Majorca – hence its name Minorca.
I must admit I've felt all this travel-travel-travel a bit too much of a good thing. Copenhagen where I live, is most charming during the summer months, so there's little reason to travel elsewhere, which can be done the rest of the year where we mostly have rainy, cloudy days. All three trips were beyond wonderful experiences though!
Anyway. Back to work and this last month's report. Just thought I'd share a little part of my summer with you:)
Marketing Results Report – July 2016
Without further ado:
See the Rainmaker Marketing Journey scorecard for month 03 (July) here »

As you can see in the report: drinking caipirinhas, trekking through the night, having great fun with goats, and more: does not make you a master marketer :o)
How 'bout my list of marketing tools… Did I succeed in reducing last month's amount? The answer is revealed below…
My current digital marketing tools list
♥  = amount of love for current tool/service.  ♥ heart = a little.  ♥ ♥ hearts = some.  ♥ ♥ ♥ hearts = a whole lotta luv.
Number of crosses indicate ferocity of execution.  ✝ cross = a reluctant goodbye.  ✝✝ crosses = "jolly good fella – he just 'adda go".  ✝✝✝ crosses = executed at dawn, with no last breakfast.
So… I began this challenge in April with 24 marketing tools on the list. In May I reduced it to 19. And again in June I reduced my list of marketing tools to "just" 12 – on top of the Rainmaker Platform's own simple (yet splendid) tools. That's still 12 tools too many, in my minimalist opinion. But weaning yourself off of shiny tools ain't easy, you know?
That said, I gotta cut myself some slack here. There were some complications, getting rid of Mailchimp:
RainMail vs Mailchimp – still not (quite) there
I've finished migrating all my subscribers from Mailchimp to RainMail. Since Mailchimp is based on a one-list-to-rule-them-all approach vs ConvertKit's and RainMail's multi-list approach, the process involved more work than one would at first glance expect. If you're interested in knowing more about my Mailchimp to RainMail migration process, let me know – I may consider sharing it in detail in a future blog post.
However, that's not the complication I was referring to, above.
Founder and CEO of Rainmaker Digital (formerly named Copyblogger) Brian Clark sent out an "Important Note About RainMail". In it, Brian recommended waiting with serious use of the new RainMail email service, due to severely lacking features upon its release two months ago. Brian has promised these features will come in August.
We're now in August, and I'm eagerly awaiting the next Rainmaker Platform update. I hope the great guys at Rainmaker Digital can pull it off, meeting that deadline within what I feel is a pretty short timeframe. Software development is tricky. Bugs crop up in unexpected places, etc etc.
Usually Rainmaker Digital live up to their promises and release dates though – so I'm full of hope for a great August update – one that will let me finally ditch "el Mailchimpo" 🙂
Goal for July August
My goal August is the same as it was for July, as I'm not there yet: to align my site with my vision, so it's crystal-clear and understandable for you and everyone else what you get from being here and part of this.
Yeah, I know. I haven't lived up to expectations and goals set, last month. Blame it on the rain… Or lack thereof 🙂
PS: I hope you've had a great summer so far? Comments welcome! Let me know what you've been up to:)