I'm a huge fan of the Headway theme framework, but I've been asked by a few readers for my opinion on the PageLines theme framework. I've had the chance to work with the PageLines theme for various web design clients during the last couple of years. Both PageLines v. 1.x (branded "PageLines PlatformPro") as well as the latest v. 2.4 (branded "PageLines Framework")
Note: This short review is based on PageLines Framework v. 2.4 and when I compare it to Headway – I refer to Headway v. 3.4.4.
Now: Let's get on with the show!
PageLines Basics
Without making this into PageLines tutorial, you just gotta know this:
PageLines' templates consists of Sections. Sections are a brilliant concept! If you've ever used Unbounce's visual editor to create landing pages, you'll find similar possibilities in PageLines.
WordPress website design – made simple
One thing that's always bothered me about WordPress, is that each page only has one, single content area. Other CMS's like ExpressionEngine, MODx, Drupal and concrete5, will all give you the possibility to have each single page contain several different content areas.
Yes yes, I know, you can fake this with custom post types and custom fields, but it sure as hell isn't as elegant and easy as the competition makes it.
The PageLines theme solves the problem in a very interesting way though!
The Sections in PageLines lets you compose individual pages, that each has both the main content, as well as several other horisontal fields (for lack of a better word) of special content, like boxes, sliders, call-to-actions, etc.
All very cool, and much much welcome. It makes WordPress so much sexier to use as a web designer.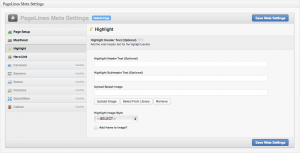 But PageLines also comes with some annoyances:
What's Not to like about PageLines?
First of all, and my major criticism of PageLines:
Its nomenclature is confusing! If you look up the word "ambivalence" in the dictionary, I'm sure the entry will mention PageLines.
So many names for everything in PageLines… What does it all mean? I mean really? Have a look:
Custom post types named: Banners, Boxes and Features… Huh? How do they differ? Which one does what?
PageLines' Sections are called: Carousel, Masthead, Banners, Boxes, Hero Unit, Highlight, Features, QuickSlider, Callout… While some of them make sense, most do not. What da heck is the difference between a Highlight and a Callout? Hero Unit and the Banner section? They are similar, but different. Same same, but different.
And what if you'd like yourself a nice content slider? There's the QuickSlider. That one's obvious. But what if it's too quick and simple for ya? Well, there's the… huh? Hmmmm, so… maybe the… aha! Turns out the Features section is an advanced slider! That makes a little sense. But only a little. Not much. Could make more sense.
The admin part of the PageLines theme is similarly confusing: You have a tabbed interface with a Dashboard (not to be confused with WordPress' own dashboard) and Site Options, Page Options and Drag & Drop. While it may sound simple and straghtforward enough. But in reality… it isn't. To create your site, you'll go from tab to tab, and never quite be able to remember in which tab you do what.
PageLines vs Headway – Sections vs Blocks
Compared to my fave WordPress theme framework – Headway – the approach of PageLines is very sexy and alluring, but much more complex and confusing.
Headway doesn't have any Banners, Boxes and Features. Headway simply has something called Blocks. These blocks can be placed on a grid layout. Headway Blocks can be many things, but each are clearly labeled: Content, Widget Area, Header, Footer, Navigation, Gravity Form, etc.
I could say more about how the two compare, but for me it basically boils down to the above.
Multiple sidebars possible? No?
Having multiple sidebars, alternating on different templates, depending on context: Is not supported. For that you'll have to use a plugin like Widget Logic. While Widget Logic is free, I'm one of those purists who think less plugins are better, and that multiple sidebars should be handled by the theme. Headway supports it by default, for example.
Everything comes at a cost. PageLines included.
The pricing is prohibitively high in my opinion. The pricing scheme is complexified  by an optional PLUS Membership. Too many choices are never good in ecommerce, or commerce in general. Read Martin Lindstrom's book Buyology if you don't agree. I don't think you disagree though. Who wants more tough choices in life? It's full of them already: Should I wear my pink Hello Kitty underpants today… or the Yellow Submarine ones?
What I really really like about it
Each section has a separate full width wrapper, which means you can easily make full width, fluid layouts. Not just header and footer, but every section, listed above. Makes it much easier to separate your page elements, and create a visual flow when scrolling the page. The Headway theme framework currently doesn't have full width support, but I have a strong sense it is coming, sooner rather than later. Doesn't help me right now though. Full width is all the rage these days. It's what the young people want. It's the ordeal of the day. You know.
Some of the sweet charms of PageLines:
It's built on Twitter Bootstrap. Tons of shortcodes to easily format your content.
It supports the LESS CSS framework.
It is a grid-based framework. I find grids essential to good design.
It is responsive by default. Can be disabled if you wish.
The support documentation is simple, thorough and well-organised.
Despite my above critical points, I must admit I'm impressed with PageLines!
Read more about PageLines on their own site – and do not hesitate with your comments or questions!