Productivity guru David Allen is the man behind the Getting Things Done productivity system, aka GTD. A phenomena with many fanatic fans and dedicated followers. Some even say GTD is the holy grail of personal productivity.
When I first "read" David Allen's first book Getting Things Done: The Art of Stress-Free Productivity I got intensely irritated! Even though I listened to the abridged version of the audiobook, I felt that David Allen (who himself narrated it) left me with a robotic impression. His tone was stiff, strict and boring: In an almost robotic voice, he instructed the listener to have a "collection bucket" and a "trusted system" and "an inbox" in which to "empty the mental ram" or something like that. Computer analogies galore. Overall very dry and corporate. David Allen and his system didn't feel humane. At least not to me.
Nevertheless I decided to try out his system… And like many followers of the GTD methodology of productivity… I fell off the waggon. Yes, that's the best way to describe it. Doing GTD is somehow like being in rehab. Only, in this instance, you're trying to learn new, good habits, rather than break old, bad ones. It's a very hard task to accomplish: To many – GTD never works as a system. It's too uncompromising. Too strict. Too time-consuming to maintain. Over the years, I tried and tried, using various software like Life Balance, Things and OmniFocus. Little did it help. GTD sucks. Or does it?
Maybe there's hope! Maybe GTD has been somewhat misunderstood by many, myself included? I think so. Why? Read on:
Getting Things Done: The Art of Stress-Free Productivity
Published in 2002 but really took off like a rocket in 2004, fostering a whole movement of GTD fans, in an almost cult-like fashion. The book is a dry, but very practical guide to personal organization. It's light on advice regarding perspective and prioritization, however.
So much has already been written and said about his first book, so let's move on to his next book:
Ready for Anything: 52 Productivity Principles for Work and Life
Generally not well received, this follow-up book to Getting Things Done, was probably written and published before the GTD movement really took off. Ready for Anything is a collection of 52 short essays (assembled from his newsletter) on productivity. It's unkown if the reason for the number 52 is to read one essay each week of the year. It would work well that way.
Many followers of David Allen and GTD disregard this book as being fluffy, spiritual new-age mumbo-jumbo. Too abstract. Me personally? I think it's a much better read than Getting Things Done: The Art of Stress-Free Productivity. Life is more than folders, staplers and inboxes! In this book David Allen goes deeper into his system, from a more elevated, humanistic and almost philosophical point-of-view.
I welcome that.
Making It All Work: Winning at the Game of Work and Business of Life
I got this book as a hardcover (which is rare for an audiobook freak like me) when it was first published in 2008.
I got it, yes. but I must admit I didn't get it.
Just like Ready for Anything, this book also wasn't very well received by the GTD community at large. It just rehashed and reframed Getting Things Done. So most GTD fans, myself included, cried in the desert: Dear King David: What on earth are we supposed to do now?
There can be no sequel to The Bible, right? The first book outlined the whole system, so nothing could be added… right? Still many GTD fanboys (myself included) wanted more. But maybe we needed the second part of the truth: The New Testament of GTD.
From the inner sleeve of Making It All Work:
"While Getting Things Done functioned as an essential tool kit, Making It All Work is an invaluable road map, providing both bearings to help you figure out where you are in life and directions on how to get where you want to be going."
I eagerly purchased a copy hot off the press, before a trip to Barcelona, and started reading it. While it was okay, I felt like I was rereading Getting Things Done in a more abstract, remixed version. But a few days ago, I decided to reread it, to give it a second chance, and really absorb the contents of the Perspective part of the book, since I really needed some perspective on my work life.
After my second session with the book, I must admit that Making It All Work is by far David Allens best book. It's the most profound. That's also why it takes some time to digest.
I think most GTD followers would achieve a happier, richer, more fulfilling life, by ditching their copy of Getting Things Done, reread Ready For Anything, and let Making It All Work – not Getting Things Done – be the golden standard of productivity.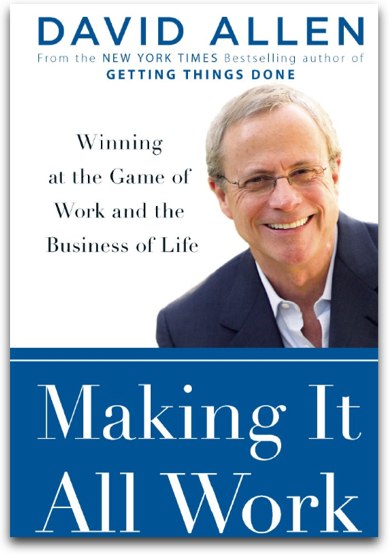 Conclusion: Making It All Work is The New Testament of GTD
Making It All Work is more refined, better destilled, and not as easy to digest as Getting Things Done. It requires more thought work on the readers behalf, But once you absorb it, you'll find that it really is the best book David Allen could ever write as a follow-up to his two previous books. Many of David Allens followers have a tendency to loose themselves is the eternal obsessive compulsive practice of maintaining a perfect database of tasks and external brain inventory. But that's not getting things done. It's being an unproductive geek.
By the way… How did GTD gain such an immense cult status?
David Allen is also an ordained minister in an alleged cult! Crazy but true. I guess that's part of the reason GTD achieved such a huge cult-like following: He's a preacher man, well skilled in the discipline of evangelizing his message as the only true path leading to salvation, and mark his adversaries as pagans. That said, I think David Allen is a good man, with only the best intentions, and that his contribution, Making It All Work – is a great piece of work.
What do you think? Feel free to chime in.