On my continued journey towards joyful digital marketing on the Rainmaker Platform, I've been wondering… how to market yourself (and make a difference) if you're feeling overwhelmed by having too much to do? The answer seems to be: removing (even more) obstacles…
Last month I shared why I decided to stop freelancing fully and completely. I did so as a direct consequence of (finally) realizing that:
I don't have time and energy to do everything, and
I HAVE to focus much more intently on reaching my own desired outcomes, and
in order to focus, I need to sacrifice some of my undertakings. Cut away the inessential.
Else I'd be stuck forever. Things only change if we… change… (gasp) you know?
While contemplating, I've found two reasons why I stuck with client work for far too long:
Some part of me didn't believe I could make a living from my future endeavors. That part is smart! The future is after all unproven – so it makes sense to be cautious. It's a fear-driven part too, however. My good (but ever-so-cautious) ol' dad would likely say it's a realist-driven part, though. But that's because that part… is him.
And to make our inner cocktail parties more interesting, we all have many different parts inside us. I also have a procrastinating part. And another part: the one with the whip. Let's call him Tony Cardone as he's listened to waaaay too many Grant Cardone and Tony Robbins motivational tapes. These two, The Procrastinator and Tony Cardone, remind me of this Pluto cartoon: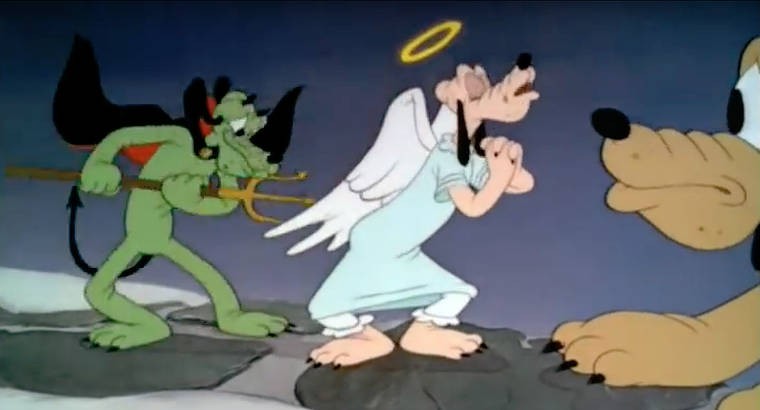 Personally, I see the angel as The Procrastinator aka the good guy, and the devil as Tony Cardone. The one with the whip.
If you think about it, it should be the other way around. The devil is tempting us to procrastinate (go get dat cheeseburger Ollie… you knou u wand it mayn…), and the angel being the righteous one. The saint.
But to – and in – me, my inner Tony Cardone part is so well-fed, powerful, dominant and loud, that he drowns out all thoughts and considerations about taking on too much work. "Get-ta woooork cry-baby! You lazy f*ck! Of course you can take on that extra client project! You want the money… dontcha? See… Yeah… thaaaaats right…. Get workin' son!" he shouts.
Hence Tony is the devil in my book ;o)
So yeah: you can also be too hard on yourself, leading to unrealistic expectations as to what you can realistically pull off.
We gotta focus.
Side note: for more on working with your inner parts, I highly recommend Connirae Andreas' book Core Transformation. The book contains clear instructions – even scripts to help you guide a friend, client or loved one through the process (it's an experience too, really). I consider Connirae a genius for having come up with by far one of the deepest, most profound, powerful, spiritual, life-changing methods for self-development available. Just wanted to share it with you. If you've ever tried MDMA in a therapeutic setting, this is the closest you can get to a magic window to your soul. Ann and Alexander Shulgin would endorse it if they knew about it;)
Anyway, back to the blog post:)
Finally I understood how unrealistic it was to expect myself to do everything under the sun. And since last month's "client cutaway" I've become quite hooked on the idea of reducing my focus to the pure essentials.
There's something else I'd like to share with you today:
I decided to celebrate my new-found essentialist mindset; by finalizing a creation I've been developing for over a year.
A 100% NEW productivity prioritization system!
It's a productivity prioritization system that makes it easy to ALWAYS know what to work on now, what to work on next – and feel 100% confident you're working on the right stuff – the stuff that'll take you to where you want – help you on the path to realizing your dreams and desires.
(it's especially great for content creation btw)
Big words? I don't think so. They're true. Since 2009, I've been obsessed with trying every productivity system under the sun, and this system is what I feel I've needed (desperately!) for so many years. To focus my work. And live a more focused, targeted, goal-oriented life.
I had to create my own system as there's nothing else like it out there.
Sounds good right? Indeed!
=)
Speaking of. I almost forgot! As a result (and a wonderfully concrete example) of actually using my nifty new productivity prioritization tool – it became crystal-clear to me that there's little value in these monthly Rainmaker Marketing Journey updates. They're just that: updates, the format doesn't let me bring enough value to you as a reader. And bringing you (as a heroic, heartful online solopreneur) true value is 100% what I'm here to deliver!
Regardless, my marketing journey towards joyful digital marketing on the Rainmaker Platform (of course) continues! November was month 7, so there are still 5 months left of the 12-month challenge – and marketing-wise I haven't (yet) come anyway near the results I want.
So what I'll do instead (putting my brand-spankin-new, super nifty productivity prioritization system to great use) is to continue documenting my journey towards more joyful digital marketing – still on the Rainmaker Platform – but in individual blog posts, that I can make more practical and tactical in nature – as in: truly helpful to you.
Hmm… Somewhat I feel like I'm taking something away from you here, from the perspective that I won't be writing these monthly Marketing Journey updates any longer. Maybe I can make it up by offering you something special?
Below is your first chance to get on the early bird VIP list for my upcoming (members only) online course that will show you exactly how to create the productivity you've been always missing! (if you've felt too busy or unfocused, that is:)
Swiftly sign up below. Early birds get a deal sweeter than anyone else when the online course launches!