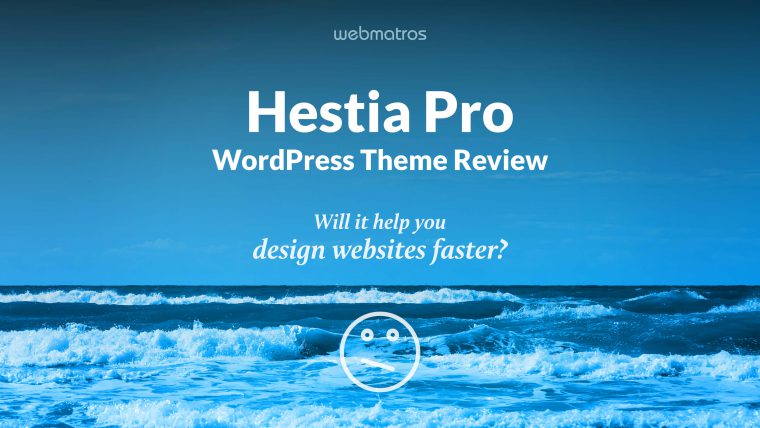 This in-depth Hestia theme review expands on my extensive WordPress theme comparison What's the Fastest WordPress Theme for Your Page Builder?
In that comparison, Hestia didn't do too well. In fact: it came in last, performance-wise!
Fortunately, ThemeIsle (the makers of Hestia) were quick to shoot me an email, wanting to find the cause and fix it.
Although ThemeIsle is a capable and reputable WordPress theme company, I honestly didn't expect them to be able to improve Hestia's performance much.
But they did! And not just a little bit. They optimized Hestia Pro, a lot. Hence, performance is no longer an issue, and it's time for an updated Hestia theme review!
This being a fully revised, rewritten review also means that you have found the web's most thoughtful and insightful Hestia theme review. Enjoy!
What Hestia is – and isn't
On ThemeIsle's website, the Hestia WordPress theme is marketed as a WooCommerce-friendly, powerful yet easy-to-use WordPress one-page theme based on Google's Material Design guidelines.
That one-page part is important. More important than I first realised! It can make Hestia Pro the right theme for your website – or the decidedly wrong theme.
The question is: does Hestia Pro deliver on its promises? And to whom? Is it a theme you should consider for your needs? That's what this Hestia theme review is all about. Read on!
By the way, please know that I asked the fine folks at ThemeIsle to help me with a free Hestia Pro license in order to facilitate this review. They didn't ask me to write it, nor have they had any influence in its content, nor on my verdict. That said, I am part of their referral program and may get a free pirate parrot to sit on my shoulder (arrrrgh!) if you visit their site via the links in this review.

Rest assured, WebMatros reviews are fair and trustworthy. I share the facts. The pros and cons – as I see them. My words are not for sale. If a product is problematic, I'll point it out. And who says this review will be all that positive? Read on…
Hestia Pro vs free
In this Hestia theme review, we'll focus primarily on Hestia Pro – the premium version of Hestia. You can always try out the free version by yourself. Most readers wanna know whether upgrading to the premium version – Hestia Pro – is worth it – or not.
But before we walk the plank and dive deep into the vast abysses of Hestia Pro, a few words about the free version of Hestia, and its limitations compared to its premium version.
The free version of Hestia is a popular WordPress theme, in use on more than 100.000 websites. It's simple, but doesn't feel dumbed-down or unreasonably limited, like "free" versions sometimes can. It's a capable theme, and you can absolutely build your website with it.
That said, Hestia Pro will give you a boatload (pun intended, ThemeIsle's nautical brand considered) of extra gems.
I'm also a big believer in supporting developers by paying extra – for extra features. So let's move on to the Hestia Pro review.
Stop the Press! Foxes in Orbit around the World!
Upon installing Hestia, I was recommended to install Orbit Fox – an enigmatically named, yet useful, plugin.
I wonder what kind of stamps they were licking – and what kind of mushrooms they were nipping – the day they named that plugin… Orbit Fox?? LOL
According to WordPress.org, the Orbit Fox plugin is used on 300.000+ websites around the world, and rated a solid 4.5 stars (out of 5) by its users. A comforting testament to its usefulness and reliability.
But what is it?
It's a free companion plugin that's not exclusive to the Hestia WordPress theme – it works with all WordPress themes, adding a helpful handful of handy Jetpack-like features:
Gutenberg blocks: About Author, Advanced Heading, Buttons, Font Awesome Icons, Google Maps, Plugin Card, Post Grid, Sections (page builder like columns and such!), Sharing Icons, Pricing table, Services, Testimonials.
Uptime Monitor: get notified if your website goes offline.
Analytics: easy Google Analytics integration.
Template Directory: a range of Gutenberg templates to import and use on your website.
Menu Icons: set menu icons for navigation, if you're so inclined:)
Mystock Import: import images directly from mystock.photos.
Privacy Policy Notice: a simple notice bar which will help you inform users about your website policy.
Safe Updates: visual assessment of how a new theme update may affect your site. Currently only works with wordpress.org themes, though.
And if you're using Hestia, Orbit Fox sports some extra front page improvements.
Material Design
To ensure a consistent, well-balanced, user-friendly look, Hestia follows Google's Material Design guidelines.
That means modern, user-friendly flat design as we know it from across the web.
Overall, I like Hestia's default look. It's clear and crisp.
The Customizer design panel
For its design control panel, Hestia makes use of WordPress' native Customizer. That's great. And Hestia's use of it is fairly good, but isn't organized as clearly as it could be. For example, there's a menu item called Appearance. Inside that, you'll find typography, as expected. But why the heck is Color a separate menu item, and not inside Appearance where it should be? Strange.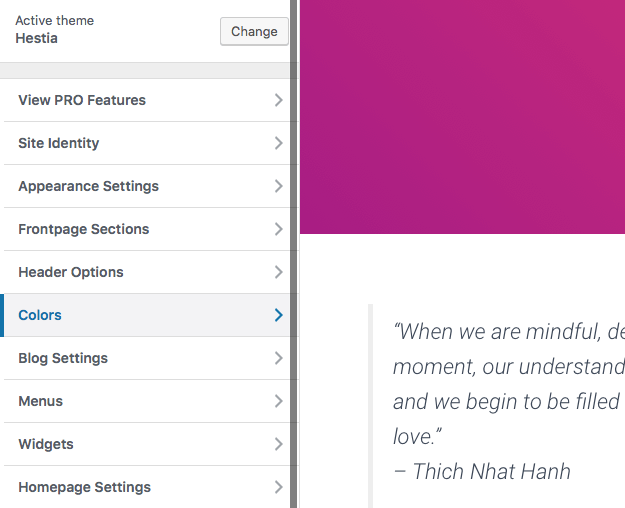 And it becomes even more strange when you see what's inside the Color option:
That much. Or little! And still… it has its own menu item… in the main menu… instead of being placed neatly inside the Appearance settings where it should be. Strange choice indeed.
Here at WebMatros, simplicity is key. It's easy to get overwhelmed by options, in a world of constant change. We don't want feature-bloat – we want focused features that helps you spread your wings online.

My mission with WebMatros, is to cut through the endless clutter and noise, to find the simplest solutions that help you do so.

Essentially, I want you to have more time doing what you love, rather than fiddle and fuss with complex software.

In general, Hestia's design panel could be better organized.
Typography in Hestia: Love it – or loathe it
Just like Japanese matcha, or South American yerba mate, Typography in the Hestia WordPress theme may be your cup of tea – or it won't! For me personally, it's a somewhat bitter experience.
Why? In Hestia, font sizes are set with sliders using weird relative sizing. Relative to what? The base font size? I couldn't find a place to set a base font size. Hmmm… Maybe it's relative to… the theme's default font sizing – whatever that may be.
Essentially, you won't have any idea what the font sizes are, in pixels, rems or ems. In Hestia's typographic universe: everything's relative. And just like that thought can make you dizzy when contemplating the universe and our existence on earth, relativity may also make you dizzy in Hestia. IF you know what you're doing, that is.
Why? Because apart from being an awkward way to set font sizes, the relative scheme makes it impossible to use a typographic scale. Typograhic scales are something I ALWAYS use, and always advocate, when teaching web design. It's KEY to solid, sound, beautiful typography that's a pleasure to look at – and read.
A typographic scale establishes a visual hierarchy, size-wise, based on a consistent rhythm. The interval between various font-sizes is the same percentage-wise. Just like there's a semi-tone between each note on a piano. Type set to a typographic scale looks better and more professional. Noob web designers don't use typographic scales: professionals worth their salt, do.
The fact that Hestia totally disregards such a crucial aspect of web design, baffles me. To me, it was a 100% dealbreaker, when considering Hestia for my upcoming website projects.
Responsize font sizing in Hestia
Responsive control of font-sizes is good though! If you look closely at the Typography screenshot I posted a few paragraphs above, notice the three lil' circles next to the Title size slider? Clicking each, lets you set the font size for desktop, tablet and mobile devices, respectively. I appreciate that!
Some themes only let you set font sizes above and below a single breakpoint, meaning you'd have to make a decision, as to where that breakpoint makes most sense for your site: are you targeting tablets – or mobile devices? The answer of course, is both. Thankfully, Hestia lets you set individual font sizes for each type of device.
What Hestia Pro will give you
The true value of Hestia lies in its one-page design.
Below are the 5 main Hestia Pro benefits, quoting ThemeIsle:

Header Slider – Add more content to your site header with an awesome slider.
Fully Customizable Colors – Change colors for the header overlay, header text and navbar.
Jetpack Portfolio – Portfolio section with two possible layouts.
Pricing Plans Section – A fully customizable pricing plans section.
Section Reordering – Drag and drop panels to change the order of sections. Reorganize your frontpage sections more easily and quickly.
Quality Support – 24/7 HelpDesk Professional Support.

Quality support is always good to have. Fully customizable colors are essential. Section reordering too. I don't personally care for the Jetpack portfolio feature, and the header slider is a meaningless relic that died in 2013. I mean: who da fook wants a slider these days?
There are other features you get with Hestia Pro – check the website for the details.
Once we move past the front page, Hestia Pro isn't as flexible as its closest competitors.
I didn't feel the options it offers for customization are adequate for a framework type of theme. It's definitely no Headway (a discontinued but an amazingly flexible WordPress theme framework) nor a Divi theme (a feature-rich yet troubled WordPress theme) – it's more a "this is how Hestia looks – take it or leave it" thing.
And then there's that insistent footer menu Hestia forces upon you. If you don't assign a menu to the footer menu position, Hestia will dump all your pages there. What if I don't WANT a menu in my footer? C'mon ThemeIsle… Please give us the liberty of not having a menu in the footer! It's a free world, you know?

In contrast, Page Builder Framework, one of Hestia's competitors, gets it right: if no menu is assigned to the footer, there's no footer menu (as expected).
Also, occasionally, the preview in Hestia's customizer didn't update my changes. Sometimes requiring refreshing the page. I experienced this in multiple browsers, so it wasn't a browser issue on my part.
Hestia theme review verdict
In conclusion of my Hestia review, I'm left with a somewhat ho-hum feeling. I sincerely wish I could heartfully recommend it enthusiastically and wholeheartedly.
However, for the above stated reasons, the awkward typography settings, and somewhat limited flexibility compared to its competitors: I sadly can't recommend Hestia Pro. Sadly so. Fact is, there are better alternatives out there, like GeneratePress, my current favorite feature-wise, and winner in my WordPress theme speed test.
Two other viable Hestia alternatives, are Astra Pro and OceanWP. Or the Beaver Builder theme which comes included with the Beaver Builder Pro package – a longtime fave of mine – a trusty theme that hasn't let me, nor my clients, down.
The Beaver Builder theme only makes sense if you're also shopping for a page builder though – in which case I'd recommend Beaver Builder. But if you're using Elementor, or some other page builder, like f.e. Thrive Architect: GeneratePress Premium is my current, primary recommendation for a lean, feature-rich, easy-to-use, page builder friendly WordPress theme.
Latest from the ThemeIsle blog
I hope you enjoyed reading this Hestia theme review?
Please help share it, if you feel your network on f.e. Twitter or Facebook will benefit from reading it!
Your comments and questions are welcome below!
Want future reviews in your mailbox? Enlist below!
Join the WebMatros email list to get future web design reviews the moment they're released!
At most a few emails per month. NO automated sequences. Your data is safe and will never be shared.