Update, September 4th, 2019:
Just the other day, I received news that Rainmaker Digital Services / Nimble Worldwide (or whatever they're called… I'm truly confused…) are finally ready to launch their "new and improved" (given their history, I find that somewhat hard to believe, let alone buy into…) version of the Rainmaker Platform: Rainmaker Platform Andromeda.
Now, it may be cool. I don't know. And never will know. I never want to know. They burned their bridges (and hurt their brands) when they abruptly decided to spin off Rainmaker to some digital marketing services company – and make Rainmaker Platform part of a services push (read more about that below, if you're curious) – thereby leaving me, and many other Rainmaker Platform users, with the heavy (!) burden of migrating our sites to WordPress, or alternative platforms and parts, like Teachable, Thinkific, ActiveCampaign, ConvertKit, Leadpages, etc.
Then, almost simultaneously with the Andromeda launch, Brian Clark yesterday announced in a blog post, that he's returning to Copyblogger.
Whatta a surprise, eh?
Not really.
Despite the spin and stories along the way, Brian Clark only remained CEO of Rainmaker as a temporary PR deal, to ease the transition, and make it appear less like what it really was: Copyblogger wanting to get rid of a problematic product – without losing too much face, and to reduce panic among its Rainmaker Platform users.
And I suspect he was mostly there, pro forma. As a front figure. Not there, on a day to day basis. Just write a newsletter, every now and then, to show he's there. That's speculation, though. But isn't it telling how Brian mentions Rainmaker Platform only ONCE in his "back with Copyblogger – here's what I've been up to" blog post?
Update, May 15th, 2019:
Just a I predicted in 2017 (see my original post below – under the "Wild Speculation Alert" headline) Rainmaker Digital Services has now been 100% acquired by Nimble Worldwide.
Needless to say (my prediction considered): it doesn't surprise me. That whole joint-partnership thing Copyblogger / StudioPress did back then, seemed to me like damage control.
Copyblogger wanted to get rid of Rainmaker. Likely because the support burden ate the profit margins, and development costs skyrocketed as they realized users expect more from a platform touted as the complete solution for infopreneurs wishing to sell online courses, market their services, do email marketing, podcast, and much more.
Selling the whole platform to some (IMO) random marketing services business, would mean admitting failure – and hurt their brand – by alienating and leaving behind, their loyal customers whose websites and businesses relied upon the Rainmaker Platform.
Since then, I've been contacted by quite a handful unfortunate business owners, who wanted to migrate from Rainmaker to WordPress, just like I myself did.
I saw it coming.
And with the StudioPress theme business having since been acquired by WP Engine, I honestly wonder what the hell happened to/with Copyblogger… ? They used to be a major player within the WordPress community and blogosphere – a huge force to be reckoned with.
What are they up to these days?
No matter their future plans, I personally don't have much faith in their stuff any longer, as a burned Scribe customer, Premise customer, Rainmaker customer…
Brand trust is like a relationship. It doesn't feel like Copyblogger can truly commit. So why trust any upcoming products they may launch?
That's how I feel.
They even changed their name to Rainmaker a couple years ago… So who are they now? StudioPress? No, that's WP Engine…
Hmm…
Update, April 17th, 2018:
What happened to the Rainmaker Platform? As I've already written previously, it's no longer available to new customers, unless you want the full services package from Rainmaker Digital. So it's time to look for alternatives. Who are the closest competitors to the Rainmaker Platform?
My personal choice and recommendations for a Rainmaker Platform alternative:
If you're looking to create an online course, Teachable is a good choice. What makes them stand apart from Thinkific, is that they have an iOS app that lets your members conveniently enjoy your course content on their mobile devices. Thinkific doesn't have such an app.
Furthermore, Teachable vs Thinkific handle your payments differently: Thinkific considers you to be the seller. Teachable acts as the seller. They're the "marketplace". As a result, Teachable will drastically simplify your accounting, as they simply send you a monthly payment, no matter how many customers you've sold your online courses to. If you're in the EU, this means you don't have to bother with the cumbersome EU VAT / One Stop VAT MOSS regulations.
IF those two differentiators aren't important to you, Thinkific is as good a choice as Teachable.
And if you're not looking for a full-on online course platform, but simply looking to sell digital files such as ebooks and such: Gumroad is my choice for that. Just note that they don't allow selling services – so if you're a coach looking to bill customers for Skype-sessions: you can't use them for that.
Any questions? Feel free to ask in the comment-section at the bottom of the page.
Update on November 27th, 2017:
I've spent the last few weeks migrating my site from Rainmaker, back to WordPress.
When I signed up for their Rainmaker Way whitepaper (aka: sales letter) I noticed Rainmaker Digital's email marketing was handled by GetDrip.com. I found that strange and a clear sign they don't trust their own RainMail email marketing service.
I couldn't justify investing more time in a platform with such an uncertain future. If any.
The process of rebuilding my site on WordPress has brought along several new, interesting insights that I'll be sharing in upcoming posts. So be sure to stick around and keep an eye on the WebMatros blog!
PS: If you want help moving your site from Rainmaker to WordPress, I can help you with the migration. Just shoot me an email.
Update on October 30th, 2017:
The other day I realized what's been troubling me about the new direction of Rainmaker. Brian Clark has referred to it as "Software and a Service" (as opposed to Software as a Service, i.e. a typical SaaS). However, that's not the case. The new direction is rather "Service… and some software". In other words, the Rainmaker Platform is secondary.
And now that the Rainmaker Digital site has finally been "soft-relaunched" – it confirms my above conclusion. Rainmaker as a platform is almost a footnote.
What does that mean for current Rainmaker Platform customers? Honestly I don't see it as good sign. Despite my overall faith in StudioPress / Rainmaker Digital and the following words by Brian Clark, they are a business after all:
You'll also benefit from the software improvements that come from moving upstream. As we do more expensive custom development work for clients, relevant enhancements will find their way into the general platform, at no additional cost to you.
The Rainmaker Platform Goes Off the Market this Friday
Time will show whether that will actually happen. Seen from a business perspective, it'll make more sense to keep those enhancements as in-house "templates" – easily repeatable processes, that can be sold again and again, as services to clients who request those changes.
In case you're a current Rainmaker Platform customer wishing to migrate to a self-hosted WordPress solution: I can help you out – and may be your best option across the interwebs. Migrating won't be easy, but there's a lot that can be done. If you need my help, just get in touch.
Original post:
The Rainmaker Platform has now been "off the market" for more than 3 months. Since I've previously written so much about the Rainmaker Platform and my use of it, I figured it's time I share my thoughts on this situation.
If you're not familiar with Rainmaker, it's a membership website platform (like Thinkific and Teachable) and much more. It's for content marketing too. And email marketing.
In case you're unaware: the Rainmaker Platform is built on WordPress. It's essentially a remixed WordPress, customized to fit the needs of digital solopreneurs, content marketers, small business owners, coaches, etc.
There's a lot of trust involved in choosing a platform like Rainmaker. While it is based on WordPress, major parts of it, f.e. the membership billing, LMS (learning management system), and landing pages, are proprietary.
So going somewhere else isn't as straightforward as moving a standard WordPress site from one host to another.
Trust, is the key word here.
Currently, the Rainmaker Platform is still "off the market" and Rainmaker Digital (f.k.a. Copyblogger) are (still) in the process of merging the Rainmaker assets with another company, Nimble, wholly unknown to me and most other Rainmaker customers.
Hence this very post.
On May 17th, 2017, an email from Brian Clark trickled into my inbox. Subject-line: Big Changes Coming to Rainmaker.
After reading through it, I had what can best be described as mixed feelings. From one viewpoint, this is exactly what I've been waiting for. From another, this is a huge seismic shift of the platform on which my own website, and those of many other customers, reside.
Below, I'll cite some important highlights from it, and share my own comments, inline:
Handing over the QWERTY-mic to Brian Clark:
We have an exciting development to let you know about – but I know sometimes change can be a little unsettling.
True.
When we rebranded the company from Copyblogger Media to Rainmaker Digital in September of 2015, it was a firm statement that put the platform at the forefront. But it was also a foreshadowing of where we saw things going.
If the Rainmaker Platform is at the forefront of the company – why separate it from from the rest of your operation?
(more on that below)
Our original goal was to create DIY marketing technology for entrepreneurs and small businesses that are doing content marketing themselves, either in-house or via freelancers. In the meantime, we've been turning away businesses happily willing to pay for a more complete solution.
And those businesses "happily willing to pay for a more complete solution" are… larger businesses? Rainmaker will now cater to corporate/enteRprise customers? It's Not clear to me whether that's the case. Such a change of focus will be reflected in the future focus of the product – hence a solopreneur/blogger like me want to know whether that's the case. I'm sure many other, current Rainmaker customers can relate?
There are many ways to develop a client services department, but given that we've been product-focused for over a decade, we weren't arrogant enough to think we could just pull it off effortlessly.
Wise choice.
In the last year, we've explored several viable ways to do more for our customers and prospects as a hybrid technology and digital marketing service provider. After careful deliberation, we've come up with a path that allows us to expertly provide anything that a Rainmaker user needs.
Reading between the lines, yet pure speculation on my part, here's what I think might have happened:
The Rainmaker team were surprised by the burden of development and support involved in a product like Rainmaker.
What's easy for a techy type to do… isn't easy for Jane and Joe. Yet, Jane and Joe wanna do all that fancy stuff "everyone else" are doing.
Feature-requests kept coming in. Support-requests (with pleas for customizion-help) kept coming in, too.
Development and support "speed up the metabolism" of a business: human resources are depleted, rapidly.
Morphing the "burden" of development and support into paid services makes sense: it's a way to fund new features and make sure support (as in: helping customers with customization) is economically viable.
Rainmaker Digital has entered into a letter of intent to partner with an existing digital agency, Nimble Worldwide. We've had a long relationship with Nimble, as they were our email marketing provider for years before we developed our own internal solution, RainMail.
I thought FeedBlitz was their email marketing provider? Anyway, good to know it's a trusted, long-time partner.
More on Nimble later in this post.
Effectively, the Rainmaker assets of the company (excluding StudioPress, Synthesis, Copyblogger, Authority, and DCI) will be combined with Nimble in a new entity, with us as the majority owner.
This is one of the most unsettling paragraphs, which Brian later repeated in his "Last Chance to Get the Rainmaker Platform at the Current Pricing" post on Copyblogger.
Why separate the Rainmaker-assets from the rest of their activities?
That "majority owner" part worries me. Yes, Rainmaker Digital is the majority owner… But for how long?
Wild Speculation Alert!
Wearing my tinfoil-hat and playing devil's advocate (ha! Sounds like Chuck – Saul Goodman's brother) this could be a way to sell the Rainmaker assets, without losing face while easing the transition by maintaining joint ownership for a while.
Copyblogger could then, when the time's right, sell their majority ownership and BOOM: Rainmaker Platform is no longer a "Brian Clark & co" venture. Heck, I'm not even sure there'd have to even be a "boom" – not a publically traded company, disclosure-requirements are limited, so should they reduce their ownership: it could likely happen – without a sound.
I've experienced such a situation before: a great hosting business turned into a monkey-zoo (really) after it was sold to Cheech & Chong (apparently). From one day to the next, writing their support was like contacting Beavis & Butthead or Lloyd and Harry (Dumb and Dumber).
First of all, that means you can rest assured that the company that you're doing business with today remains the company you're doing business with going forward. And of course, I remain as the captain of the ship.
That's one of the most reassuring statements in the email. I want Brian Clark to remain captain of the ship.
It comforts my "inner Chuck McGill" – I've almost switched the lights back on and taken off my tinfoil-hat. Almost.
(off-topic: if you haven't watched Better Call Saul – you better:)
That said, this deal will add an experienced team of digital marketing pros to ensure that our go-forward solutions are expertly crafted and professionally delivered. I'm 100% certain that this is the smarter move for our customers and prospects compared with trying to build an internal agency from scratch.
I concur. But why take the stand-alone platform away? Why not let current and future customers decide whether they want (or need) services or not?
Why not just refer customers with customization needs to Nimble – or to a new "Rainmaker Services" agency?
That way the services business would have to prove its viability first. And if it failed, the Rainmaker Platform could remain active. Leaner, more agile.
What Can We Help You With?

The first meaningful impact of this will be that we can do anything you need related to your digital marketing efforts. That includes:

– Design
– Development
– Strategy
– Content Creation
– Adaptive Funnel Sequences
– Turn-Key Digital Marketing Department

On that last point, we'll be able to provide clearly-defined bundled packages that allow you to quit thinking about marketing, and to focus on the rest of your business. If the ROI is there, why would you say no?
I'm very curious to see how you'll manage to provide clearly-defined bundled packages for diffuse, individual customer needs. And such needs change, for each customer, from one month to the next. Either the customer ends up paying too much, or too little.
And pricing it competitively – in a world with freelancers and outsourcing services everywhere: that's a whole topic in itself.
Granted: if the work delivered is good (it has to be) it's worth paying for. More on that later in this post.
We'll be rolling out access to both project-based and retainer-based solutions in the coming months. You'll be the first to know.
Still waiting. Eagerly. We're now in October. The email was sent in May. Patience is a virtue, and I feel I've been very virtuous.
One Big Change Going Forward

All of this restructuring is aimed at offering you more options from a trusted source. Of course, with any major escalation in value, there are changes to the way things have been.

The biggest change is that going forward, we will no longer sell the Rainmaker Platform to new customers a la carte. In other words, the sales process will become more like an agency, and less like a "pull out your credit card and sign up online" SaaS.
Honestly, that sounds so alien to me. More like Infusionsoft / Microsoft / HubSpot – on steroids. A big sales team. Consultants. Suits. White collars. Handshakes. Deals.
Doesn't sound like something from Copyblogger – or the world of WordPress for that matter.
Feels like a change of market focus. Huge one.
Next, you'll benefit from the software improvements that come from moving upstream. As we do more custom development work for clients, those enhancements will find their way into the general platform, at no additional cost to you.
I (and other Rainmaker-customers I've talked to) just wish the "stuck in beta" page builder would be ready for prime time. It's vital, in a world where WordPress-using competitors have shiny sites built easily with Beaver Builder, Divi, Elementor, and other WordPress page builders.
Finally, the move to full service means you never have to experience frustration at what you can't do with Rainmaker. If you have a specialized need, we can make it happen for you for a reasonable fee.
Sounds nice. I'm all for the whole "offering services" idea. I just don't see why they need to be mandatory, a new business entity formed, and so on.
I'm looking forward to see the rates/pricing too.
In short, (and at the risk of overstating my case), you've made a good decision to build your digital presence with Rainmaker. Because it's only going to get better for you as an early adopter, at no additional charge.
I hope so:)
Soon we'll announce our plans to the general public, and begin the process of taking the current iteration of Rainmaker off the market for new customers. I wanted to make sure you understood in advance what that means for you.
Again: why take it off the market for months?
Why take it off the market – at all?
To facilitate a (re)launch?
Or wasn't it profitable (enough) as a stand-alone solution?
We're left in the wilderness, wondering, you know?
Thanks again for being a Rainmaker customer, and for reading all the way down. We're fully committed to your continued success.
I'm glad about that last part:)
Needless to say, the email left me with an uneasy feeling and got me thinking. I didn't sleep as well the following night.
Questions unanswered:
Why not keep the Rainmaker Platform available at its regular price, with an optional services-upsell for customers who need or want it?
Why merge with another company, before validating the concept?
Who's the new target-market? Solopreneurs and 2-3 person small businesses – or larger companies?
A month after the email, the Rainmaker Platform was taken off the market.
Now…
I like, and have a lot of faith in Brian Clark (Founder and CEO of Rainmaker Digital – f.k.a. Copyblogger). Brian is a true content marketing pioneer and thought-leader.
Not to forget the rest of the Rainmaker Digital team. Great people with heart aplenty in what they do.
Furthermore…
I agree with the idea of a serviced content marketing platform
A year or two ago, I had some similar thoughts myself, thinking "someone should create a digital marketing agency for small businesses. One a la Zirtual, but with vetted content marketing professionals". So I'm quite keen on the overall idea of Rainmaker as a serviced content marketing platform – or "software and service" as Brian Clark has put it.
However…
Who are they partnering up with?
Nimble. Nimble Worldwide is the name of the digital marketing company that Rainmaker Digital is merging with.
Upon receiving the email, I first thought they were partnering up with Nimble, the social CRM service.
Could have been cool. But not the case.
So…
Who are they?
Visiting their website didn't help much, despite it being online since at least 2010, according to Internet Archive's Wayback Machine.
My first impression of the website, is one of underwhelm. This is not a website review, so I won't start picking it apart here. Suffice it to say: when I showed it to my partner, she (who's a design teacher, with a master's degree in digital design) immediately pointed out even more flaws than I'd found.
As a website it's fair enough. It's just soooo far from the Rafal Tomal designs we're used to seeing in Copyblogger/Rainmaker projects.
And Nimble are offering design services, after all.
Visiting their Twitter profile reveals a giant, pixelated cover image, and a profile image with a carelessly cropped logo:
(click image for a full-size version)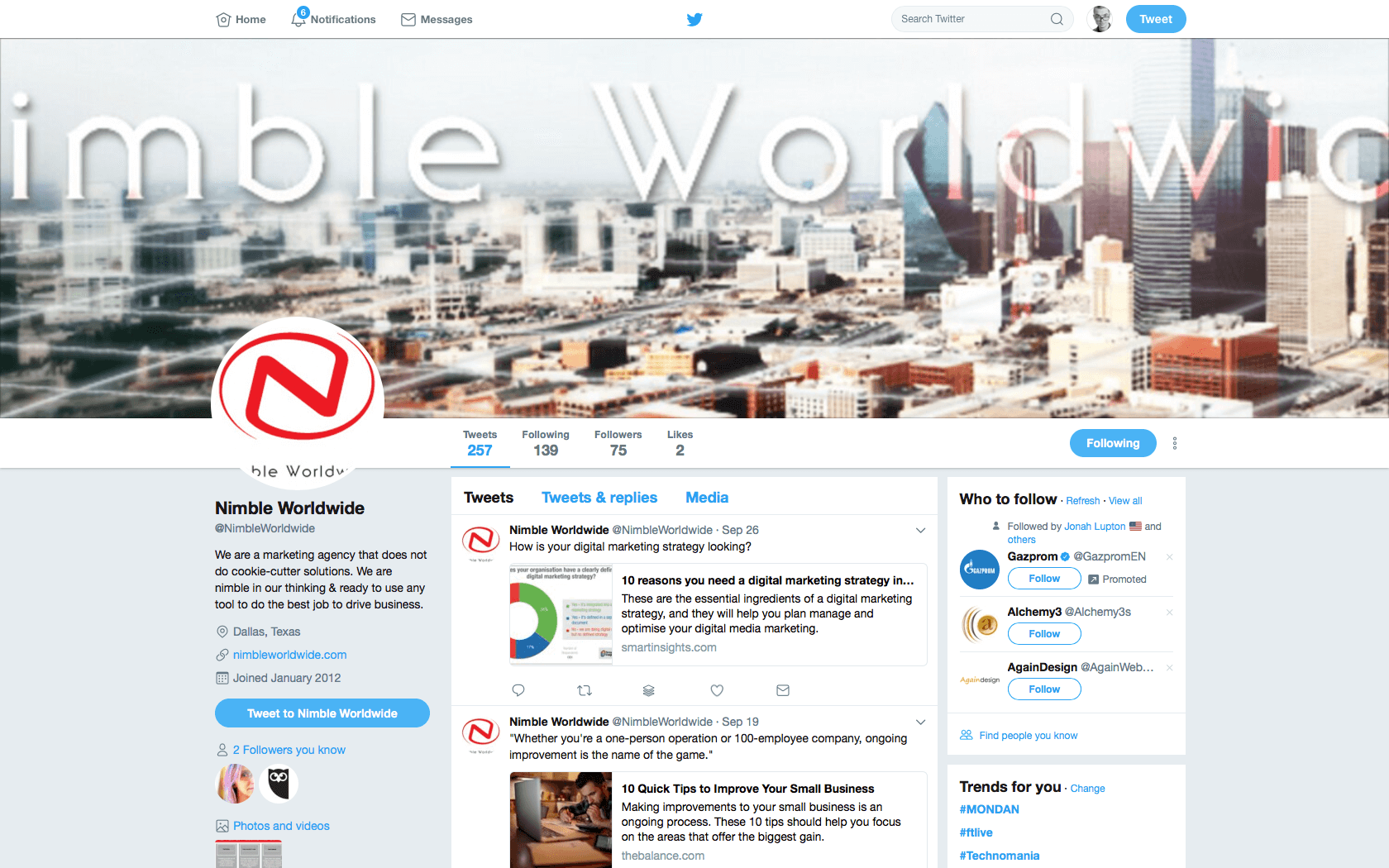 Not the lack of competence I'd expect from a Copyblogger/Rainmaker/StudioPress-venture.
Seeing their Twitter-profile, my partner began wondering whether they're outsourcing their design-work to less skilled, cheaper workers abroad? I can understand that impression.
Anyway.
Their Twitter account has 75 followers, despite joining in January 2012.
I found their Facebook page too. It has 61 likes.
Their Pinterest account has 16 followers.
All above counts even include me:)
Few social media followers doesn't necessarily mean a company is incompetent at what it does. They may simply be busy helping their clients succeed. As a freelance web designer, I put more effort into making client websites great, than into my own site. It worked well: I got plenty work just from the referrals of my happy customers. Maybe that's the case with Nimble as well.
Still: a digital marketing agency named Nimble Worldwide with such a meager online presence is kinda strange, you agree?
Another, slightly amusing point:
When I researched their website with the Internet Archive's Wayback Machine, it got clear why they're named Nimble. Variants of the following quote:
"We are a marketing agency that does not do cookie-cutter solutions. We are nimble in our thinking & ready to use any tool to do the best job to drive business."
The amusing part? That they're now partnering up with Rainmaker Platform – one all-in-one tool. What if Teachable or Thinkific is better for the client?
I'm not making fun of – or pointing fingers at – their nimbleness, however. Not at all. I'm a huge believer in choosing the right tool for the client and job. Always.
It's just… slightly amusing… or strange… for a company so deeply tool-agnostic that their name is built around it, to enter a partnership to work primarily with one platform: the Rainmaker Platform – "the Complete Solution for Content Marketers and Internet Entrepreneurs" – quoting the original Copyblogger launch post from 2014.
The Rainmaker Platform is good – but idiosyncratic. And at times a jack-of-all-trades. Nimble may feel less nimble, sticking with just the Rainmaker Platform.
Here's hoping that will propel development forward at a faster pace than has been the case for the last year or so. Since RainMail was released, updates have been regular, but far from overwhelming in scope and utility.
Judge the tree by its fruits
What's the quality of their creative design and development work done for clients? How good is it? If they're to work on my website, and I'm to pay for it, I wanna know how competent they are – what I and other Rainmaker-customers can expect.
So I took a look at the latest client project posted to their Facebook fan page:
(click image for a full-size version)
Sorry to say, but typographically, that's a disaster. Excessively long line-lengths, inadequate line-spacing, sloppy headline margin/padding, illegible link colors, poor alignment, font-size mayhem, and more… All design-school 101 basic stuff.
It's not design-work at the quality-level of Rafal Tomal or Brian Gardner (Copyblogger / StudioPress chief designers) that's for sure. Far from it. And I'm not being picky here.
Do I feel confident in Nimble's abilities? I have to be honest here: I can't say I do. But time'll show.
So far we've been waiting since late May for concrete info, pricing, packages, wording. Still waiting. Quite eagerly now, 4 months later. The silence isn't comforting. My once Rainmaker-hot heart goes cold, protecting itself from the risk of abandonment.
Honestly, this whole "we're taking Rainmaker off the market, but thank you for calling, Sir. Please hold…"
(lounge music playing, and no indication of how long you'll be on hold… is unsettling.
We don't even whether we'll be helped when someone finally answers.
As an analogy, imagine your partner suddenly told you he/she's going abroad, somewhere, and coming back… at some point… soon.
But you don't know when.
And will he/she be the same? Or better? Or worse?
At some point, you start losing faith. Bit by bit. And enthusiasm for the relationship.
And a website platform is a relationship. It's a serious relationship, for any online business.
Copyblogger-products left in the dust
While Rainmaker Digital (the company – f.k.a. Copyblogger) have kept products like Genesis/StudioPress alive and well-maintained for the long-term, they've also axed a few.
Premise, a WordPress plugin for selling digital files, protecting membership content, and creating opt-in pages, was discontinued – and rolled into Rainmaker.
Scribe, the SEO / content optimization WordPress plugin was discontinued – and rolled into Rainmaker.
What does that tell us?
It tells us a couple of things:
Like any other business, Rainmaker Digital are ready to kill products. That can (of course) be a negative experience for customers who've bought and enjoy an axed product. I was a customer of both Premise and Scribe. In case of Scribe it was less of a bummer, because it was subscription-based, and wasn't a vital part of my website. Premise on the other hand, was a lifetime, one payment purchase, and it was a product used to run part of your website. For such a foundational part to get discontinued, didn't feel fair to me and other Premise-customers. At the time it wasn't clear why* Copyblogger (now Rainmaker Digital) decided to pull it from the market. Later on, it's become evident why: Premise was to be part of the special sauce that made the Rainmaker Platform the delicious dish it is.
From a positive perspective, it seems like their best ideas are absorbed into higher-level products, and often the Rainmaker Platform. That's good news for Rainmaker Platform customers. It's a signal they're serious about it. That's also what Brian Clark have stated, throughout the last three years: Rainmaker is where they're putting their efforts.
Yet, lately I and other platform-customers have been wondering whether that's still the case? Some feel the themes available on the Rainmaker Platform aren't integrated as well with the platform as they could be. Others feel development of new features like a page builder have stalled, for whatever reasons.
There is some truth in those sentiments. Since spring this year, the monthly updates have been less and less extravagant. Bug-fixes, optimizations and such. It's not that I'm ungrateful. I always prefer bug-free, stable, fast software, rather than lots of features added, at the expense of bug-freedom, stability, and speed. I'm sure you know what I mean though?
Life-support isn't thriving. It's stable, but not evolving.
In conclusion
I know some of the above might seem/sound/feel a bit harsh. It's all written with passion and love. My many past Rainmaker-related posts make it clear I want to see it evolve and prosper, for the benefit of solopreneurs, small business owners, entrepreneurs, startups and alike. It's a great product, unique in its comprehensive feature-set.
I sincerely hope my worries will be put to shame. Soon.
What do you think?
PS: In case you're a current Rainmaker Platform customer wishing to migrate to a self-hosted WordPress solution: I can help you out – and may be your best option across the interwebs. Migrating won't be easy, but there's a lot that can be done. If you need my help, just get in touch.