The first time the Elementor page builder popped up on my radar, was mid-2016. Since then, in little over a year, this remarkable WordPress page builder has gained magnificent momentum, and not only caught up with, but outpaced its biggest rivals Beaver Builder and Thrive Architect (f.k.a. Thrive Content Builder).
Take a look at this screenshot from Google Trends, showing the past 12 months worldwide search-interest in the Elementor page builder vs its competitors:
Frankly, I'm astounded by that growth-curve. And I can't help wondering WHAT and WHY Elementor is doing so well. We'll look closer at that in a minute, but first: there's someone we need to include in our comparison-party!
Big Daddy Divi?
We can't ignore "Big Daddy Divi" – despite its persisting shortcode shortcomings which, for the most part, renders it "unembraceable" from my perspective.
Regardless, it's clear that Divi is still the world's leading WordPress page builder. But for how long?
If Elementor's momentum astounded me, Divi's sheer dominance stuns me.
Divi's marketing strategy doesn't even include a Free version (like Elementor and Beaver Builder) to attract and entice new users. So why's Daddy Divi such a big daddy?
My take on Divi's stardom is a fabulous example of content marketing done right and working as intended. Elegant Themes (makers of Divi) do a very good job with their blog – it's very active. Their podcast DiviNation is popular too.
I absolutely attribute Elegant Themes' relentless, well-executed content marketing strategy as the reason for their market-dominance.
Of course, Divi as a page builder is good. But it's not 5x as good as Elementor, Beaver Builder, or Thrive Architect, as the Google Trends screenshot above could lead you to believe. Apart from its shortcode shortcoming I actually like Divi more and more. Just not to the same degree as Beaver Builder and Elementor, which I find to be better products. Not just subjectively, but based on the feedback I get on each page builder, in blog comments and emails I receive.
What about Visual Composer?
"Good" ol' Visual Composer. If Divi is Big Daddy Page Builder – good ol' Visual Composer is Grandaddy Page Builder. The OG (Original Gangster) of WordPress page builders, ready to pimp your website with as many columns and rows as money can buy.
It's a WordPress plugin with a large user-base, but one that is declining considerably in popularity: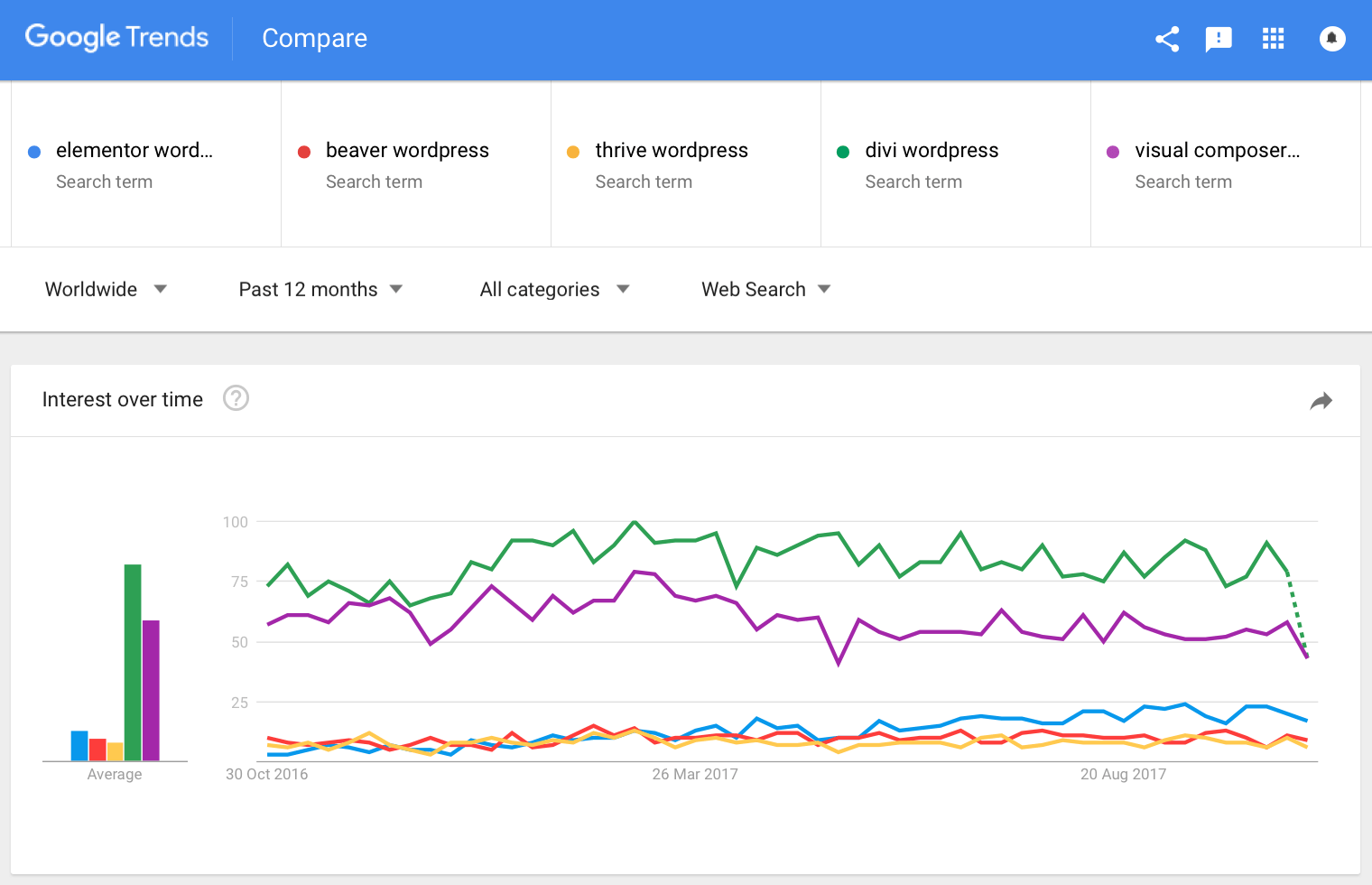 If we look at Divi vs Visual Composer, it's clear who's at least maintaining power (Divi) – and who's losing it (Visual Composer):
Zooming out to a 5 year timeframe, Divi won the Visual Composer vs Divi battle in September, 2016.
The reigning emperor of the throne, is Divi.
Currently.
But for how long?
Look at the "growth-curve" of Divi: it isn't growing. It's declining! The upwards trend has been broken. Any stock- or forex-trader will tell you that's a bad sign (unless you're interested in shorting – i.e. betting on the asset declining even more).
Divi has hit its plateau. If you look at the graph above, Divi is losing steam, while Elementor is currently growing with breathtaking 700% annually.
For contrast, here's the growth-curve of Elementor:
Indeed: the Elementor page builder may overtake the throne from Divi at some point in the future. Based on its thrust: it could very well happen in the near future.
Why Elementor's growth matters
Some readers may think "I don't care how popular my page builder is, I just use it for my websites". Understandable reasoning. But when you're investing in this kind of technology, you're learning a tool, and using that tool as a foundation for your website(s). You do want that tool to be around in a few years.
"WordPress page builders" is a fiercely competitive market. I'm pretty sure the Beaver Builder team didn't expect Elementor's sneaking blasting up from behind. Their front-sight focus was likely fixated on conquering the mythical (and lucrative) "Kingdom of WordPress Page Builders" by slaying the mighty dragon Divi (and perhaps Visual Composer).
Neglecting swift changes in the competitive landscape can be fatal to any business. Headway Themes didn't see Divi coming. Today, the Headway theme is abandonware. Once great, now dead. Once a volcano, now a dinosaur. Once on fire, now extinct.
As you can see above, Headway is now nothing but a footnote. I still have clients with websites on Headway. It's quite frustrating to tell them their site's foundation will need to be rebuilt, due to the neglect of its creators. If Headway died by one of the 7 Deadly Sins – it would be Pride. They never acknowledged what was going on around them. Never reacted proactively. Never responded. Just went on as usual.
Fatal. Fatal and sad. It was a great, 100% unique web design tool. The most powerful drag and drop theme available.
Zooming out to a 5-year timeline, you can see how Headway was once a WordPress theme to be reckoned with – before fading into oblivion.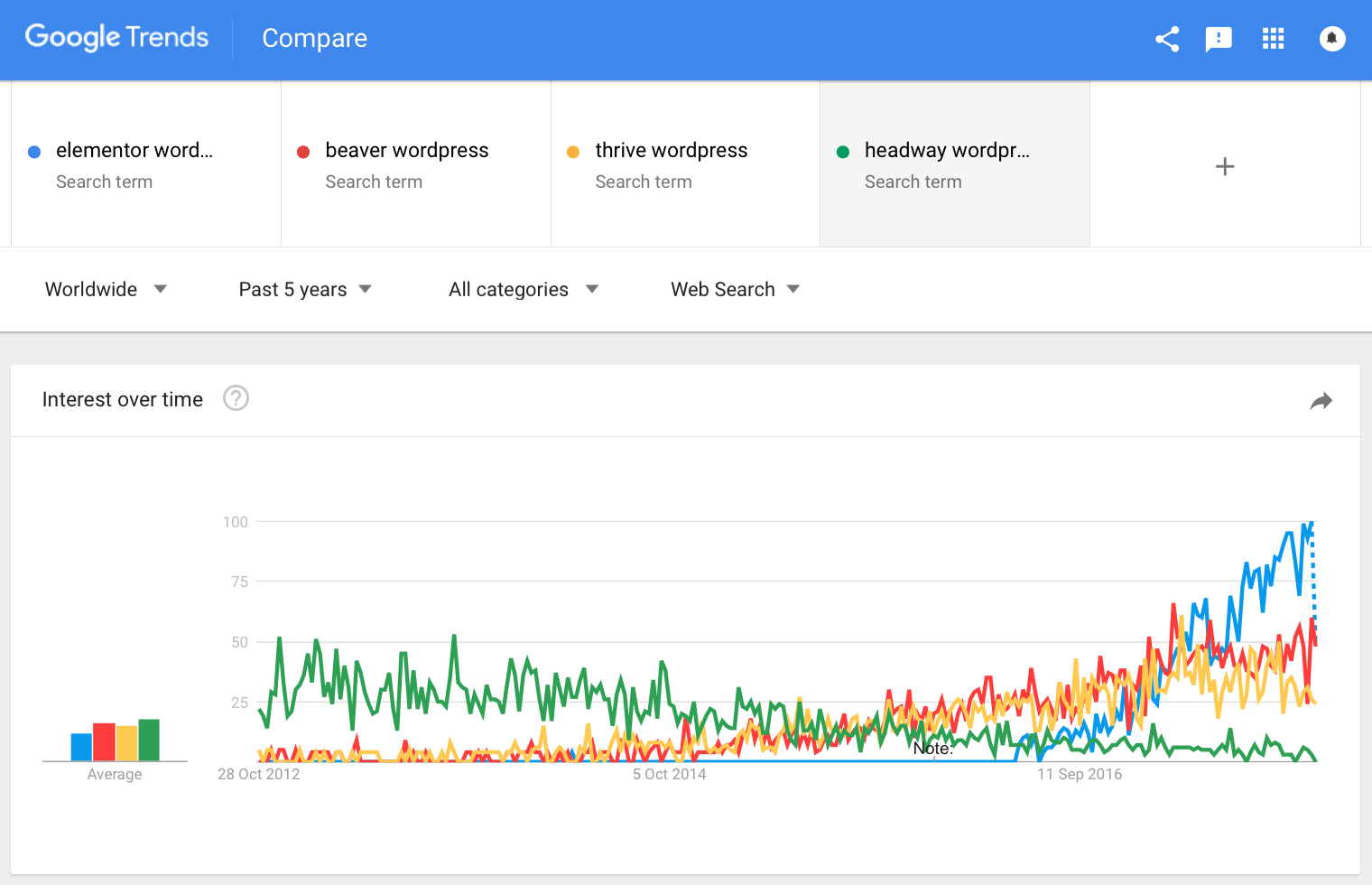 Note the correlation between the emergence of Beaver Builder and Thrive Content Builder (recently rebranded Thrive Architect). As the two (and Divi) rose in popularity: Headway faltered – and fell by the wayside.
Reasons for Elementor's explosive growth
What's the driving factor in Elementor's rapid rise?
It's hard to pinpoint. Nevertheless: I'll try. Below I'll share what I see as likely causes of Elementor's explosive growth:
Could it be the pricing of Elementor?
If you want a license that'll allow you to use it on an unlimited number of sites, Beaver Builder gives you that, for just $99. Elementor Pro (with unlimited sites) is $199.
If you only need Elementor for a single website, the table has turned and Elementor Pro is cheaper than Beaver Builder Pro. Elementor's 1-site license is just $49. Beaver Builder's entry-level license is $99.
So, pricing-wise, the choice between Elementor vs Beaver Builder depends on your personal needs.
Thrive Architect is priced somewhere in-between. A single-site license for Thrive Architect (f.k.a. Thrive Content Builder) is $67. They also have an optional subscription-model. More details on Thrive Themes' website, if you're interested.
One cool thing to note is that you can buy Thrive Architect for a one-time cost of $67. There's no annual renewal as now customary for WordPress plugins.
Anyway… Could pricing be the reason for Elementor's success? Nah. It's more or less a tie, considering some users will want unlimited sites licenses, and other just a single-site license.
Could it be Elementor's feature-packed free version?
If you're out of cash, or simply want a feature-rich free page builder – the answer is the free Elementor page builder. Beaver Builder's free version, while fully functional, has far fewer features, than Elementor's free version. There's no way around it: Elementor wins on that front. And Divi doesn't even have a free/light version.
The powerful free version could very well be part of Elementor's fast rise to celeb-status:) What do you think?
Could it be Elementor's feature-packed Pro version?
Elementor Pro is packed with features – and new ones are added every few weeks.
Example: Animated Headlines. You gotta try that out. A quite popular, recently added attraction.
I won't go into extensive details of Elementor Pro. This isn't an Elementor Pro review – not even a bare-bones Elementor review. So you'll have to look at the impressive feature-list yourself, for now.
Still: are the features the reason for its success? Hmm. Maybe!
Could it be the Elementor support team?
I haven't needed help from the Elementor support team, so can't comment on it. Maybe you can?
Anyone? Bueller?
I can't come up with more reasons. Can you? What do you attribute to Elementor's success? Share your voice in the comments below!
And what about soon-to-be-released Beaver Builder 2.0 – will it challenge Elementor's position? Time will tell!
Have you tried Elementor yet? You like it? Love it? Hate it? Share your voice in the comments below!