This is an updated and revised review of my original Dynamik Website Builder review.
Disclaimer: Since I already own and use several other WordPress theme frameworks, I asked Cobalt Apps for a complimentary license, so I could write this review. So in a way, this review has been sponsored by Cobalt Apps. Rest assured though: This review is in no way skewed or biased by that fact. Authenticity and honesty are key personal values of mine. I write exactly what I feel like. Otherwise, I wouldn't do it!
Okay, let's get on with the show;-) Here it is: my comprehensive Dynamik Website Builder review. I hope it will help you decide whether Dynamik Website Builder is the right choice for your needs as a website owner (or web designer).
A brief history lesson on Dynamik Website Builder's ancestry
Once upon a time there was a skin called Dynamik. It was available for both the über-popular Genesis theme framework, as well as Catalyst; Cobalt Apps' own WordPress theme framework.
Sounds confusing? To me it was.
Afterall, which version should I get? Cobalt Apps seemed to primarily promote Dynamik for their own Catalyst theme framework. Dynamik for Genesis felt more like an afterthought. But Genesis was by far the most popular and widespread WordPress theme framework. So I felt it would make more sense to get the Dynamik for Genesis version.
Fortunately, Cobalt Apps last year announced that, going forward; Dynamik would be for Genesis only. Cobalt Apps also make an interesting Genesis plugin called Genesis Extender, that I might review in another blog post.
Nowadays, the Dynamik theme is known by the full name Dynamik Website Builder – aka the most powerful Genesis child theme.
But what exactly is Dynamik Website Builder then?
Genesis by itself is a wonderful framework, but it requires you to know how to code HTML, PHP and CSS if you want to design a custom looking website. Dynamik is a Genesis child theme shock-full of point & click design options, to aid non-coders in creating custom WordPress website designs.
All in all, Dynamik is a quite unique WordPress theme, that makes Genesis do so much more for non-coders and coders alike!
Installation of Dynamik Website Builder
After installation of the Dynamik theme, your site will still be running Genesis, because Dynamik as a Genesis child theme runs on top of Genesis. "Child theme" means it inherits everything from its parent theme, in this case Genesis. It's important to realise that when you use Dynamik – all the good stuff from Genesis – will still be available! So in fact, you're using one of the worlds most popular WordPress theme frameworks – Genesis – PLUS an added suite of tools (Dynamik) that gives you even more goodness to work with!
A combo of Genesis + Dynamik = WordPress theme dynamite!
My first impressions
Well, as they used to say in those 80s Gillette commercials: "First impressions last!" … And first impressions are indeed important. Luckily, in the case of Dynamik, they're good. But, based on the Catalyst theme screencasts and screenshots, I'd seen, I expected Dynamik to look and feel rather intimidating due to its many design options… and on that account, Dynamik sadly lived up to my fearful expectations. There's still plenty room for improvement (read below why that's no longer the case).
The theme options could be better organized. Have a look at how overwhelming it can look:
Update! Universal Design Controls to the rescue!
Fortunately, in version 1.5 of Dynamik Website Builder, Cobalt Apps has improved upon the situation by introducing what they call Universal Design Controls. Using those, the above mayhem (albeit a very useful mayhem) can be reduced significantly, by letting you set the default values for fonts, backgrounds, borders, padding and margin site-wide. A very welcome timesaving feature.
Performance and speed of Dynamik Website Builder
No Dynamik Website Builder review would be complete without taking a serious look at speed and performance. Speed is an essential, crucial factor to consider, when it comes to choosing your WordPress theme framework. Genesis by itself is a clean, neatly coded theme framework. Luckily, and perhaps surprisingly; Dynamik adds almost no extra burden on your server. Bloated code? Look elsewhere. Dynamik is f*ckin' fast! Lean and mean.
What makes Dynamik stand out from the competition?
Dynamik has a few very unique features:
Custom Labels
This is a feature unique to Dynamik Website Buillder (and Genesis Extender). It lets you tag your WordPress posts and pages, which you can then target with hooks, styles and widget areas. Hyper flexible! Think about it: All posts tagged with "newsletter" can show your newsletter opt-in widget. That's just one example! I'm sure you can come up with more?
Custom widget areas
Hook them in. That means you can place widgets anywhere you want. But you can also make widget areas appear anywhere in your posts and pages, via shortcodes! That is very powerful stuff! Potentially explosive! That way you easily insert your newsletter sign up in the middle of posts, and do so much more!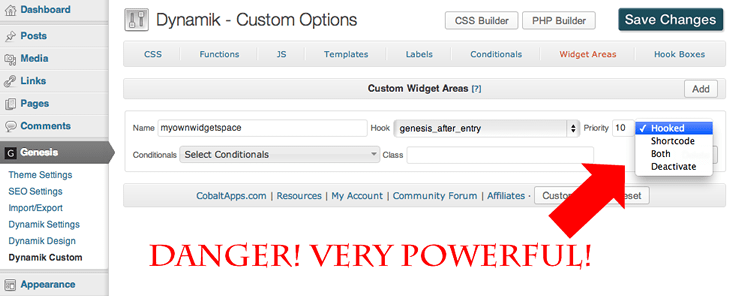 The Custom CSS Builder
Wanna learn CSS?
With the Custom CSS Builder in Dynamik you can! It's a neat feature/tool, that lets you write CSS via simple dropdrown menus. That way, you get to see the CSS code generated, live, while you work. I learned CSS using a similar approach. I used an app called Style Master, that did the same. It was so nice to see both the code and have the visual UI on-screen, simultaneously. In fact, I still prefer writing CSS that way, using Espresso.
Custom PHP Builder
As if the Custom CSS Builder wasn't impressive enough, there's also a Custom PHP Builder. Hey, maybe you're already a PHP capable geek? check out the possibilities anyway. This feature may still save you time!
EZ Options
Besides styling elements with colors, fonts, margins, padding, etc – Dynamik also has a tab called EZ. Behind it hides some very useful options to enable a multitude of extra widget areas (spots where you can place WordPress widgets):
EZ Homepage
This section lets you build a totally custom front page layout. Seeing is believing.
EZ Feature Top
This one is so flexible and nice to have. If you've ever used the old Thesis 1.x version, you know what a Feature Box is. Many Thesis user enjoyed the Feature box. It gives you a wide area that sits above your content. In that area, you can promote new products, let people sign up for your newsletter, etc. All up to you. Do whatever you want.
Dynamik takes the Feature Box a step further than Thesis 1.x ever did though: You can select various layouts, so that you can have a video on the left, and an email marketing opt-in form on the right, or vice versa. You can do so much with it! You can also control where the Feature Box appears on your site. Just on the front page? Or also on pages? Posts? Again: totally up to you.
EZ Fat Footer
As the name implies, this is the way for you to get yourself a fat footer. You know, the kind of footer that leaves your visitors speechless. The footer with everything in it. A flexible,  columnized footer.
For all the above, you're additionally given many options for layout and appearance of the EZ widget areas. The EZ options are a powerful feature. I love it when technology makes things easer. Everyone wants a sexy front page. Everyone wants a funky footer. So why not create an out of the box solution like this? Brilliant! Well done job, Cobalt Apps! EZ duz it!
What do I miss in Dynamik Website Builder?
I miss the ability that Headway gives me, to visually layout each page (or post) separately and distinctly. It's very common among my clients to want to create advanced landing pages, with boxes, features, sliders, email newsletter opt-ins, testimonials, etc, on a single page. WordPress' single content area just doesn't cut it! A plugin like Visual Composer can solve that though.
Conclusion: The bottom line is black
If I were to describe Dynamik Website Builder in one word, it is: Flexible. The custom widget areas, the hooks, the PHP and CSS builders… and of course the fact that Dynamik Website Builder also gives you all the possibilities of Genesis: Dynamik is amazingly powerful and flexible.
I wouldn't really call it a drag & drop WordPress theme framework. Rather, a point & click WordPress theme framework.
Who's Dynamik Website Builder the perfect choice for?
If you want all the power of the über-stable, lean and fast Genesis theme framework BUT also need some help styling your site (because you're not a code geek) and might not know much CSS, but would love to learn CSS: Dynamik will be a good, solid choice for you!
Note: You don't have to want to learn CSS to use and enjoy Dynamik Website Builder. I'm just making the point here that Dynamik is also a perfect learning tool for those who would like to learn CSS, because Dynamik presents a great opportunity for you, via its built-in CSS Builder that lets you "write" CSS via dropdown menus, and see the CSS code changes, reflected live. A great CSS learning tool!
Pheeeeeeeew… This Dynamik Website Builder review has been one of the longest WordPress theme reviews I've ever written. What a job! But let me tell you: I've only scratched the surface of Dynamik Website Builder. Check out the features for yourself, and see what else it can do.
Update! If you're using Dynamik Website Builder, you should definitely also check out Beaver Builder, which I've reviewed here. Dynamik integrates perfectly with Beaver Builder! More on that in my fresh Beaver Builder review!
Dynamik Website Builder theme FAQ:
Are Catalyst skins responsive?
Yes, Dynamik Website Builder is fully responsive at the click of a button. Literally!
Is Dynamik Website Builder HTML5?
HTML5 compatibility is very easy and straightforward. One click. A feature inherited from Genesis.
Do I have to pay a yearly renewal fee to receive updates and support?
Nope, theme updates and support are free for life! Unlike certain competitors. Update (thanks Bill!): Cobalt Apps has now followed the rest of the industry, requiring you to renew your license yearly.
How good is the support and documentation?
Really good. There's email support with fast, thorough replies. There's also a community support forum… and even screencasts! Heck, as if that isn't enough, there's very elaborate help texts for each function, built right into Dynamik! In-context help rocks!