This is my freshly updated 2015 review of Media Temple's managed WordPress hosting offer. So much has happened since I published the first review, just one year ago. Enjoy reading it – and let me know what you think! (in the comments)
A year ago, Media Temple launched their take on a managed WordPress hosting solution. "Managed" in the sense that all is taken care of for you. There's no need for you to worry about backups, security scanning and patching, database stuff and all the tedious, technical stuff you'd rather not deal with anyway.
Yet, the so-called managed WordPress hosting market is already dominated by key players such as highly-acclaimed, industry-leading WP Engine, relative newcomer Flywheel as well as Synthesis and Pressable.
What made Media Temple enter this market? What is it that makes their WordPress product unique? Competitive? What are the technical facts? I can provide some clear answers to those questions, straight from Media Temple's Product Manager Dante Baker and the devs of this new, innovative, managed WordPress hosting platform! Wanna know more? Read on!
The long and dreadful road to a host that doesn't suck
I'm a long-time Media Temple customer. In a minute, I'll tell you why. But first, know that like most of you, I've tried going from one host to another, on a seemingly never-ending quest to find "the one"… The right one. That elusive "perfect web host".
Most people's web hosting experiences are… should we say… ahem… less than ideal. And that's a mild way to put it.
My own bad hosting experiences include:
The über-popular web host who was great otherwise, but intermittently became very very slow.
The small, very personal host, whose founder even chatted with me about his Wolf Cub Scout endeavours. Speed? Solid. Support? Rock solid. But when my site got featured on a couple of web design and photography portals: it got shut down. Not because of excessive CPU overage (it was an HTML + Flash based site) – but because the very conservative bandwidth allowance ran out. Thank you very not! Fast forward a few months, Mr. Cub Scout had sold his hosting business. Apparently to two chimps who now ran the operation like… well… two chimps! I. was. flabbergasted.
The host who locked down our account – FTP and phpMyAdmin/database access included (aka: no way for us to rectify the situation) because of an obese database table. And because their "24 hour around the clock support" really meant "wait 23 hours for each reply" the site was down for several days!
The "industry darling" web host who started out fast and friendly, but suddenly got super slow with moronic monkey support as icing on the cake.
Returning to Media Temple
The latter was the incident that brought me back to Media Temple. Before the bad hosting experiences mentioned above, I'd been with Media Temple for a short while. I honestly can't remember exactly why I switched away from them. I recall it being due to a practical matter, rather than a technical matter. I was only a customer for a few days. Their nameservers might not have been approved by DK Hostmaster (the monopoly controlling the .dk domains) back then.
Anyway… When Media Temple (back in 2006) with much fanfare launched their new, innovative (gs) Grid hosting product – I was motivated to find my way back to the temple.
So I switched back to (mt).
The (gs) Grid had its fair share of issues during the first few years of its infancy. Slow page loads, high latency, frequent downtime and more, was the norm.
What kept me there? Well:
The great service and support that Media Temple provides. When leaving a support ticket, I expect a proper, fulfilling reply, and in 8/10 encounters with (mt): that's what I've gotten.
I like the (mt) Account Center. Not just for its sleek, simple design, but even more so for its holistic approach to handling the 100 websites allowed. All sites are handled under one roof. No separate sub-accounts. Makes it easy to maintain multiple sites.
The GPU system. Hated by some, I've always loved it. It helps you see how server-efficient your sites are, and it prevents fellow (gs) users from hammering the server with inefficient code running rampant.
If interested, you can also read my complete review of the MT grid, here.
The Achilles' heel of the Grid has always been its speed. Or lack thereof. The explanation lies in its architecture. It's a clustered solution. Storage and databases are on separate boxes. That typically introduces some latency.
WordPress can be slow…
If you ask a hardcore coder or database geek, many will tell you that:
1. WordPress is slow and inefficiently coded. Hello admin-ajax.php.
2. WordPress has lots of legacy code, and is bloated for what it does.
While I'm neither a hardcore coder or a database geek (I'm more the creative, entrepreneurial type) I'm inclined to agree! I've used a wide variety of competing CMS (content management system) and blogging platforms, and I have to say that only concrete5 and Drupal has been more server-intensive than WordPress!
My key point is this:
If you plan to use WordPress for more than a simple blog with a few lightweight plugins, you'll need proper WordPress hosting. Period.
So although I've been a happy camper with Media Temple's Grid (gs) hosting since 2007… I wanted something faster. My Headway Hero web design online course has required lots of plugins to make it happen. Many of them hit the database, hence the page load speed of my site went from "okay" to "too slow".
So it was with great excitement I saw Media Temple's new Managed WordPress hosting product!
"Worth a try" I thought, and signed up for a plan.
When the going gets tough
I can't say the first month with Premium WordPress was an ideal customer experience. Some of it due to my own lack of insight into the new platform, but sadly also due to Media Temple's support staff not being trained enough in this new platform.
I've had some very time-wasting and frustrating encounters with support staff who was so oblivious about this new, managed WordPress hosting service that I seriously started thinking whether Media Temple (maybe as a sad result of the GoDaddy acquisition) had outsourced their support – and worse still: maybe even to the local zoo?
Regardless, over time those problems now largely seems to have been solved, fortunately.
Managed WordPress hosting at Pricing that Packs a Punch
Now, in March 2015, Media Temple has aggressively revised their managed WordPress hosting pricing structure.
Previously, $29 would get you 3 sites hosted. Now, anno 2015, they've split up the pricing in 3,5 distinct plans. Why 3,5? Because the last, top-tier plan is an "Enterprise" plan, with no fixed price (aka: "call for a customized quote"). But what are the details of the remaining 3 plans then?
Personal – for just $20 you get to host two sites. Curiously (or perhaps: strangely) this plan seemingly does not include "malware detection and removal" like the other plans. I find this a weird choice by Media Temple's marketing department. An odd signal to send! Which web host doesn't wanna detect malware on all hosted sites? But seriously, I think they DO detect malware, they just don't wanna promise to remove it (for free) at this low price point.
Next step up:
Studio – The Studio plan will let you host 10 sites for just $60 a month. Annual plan comes with 1 free (first year only) SSL certificate. I believe this is the most agressively priced managed WordPress hosting available. Bravo Media Temple! If you were an MMA fighter, you'd likely be Bas Rutten!
And finally:
Agency – if you're running a web design agency, you can host up to 50 sites for just $240 a month. Again; that's very competitively priced. Comes with 2 SSL certificates for free, for the first year. Rebilling is $75 per SSL certificate. An ok price for a SSL certificate.
So yes indeed: Media Temple continues to deliver serious (Bas Rutten style) liver shots to WP Engine whose $29 starter plan includes only 1 site.
Read more about the details of each plan here.
What's included?
Fast, fully SSD based storage.
Daily backup snapshots. Site restoration at the click of a button.
Remote server access via SSH / SFTP.
Malware detection and removal (Studio & Agency plans only).
Google Apps (Studio & Agency plans only).
GIT integration.
WP-CLI integration.
Comprehensive, WordPress video tutorials, in your WordPress dashboard! (can be disabled of course).
Themes! More on those below.
Hosting with Premium WordPress themes?
Interestingly, Media Temple has decided to throw some custom-made premium themes into the WordPress hosting package. The themes I've seen so far are definitely beautiful! Beautiful and simple. They're highly targeted themes (photography, portfolio, etc) meaning: fast loading – and simple to use!
Once you think about it, this makes perfect sense! By including their own, premium themes, they can:
Add extra value to their WordPress hosting customers.
More themes will be added in the future. But don't expect Media Temple to evolve into a ThemeForest competitor;) According to Jon Setzen, Media Temple's Creative Director, they'd rather create a handful really great themes, than hundreds of sporadic, mediocre ones. I applaud that approach a whole lot!
Please welcome to the stage…
Staging sites! Media Temple's WordPress hosting sports a nifty Site Stager feature. Staging sites allow you to instantly make a copy of your main website. That copy can be used as a testing ground, to develop a redesign, etc.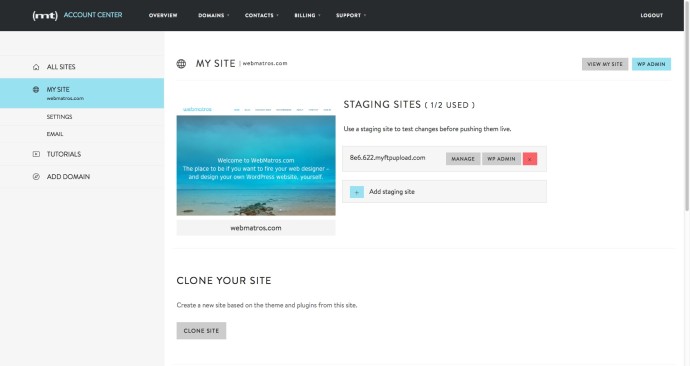 You can create two staging sites of each site.
Once you're ready, you can sync the Site Stager changes back to your main site. Nifty? Yes. Neat? Yup! Great? Yeah!!
The Site Stager feature can be quite useful for testing, problem-solving, troubleshooting, developing, etc.
Whatever works well: clone it!
The Site Stager's cute cousin is the "Clone Site" feature. Just like the staging feature, cloning a site will make you a copy. But in this case, that copy ends up as a new, separate site.
Imagine the possibilities! Create a typical "mothership" template site and simply clone it as needed.
Yeah, you could do this manually, but the cloning feature just make it so much easier to set up new sites for yourself – or your clients.
Does Media Temple's WordPress hosting rock the show?
Naturally, I was chiefly interested in finding out if Media Temple's speed claims are true.
Curiously, I didn't find the WordPress admin to be loading dramatically faster on the Managed WordPress hosting account. But on the front end? Much MUCH faster. We're talking 3 to 4 times the speed of the Grid!
That's very likely due to the pretty elaborate caching setup Media Temple has implemented in Premium WordPress:
"Four layers of caching throughout the stack as well as high performance SSD-backed storage. We rely on Varnish, Memcached, PHP APC, and storage L2 caching to maximize performance by minimizing calls to the disks."
But don't freak out! Despite the advanced caching – you don't have to do a thing! There's a handy "Flush Cache" button located in the WordPress admin toolbar – and that's it! You don't have the headache of configuring W3 Total Cache's gazillion options;)
But apart from the caching; what's the technical foundation of Media Temple's WordPress hosting?
Media Temple WordPress – the technical facts
Like Media Temple's (gs) Grid, (mt) WordPress is built on a network based storage solution.
I wanted to know more, and decided to direct my questions to Dante Baker, Product Manager for managed WordPress hosting at Media Temple, so I could get the facts, straight from the horse's mouth.
(not that I'm calling Dante a horse… that would be kinda rude…)
Below are the answers from Dante and the Premium WordPress devs:
Oliver @ WebMatros: Is your new managed WordPress hosting based on a clustered server technology (like the Grid) or is it more of a VPS-based kind of setup? And what made you choose that particular route? What are its benefits, compared to other, competing solutions?
Dante @ Media Temple: Yes it's clustered, and a clustered environment helps us with things like fault tolerance (your sites stay online even if a single webserver goes down), it also helps us do maintenance on hardware without affecting your website uptime. We could have gone with a local storage/db solution, but long term it doesn't scale as well as a clustered environment.
Oliver @ WebMatros: How have you overcome the latency typical of clustered / network based storage solutions? Also feel free to elaborate a little on the caching technologies used. What does each one target, and what has been the challenges of using several caching solutions together?
Dante @ Media Temple: We were able to mitigate issues with database latency by going with fully SSD backed database servers on a screaming fast network located close to the web servers. We use varnish to help with caching which takes pressure off the web server tier, and our storage filers are all SSD based as well as using memory and flash based L2 arc caching that reduces the number of hits that have to go to the SSD (drives).
Some additional info for the geeks among you:
Nodes are added dynamically to the cluster so it can scale horizontally.
There's no minimum or maximum number of nodes assigned to a given site.
Load balancing controls the above.
Disallowed plugins
Premium WordPress being a managed WordPress hosting solution, there's expectedly some plugins that are disallowed. The most obvious ones are caching plugins. Those are redundant.
You can see a full, current list here, if interested.
What's not to like?
Well, I'm an honest, straight-talking guy. So of course I'll also say what I find "less likable" about this WordPress hosting offer.
Caching – Media Temple's approach to this is:
Caching always on. Can't be turned off. You can empty it, site-wide, with one click. But apart from that; you have no control. I hate messing with caching – it's bothersome, cumbersome and… well… ehm… tiresome;) Yet, being tied up in an ever-present cache? Nah. Slightly more control would be nice. For ME at least. However, if you're less technically inclined than me: this may be the PERFECT hosting choice for you!
Which brings me to:
Control – Media Temple has created a managed wordpress hosting product here. And that's great. BUT, not when they decided to install and activate a WordPress video tutorial plugin, in my WP dashboard. I could deactivate the plugin, but I don't like plugins to be automatically activated.
What's more?
Uncached speed – While Media Temple's WordPress hosting is blazingly fast on the frontend, I've found WP Engine to be slightly faster, especially on the backend, aka in WordPress' admin dashboard. I believe WP Engine is a VPS server setup, and as you read above, Media Temple's is a clustered one. Speed-wise, WP Engine wins that one. You can read a comparison here. Remember though: Media Temple is much better priced!
So… is Media Temple WordPress hosting right for you?
How right Media Temple WordPress hosting is for you, can only be answered if you give them a shot. At their new, low pricing: there's little reason not to.
That said, managed WordPress hosting costs more than DIY-hosting like f.e. Digital Ocean where you set up your own server, all by yourself, A much easier, unmanaged hosting solution than Digital Ocean is Media Temple's (gs) Grid. But it's not as fast as media Temple's WordPress hosting that's tailor-made for… well… WordPress;)
I'll end my 2015-updated Complete Media Temple WordPress Hosting Review by saying this: If  you don't want to bother with the technicalities of hosting – and just want your site to run without your interaction needed: managed WordPress hosting will do you more good, than harm. And Media Temple's Managed WordPress solution delivers great value at a now VERY nice price – especially compared to the competition!
PS: For my fellow Headway Themes fans out there: yes, Media Temple's premium offering works very well with the Headway WordPress theme;)