If you're a small business owner like me, you probably also have a few websites. Your business depend on them being online, accessible, stable and reliable.
Tip! Check current hosting discounts, offers and coupon codes here »
Choosing a web host can be a frustrating experience! And I've been there: Horrible support and unstable, slow servers, seems to be the norm, and few people are truly satisfied – let alone happy – with their web hosting.
I'm very happy with my web host though:
Shared hosting sucks. Period. Always has, always will.
I'm on the inexpensive Media Temple (gs) plan, and has been so since 2007, with a few minor detours, to see if  I really had the best WordPress hosting available, or if there was something better out there. More on that in a minute.
The (gs) stands for Grid-Service. An industry first (and still unique) the (gs) is a cloud-like, clustered hosting solution. That means your website is hosted on hundreds of servers, instead of one. The benefit is stability and scalability. Your websites can deal with heavy, intense traffic without going down. It totally outperforms VPS and dedicated servers in this respect!
Clustered hosting does have a drawback though!
Since the databases and scripts are hosted on different servers, there will be more latency, when querying the database. Theoretically it means that database-dependent apps like WordPress will perform a little slower than they would on shared hosting, a VPS or dedicated server.
Still, I find Media Temple's (gs) plenty fast, and if you're running WordPress with a fast, optimized theme like Headway, you won't really notice any speed difference. Heck, if you're also using a caching plugin like W3 Total Cache, there's not even a problem, since you minimize needed database connections when caching your website content.
Media Temple has a few other things going for them:
GPU architecture
The biggest problem with typical shared hosting, is the dreaded bad-neighbour effect. Shared hosting means your website is hosted on a server that hosts hundreds or even thousands of other people's websites, as well. If just one of these has a script that runs amok, ie. drains the CPU and system memory – it will slow down the whole server. Including your website!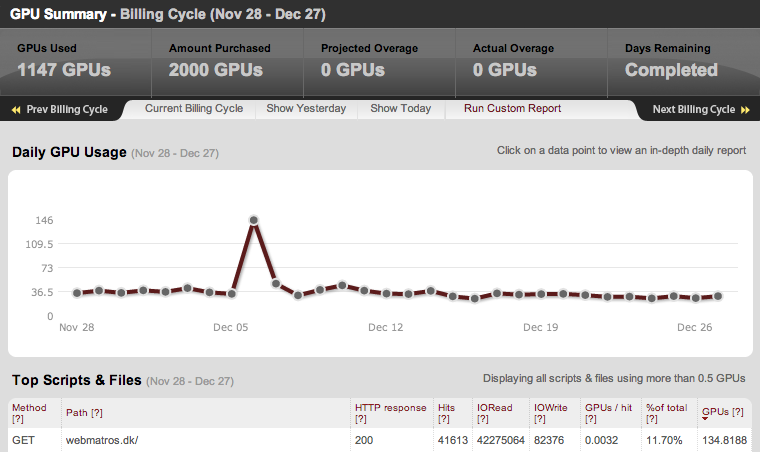 That's why I love Media Temple's GPU-based architecture. GPU in this context is not to be confused with GPU as in "computer graphics card". GPU here means "Grid Processing Units". It gives me insight into how my apps are contributing to the server load. I can quickly see if a WordPress plugin is coded inefficiently. Or if there are broken links, to missing files.
Allocating each (gs) customer a fixed amount (2.000) of GPU's also prevent inconsiderate users from consuming system resources with runaway scripts.
In essence: The GPU system is fair.
Gone are the crazy days of shared webhosting, where you'd suddenly get an email from your hosting provider telling you that they've shut down your website… because it received too much traffic! Success hurts in such a situation. Trust me, I've tried it. Sad to finally have your website go viral, only to realize that your host took it down. That's why I switched to Media Temple back in 2007.
Serious, competent & friendly support
When it comes to hosting, good support is crucial, and it's shocking how many hosting companies fail on this promise. If you're a small business owner, and your site is down, you'll loose money.
Phone support – open 24/7/365
Media Temple sports friendly 24-7-365 phone support. Even via Skype!
Brilliant Twitter support – also 24/7/365
Support by Media Temple via Twitter is also fantastic. Responsive, 5 minutes maximum before a positive, friendly reply. No matter which time of the day you tweet them. They're there, 24/7.
No "unlimited" fluff – just the real stuff:
Host up to 100 domains
100 GB storage
Plenty bandwidth: 1 TB per month. That's a lot!
And best of all: Because of the clever GPU architecture, they're not overselling, so you are actually allowed to use all that storage and bandwidth. Many hosts who promise that kind of stuff will shut you down when you actually happen to use it. 
So, there you have it! I'm one of those rare people who really like my web host, and I trust them fully. Media Temple (gs) rocks!
UPDATE APRIL 2013: Media Temple now includes CloudFlare (a CDN and security service that speeds up and protects your website) with the new Railgun service that drastically speeds up the load times of your website. Railgun is otherwise part of CloudFlare's Pro plan, so with Media Temple (gs) you save $200 or so. Pretty cool!
If for some reason, you'd like to have your WordPress hosting on a VPS (virtual server) then I highly recommend:
Site5 offers you the world's best WordPress hosting – if you are looking for a managed VPS solution!
Site5 are really cool! I was hosted with them last year, and it was a really pleasant experience. Their support is polite, responsive and overall helpful. The servers are fast and stable.
European servers
Even though Site5 is an American hosting company, they also have fast, managed (yet cheap) VPS servers located in Europe: London and Amsterdam.
Managed WordPress hosting
The managed VPS servers are a pretty cool deal: You get a VPS (non-shared virtual webserver) but without the hassle of maintaining a VPS. Site5 takes care of that, but you get the power and scalability of a VPS. Brilliant!
Simple (but powerful) admin UI
The Site5 admin backend is really simple and user friendly. I believe it's their own, customized cPanel modification.
The road back to the temple
Why did I switch back to Media Temple from Site5 then? I simply missed Media Temple for the above mentioned reasons! But if, for some reason, I'd ever have to switch away from Media Temple: I'd choose Site5 – anytime!
My absolutely *Worst* WordPress hosting experiences:
WebFaction
Never consider hosting with WebFaction. It was a disaster for me! Slow server, slow support – almost felt as if the company had been taken over by cannabis-smoking lab monkeys.
VPS.net
VPS.net are highly overrated. Twice I've given them a chance, and twice they have underdelivered… and been horrible. Broken admin UI. Difficult admin UI. Slow, cold support.
One.com
Too many reasons to mention. One of them is extreme slowness. We're talking both regarding support response times as well as load times. Slow slow slow.
I want your feedback too!
Who have you found to offer the best WordPress hosting? Who are the worst?
Tip! Check current hosting discounts, offers and coupon codes here »